8 Best K-Drama Leading Men In Their Best Looks In 2020
Here's the only K-drama leading men round-up you'll ever need.
Take a step into oppa land as we remember our favorite fashion moments from this year's heavy-hitting group of K-drama leading men. To see all of our oppas in their full glory, we collected 7 of their standout looks from their respective series.
Relive Lee Min-ho's kingly moments in The King: Eternal Monarch and Hyun Bin's transformation from a conservative North Korean military man to a South Korean gentleman in Crash Landing On You. Since we already outdid ourselves in this on-going series of K-drama looks, we also took the initiative to share with you back-to-back looks from the stylish duo of Record Of Youth Park Bo-gum and Byeon Woo-seok to Start-Up's polar-opposites Nam Joo-hyuk and Kim Seon-ho. And lastly, do check out the on-screen style evolutions of It's Okay To Not Be Okay's Kim Soo-hyun and Itaewon Class' Park Seo-joon, you would be surprised how drastically they changed from Episode 1 to 16 and you're bound to witness their glow-up all over again!
Right before we lead you to the 50+ photo gallery down below, make sure to check out the femme version of this article since we also rounded up our K-drama leading ladies' best on-screen looks this year. We still have a lot in store for you right before we formally end 2020, stay tuned for more of our K-articles! We've only just begun.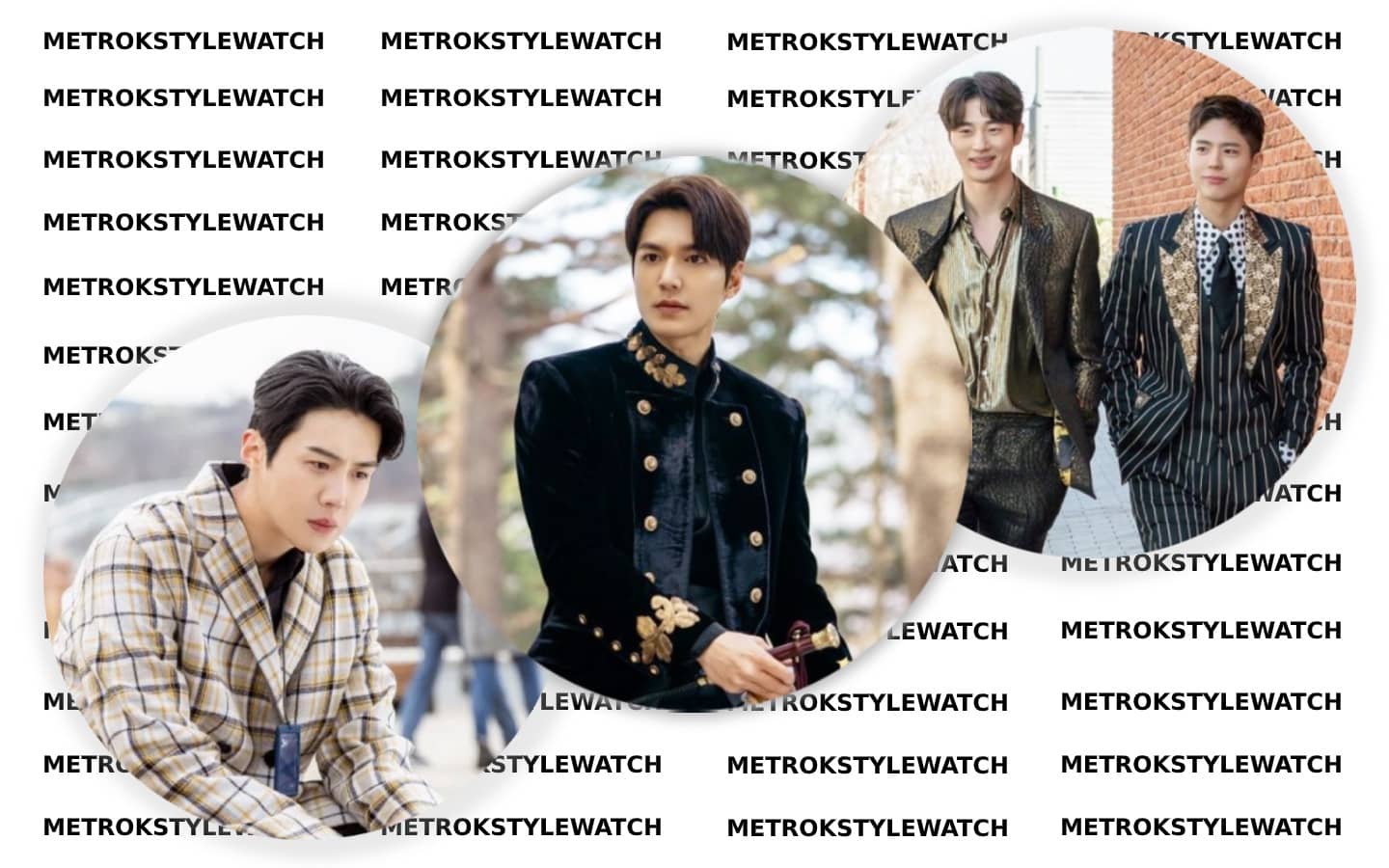 #MetroKStyleWatch: K-Actors
SWIPE LEFT OR RIGHT
TO NAVIGATE BETWEEN PAGES
Kim Soo-hyun in 'It's Okay To Not Be Okay'
Kim Soo-hyun in 'It's Okay To Not Be Okay'`
Kim Soo-hyun in 'It's Okay To Not Be Okay'
Kim Soo-hyun in 'It's Okay To Not Be Okay'
Kim Soo-hyun in 'It's Okay To Not Be Okay'
Kim Soo-hyun in 'It's Okay To Not Be Okay'
Kim Soo-hyun in 'It's Okay To Not Be Okay'
Hyun Bin in 'Crash Landing On You'
Hyun Bin in 'Crash Landing On You'
Hyun Bin in 'Crash Landing On You'
Hyun Bin in 'Crash Landing On You'
Hyun Bin in 'Crash Landing On You'
Hyun Bin in 'Crash Landing On You'
Hyun Bin in 'Crash Landing On You'
Park Seo-joon in 'Itaewon Class'
Park Seo-joon in 'Itaewon Class'
Park Seo-joon in 'Itaewon Class'
Park Seo-joon in 'Itaewon Class'
Park Seo-joon in 'Itaewon Class'
Park Seo-joon in 'Itaewon Class'
Park Seo-joon in 'Itaewon Class'
Nam Joo-hyuk in 'Start-Up'
Nam Joo-hyuk in 'Start-Up'
Nam Joo-hyuk in 'Start-Up'
Nam Joo-hyuk in 'Start-Up'
Nam Joo-hyuk in 'Start-Up'
Nam Joo-hyuk in 'Start-Up'
Nam Joo-hyuk in 'Start-Up'
Kim Seon-ho in 'Start-Up'
Kim Seon-ho in 'Start-Up'
Kim Seon-ho in 'Start-Up'
Kim Seon-ho in 'Start-Up'
Kim Seon-ho in 'Start-Up'
Kim Seon-ho in 'Start-Up'
Kim Seon-ho in 'Start-Up'
Byeon Woo-seok in 'Record Of Youth'
Byeon Woo-seok in 'Record Of Youth'
Byeon Woo-seok in 'Record Of Youth'
Byeon Woo-seok in 'Record Of Youth'
Byeon Woo-seok in 'Record Of Youth'
Byeon Woo-seok with Park Bo-gum in 'Record Of Youth'
Byeon Woo-seok with Park Bo-gum in 'Record Of Youth'
Park Bo-gum in 'Record Of Youth'
Park Bo-gum in 'Record Of Youth'
Park Bo-gum in 'Record Of Youth'
Park Bo-gum in 'Record Of Youth'
Park Bo-gum in 'Record Of Youth'
Park Bo-gum in 'Record Of Youth'
Park Bo-gum in 'Record Of Youth'
Lee Min-ho in 'The King: Eternal Monarch'
Lee Min-ho in 'The King: Eternal Monarch'
Lee Min-ho in 'The King: Eternal Monarch'
Lee Min-ho in 'The King: Eternal Monarch'
Lee Min-ho in 'The King: Eternal Monarch'
Lee Min-ho in 'The King: Eternal Monarch'
Lee Min-ho in 'The King: Eternal Monarch'
Photo Courtesy of tvN and JTBC