#MetroMostStylish2020: Top 21 to 30 Best Dressed Ladies
Fueled by style and self-expression, these women inspire us to achieve beyond 9-to-5 dressing. Find your style icon here!
"Relaxed, classic, and feminine" is how Bianca Roque Brandner would describe her own sense of style. But while she doesn't keep up with the latest trends, she does enjoy incorporating fun and modern pieces to keep her wardrobe up-to-date. Her understated glamour, influenced by icons such as Lee Radzwill and Diane Kruger, is founded on the philosophy that "style should work towards making you look and feel good without a lot of effort." Instead of worrying too much about whether she is creating a show-stopping look, Bianca is more interested dressing according to her mood as well as the activity for the day. Despite prioritizing her personal expression and practical needs, Bianca's choices result in stunning looks. These include a high-neck satin dress in a cream and sapphire print paired with red pumps, a nineties-era yellow floral dress with pristine Stan Smiths, and an indigenous print tube top trimmed with pompoms accessorized with a rattan handbag—all precisely edited down to a deceptive simplicity that quietly, but firmly, expresses Bianca's confidence in herself. "How amazing would it be if everyone were to just embrace and celebrate their own style and uniqueness," she asks. If Bianca's looks are any indication, then the answer to that question is: amazing indeed.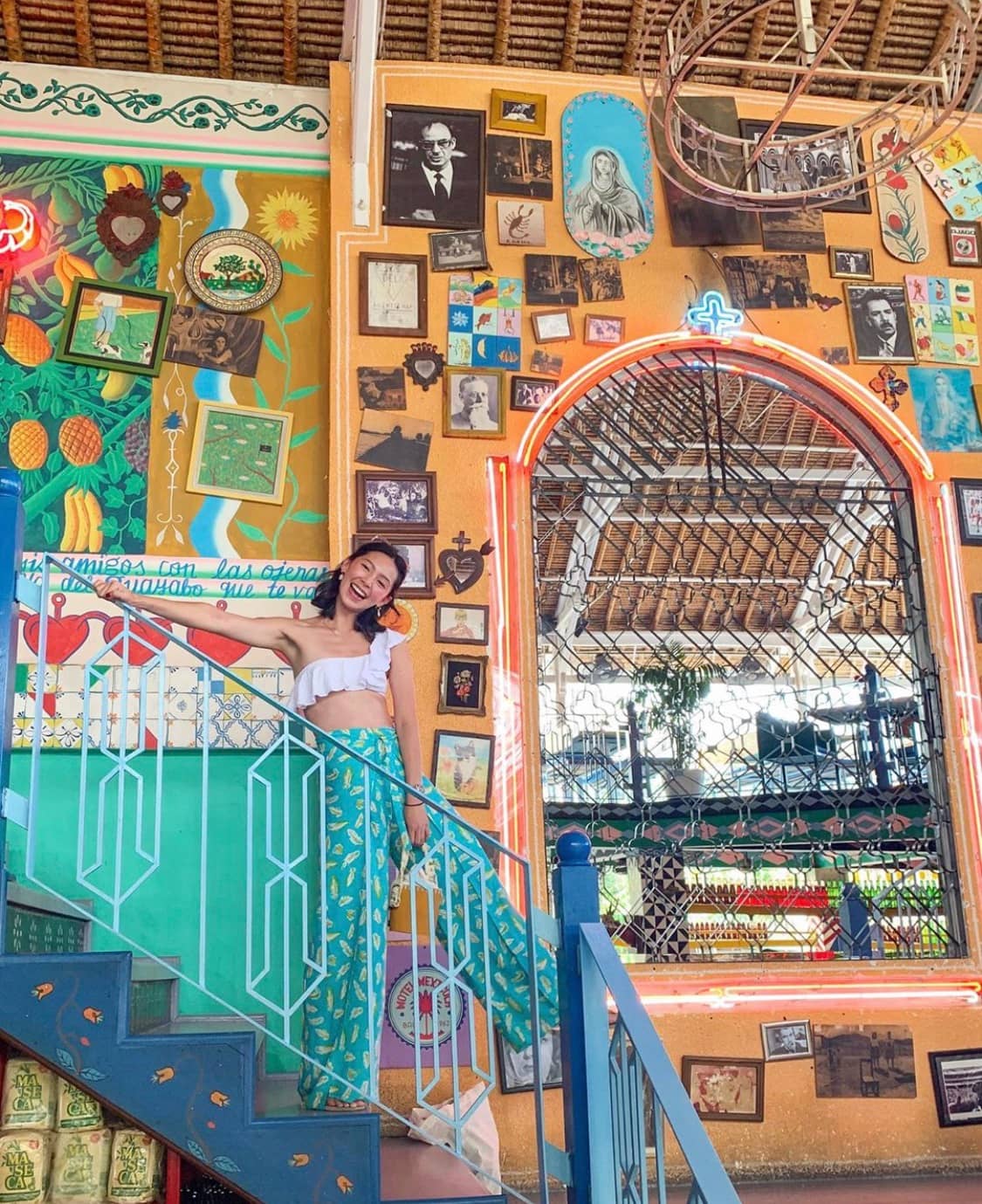 SWIPE LEFT OR RIGHT
TO NAVIGATE BETWEEN PAGES
SWIPE LEFT OR RIGHT
TO NAVIGATE BETWEEN PAGES
Purse from Dries Van Noten
Heels from Giuseppe Zanotti
Constantly evolving. That's Shaira Luna's style. "I'm always changing in up in terms of what I like wearing," she says. "But," she adds, "I'm always a few pieces away from my outfit becoming a costume." That said, the celebrated fashion photographer doesn't go "all the way" when dressing up for an imagined role. "I hold back at the last minute just to make sure I don't look like I'm in a play or a movie." This approach to style is reflected in her approach to photography. Just as in her professional life, she plays with different styles, scenes, and aesthetics, her personal fashion choices also explore the entire spectrum of expression. The one constant is that Shaira tries to shoot and wear "something pleasing to the eye." These days, her creative looks include a lot of thrift store pieces such as oversized blazers, vintage leather boots, high-waisted jeans, and trousers. Some days, wearing a leather trench coat over a vintage tee and straight-leg Chevignon jeans, she'll rustle up nineties nostalgia. Other days, in a cheetah-print coat, plaid orange trousers, fur-trimmed boots, and Elton John glasses, she'll emit some serious disco vibes. But no matter what era or persona she evokes, Shaira proves to be one of the most exciting tastemakers in the fashion world.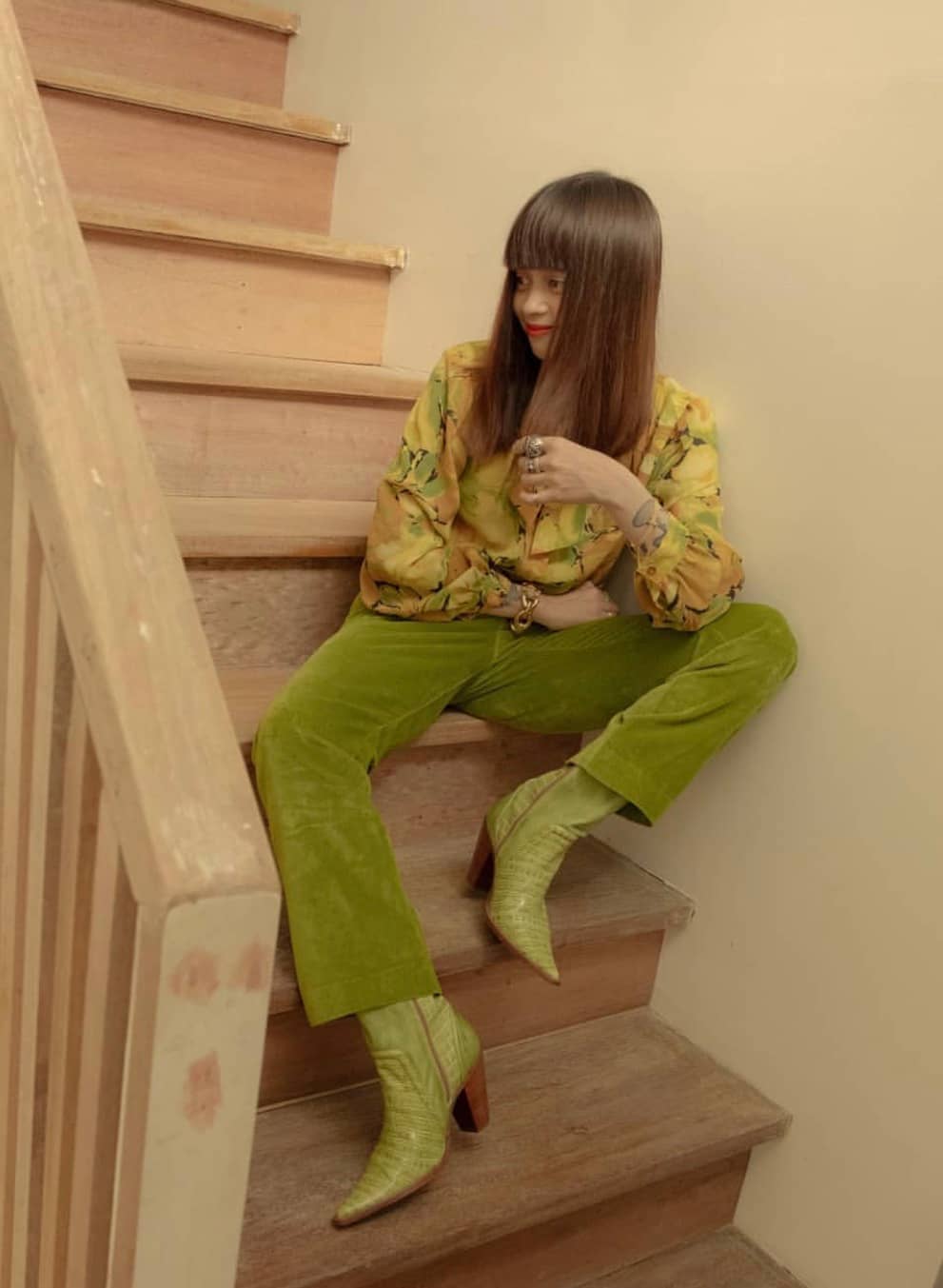 SWIPE LEFT OR RIGHT
TO NAVIGATE BETWEEN PAGES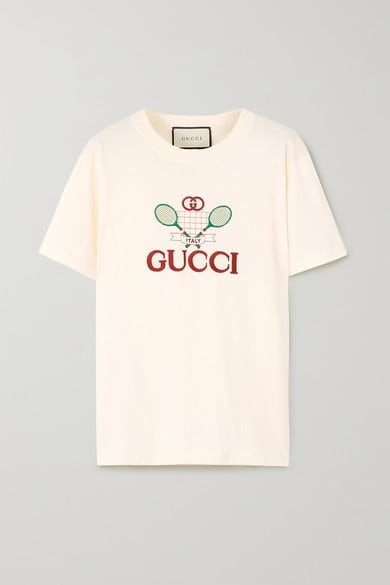 SWIPE LEFT OR RIGHT
TO NAVIGATE BETWEEN PAGES
Clutch from Maison Margiela
Manika Yujuico likes to mashup clothes that she files under "wear-forever" and "hot-right-now." "I'm all over the place," she says when describing her style. On one hand, she loves drama in an outfit, often finding that she is overdressed for the occasion. And indeed, she sports standout pieces like a leather corset-belt cinched over a billowy blouse, or a patchwork denim skirt that sweeps the floor. On the other hand, she shops for longevity and practicality, preferring pieces that can be worn over and over. These include a reliable pair of denim jeans, crisp button-down shirts, and silk scarves (which she has been seen wearing around her neck, as a halter top, and even as an anklet). Perhaps surprisingly, she doesn't assess the expected stylistic value of an item when choosing to add it to her wardrobe. Instead of asking questions about whether something is fashionable, she asks, "Is it machine washable? Do I need to iron it?" And most importantly to her, she scrutinizes the environmental impact of a certain piece. "Sustainability is now more top of mind than ever," she says. Despite her unconventional approach to curating her looks, Manika nevertheless executes flawlessly fashionable looks, with her distinct flair and flavor.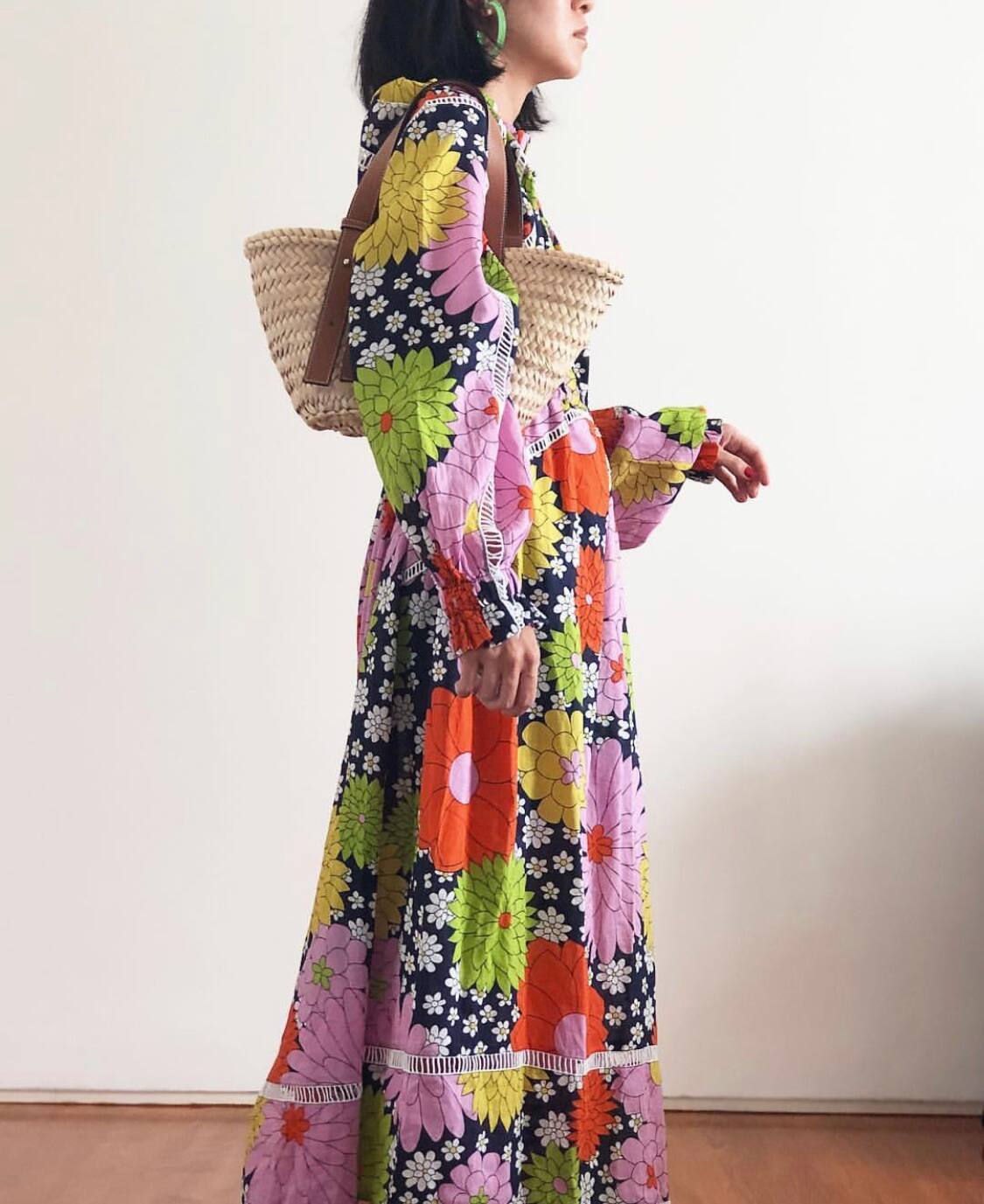 SWIPE LEFT OR RIGHT
TO NAVIGATE BETWEEN PAGES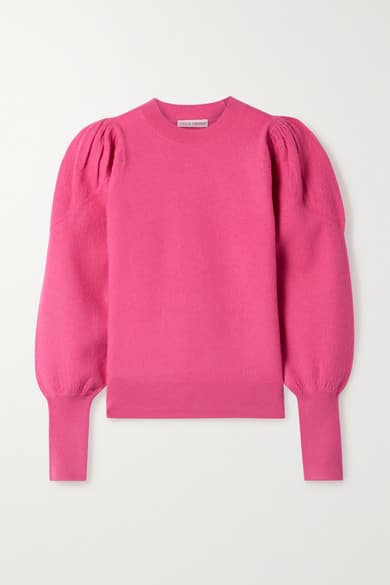 SWIPE LEFT OR RIGHT
TO NAVIGATE BETWEEN PAGES
Sweater from Ulla Johnson
Heels from Bottega Veneta
Throughout her transition from one end of public life to another, being a showbiz darling to serving in office, Lucy Torres-Gomez has maintained regal poise that is mirrored in her personal style. She is often seen in neutral colors, emitting a timeless elegance in a white blouse and black skirt or in a cream-colored gown. Likewise, she is comfortable in classic silhouettes, regularly opting for pencil skirts, curve-hugging gowns, high-waisted trousers, cinched power suites, and other flatteringly feminine shapes. Although her style decidedly avoids being flashy, edgy, or overly adventurous, the congresswoman stands out as a fashion maven. Her formalwear is often befitting of royalty. Some of her more superlative looks include: a blush pink terno netted in lace appliqués, a vintage marigold ball gown wrapped in sheer florals, and an emerald-toned Maria Clara in full satin. However, even her everyday fashion strikes a queenly tone. For instance, she will wear a sheer black top with a white lace collar, tucked into jeans, and polish the outfit with a double string of pearls and a stack of bracelets. Or, she'll dress up a chambray shirt with statement earrings that dangle down to the collarbone. Whether she's turning heads with her formalwear or laying low in casual outfits, she injects every look with her indisputable glamour.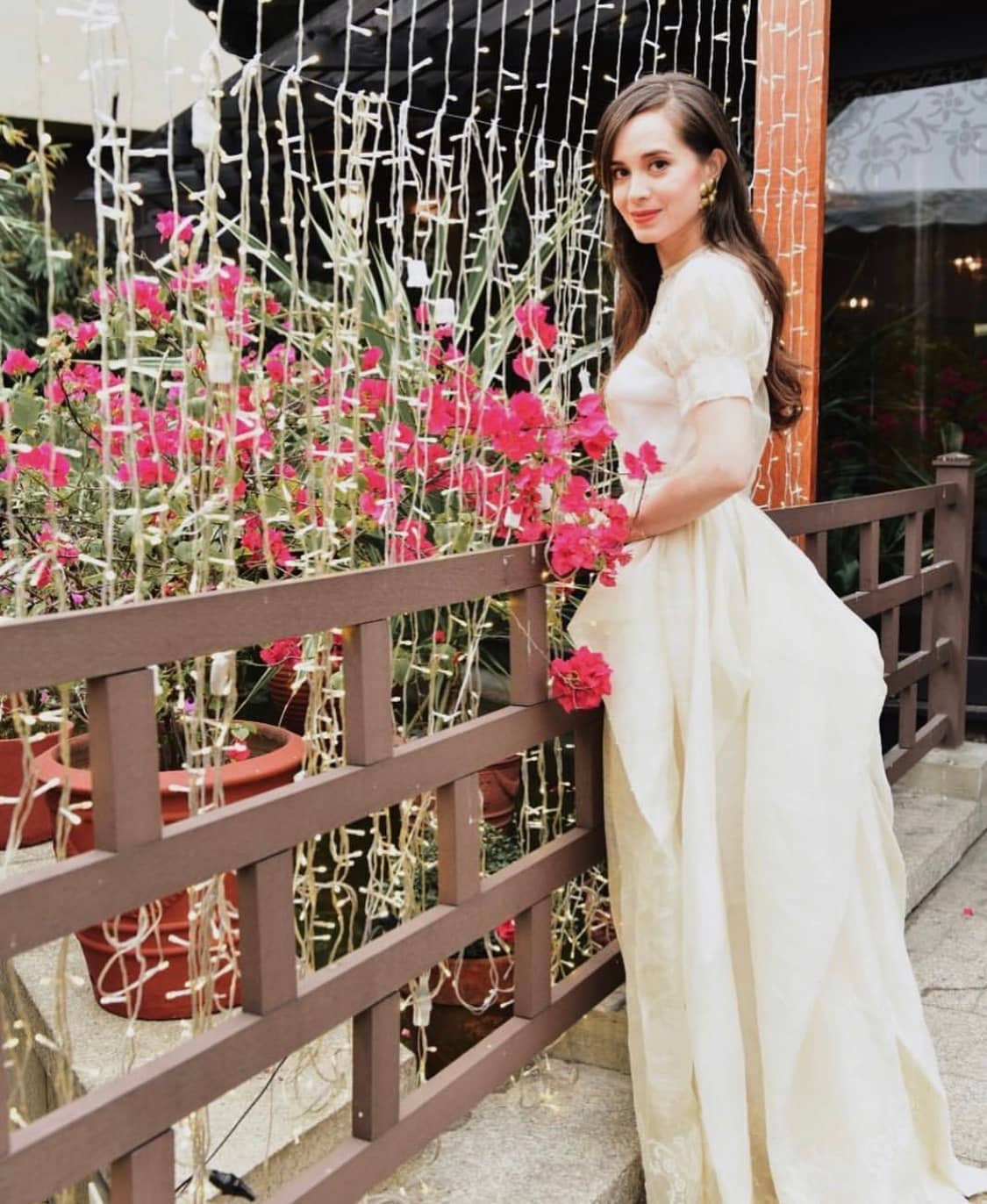 SWIPE LEFT OR RIGHT
TO NAVIGATE BETWEEN PAGES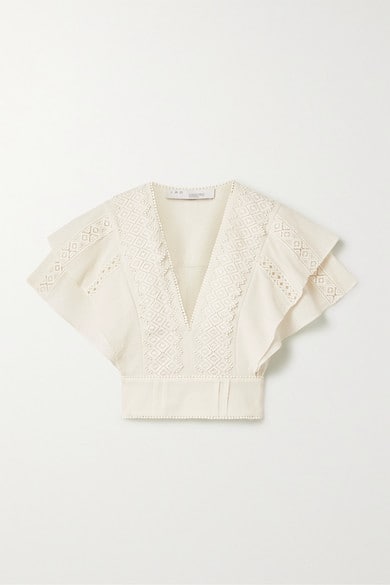 SWIPE LEFT OR RIGHT
TO NAVIGATE BETWEEN PAGES
Trousers from Bottega Veneta
Tricia Gosingtian-Gabunada has been a fixture on style inspiration boards for the better part of a decade , and for good reason. Her signature romantic style resists the industry-wide urge to stay on top of the latest trends, and offers audiences alternatives that are nostalgic, sweet, and wearable. Perhaps what makes her fashion choices so evocative is that they are also deeply personal. On one hand, she half-jokes that she thinks of herself as a video game character when getting dressed. "Each item that I 'equip' adds a certain stat/value (i.e. +5 confidence, -1 comfort), so I'm very intentional with my choices," she says. But on a deeper level, her choices are influenced by her late grandmother, whom she refers to as Nana. "When I was a kid, I remember traveling with her numerous times to Hong Kong, where her first stop would always be a Japanese department store. Thinking about it now, she was definitely one of my earliest style influences. Even as she aged gracefully, and eventually had to be in a wheelchair all the time, I'd often ogle at her print-on-print choices and bag-shoe combinations." Now, Tricia's style characterized what she calls a "good girl" aesthetic, featuring floral prints, conservative cuts, and inspiration from East Asian cultures like Japan and Korean.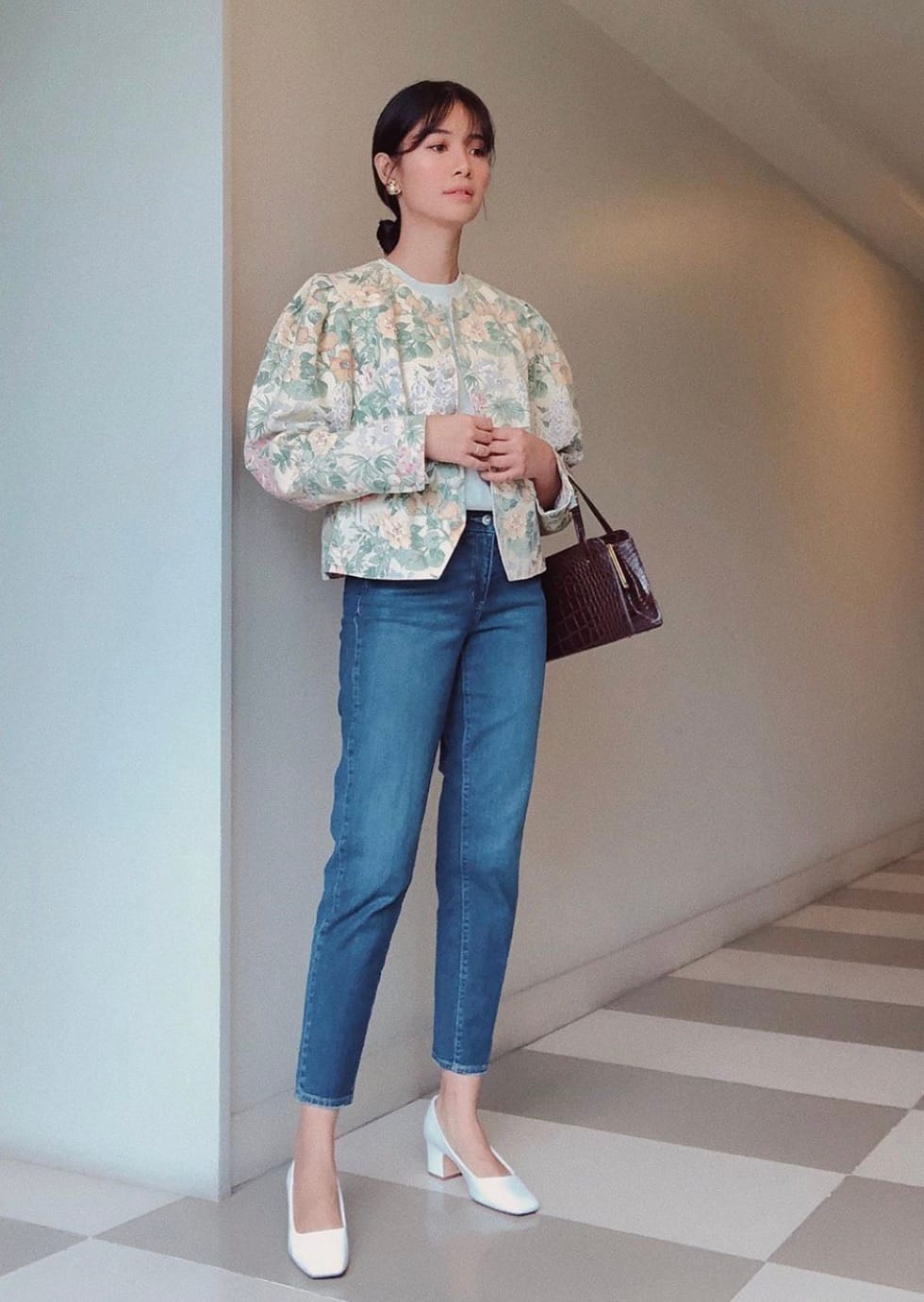 SWIPE LEFT OR RIGHT
TO NAVIGATE BETWEEN PAGES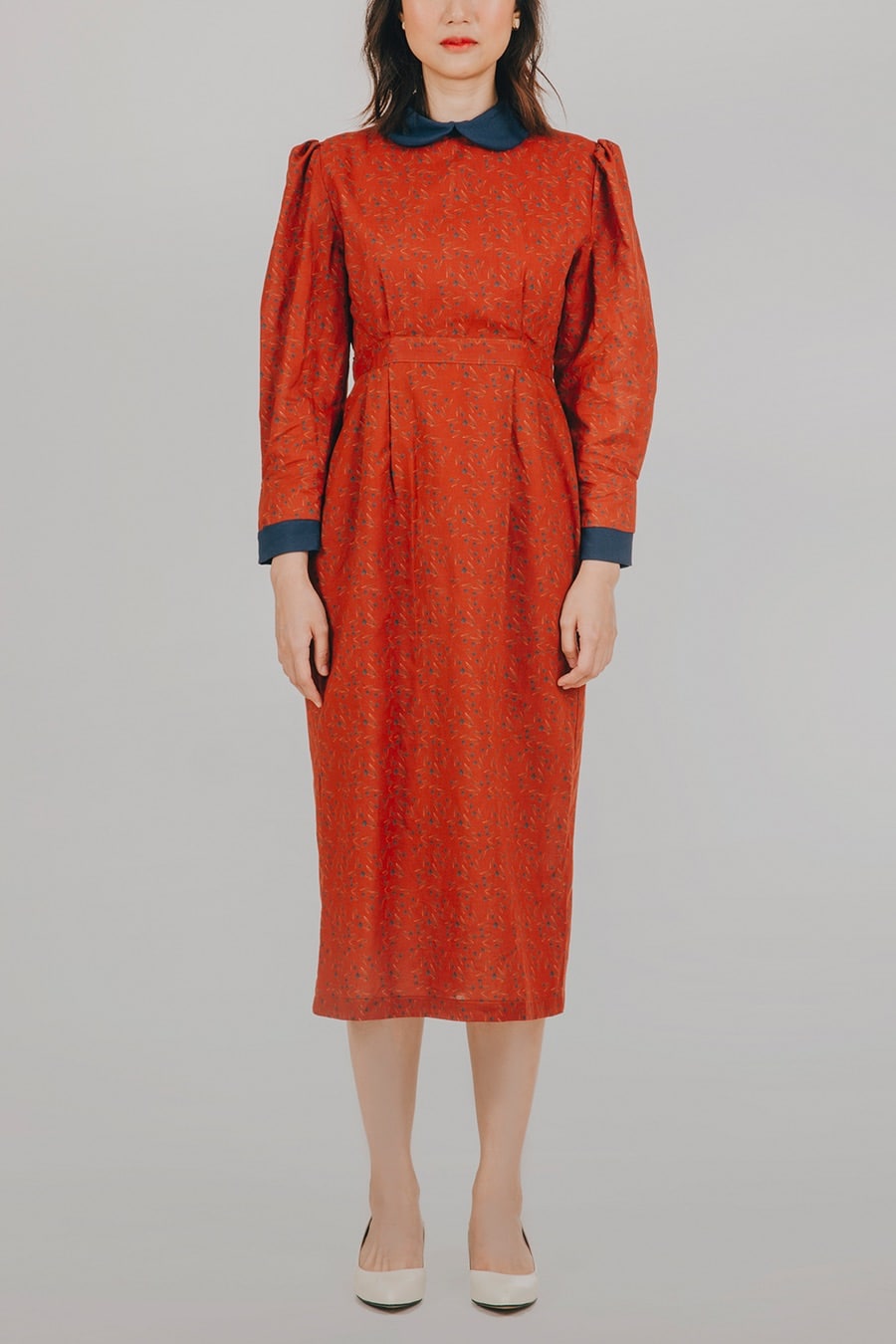 SWIPE LEFT OR RIGHT
TO NAVIGATE BETWEEN PAGES
Few people can style a plain white T-shirt in ways that look straight out of the pages of an editorial. But that's exactly the caliber of style icon Mari Jasmine is. Even the most basic of items become building blocks to flawless looks. Enjoying the LA summer, she wears a plain tee with denim cutoffs, Nikes, and a mustard sweater tied crossbody around her torso. During a foggy autumn day in Hong Kong, she wears a ribbed white shirt with a matching white denim jacket and trousers set. For a more formal affair, she wears the basic shirt under a white blazer with a striking black lapel and houndstooth collar. And letting loose for a Pride march in Tel Aviv, she wears a cropped white tee over a lilac bra, purple lamé hot pants, and a rainbow tulle skirt —creating one of her most memorable looks. And that's just what she can do with an ordinary item. Mari is breathtaking in statement pieces as well. A full-skirted taffeta dress with an outsized bow detail does not overpower Mari's small frame. Instead, she balances out the hefty garment with minimalist accessories such as strapped sandals, a small gold clutch, and dainty hoop earrings. Likewise, a velvet blazer resists being cumbersome when accessorized with whimsical rainbow earrings. Regardless of what she's wearing, Mari's eagle-eye for editing allows her to sport any look and still look chic.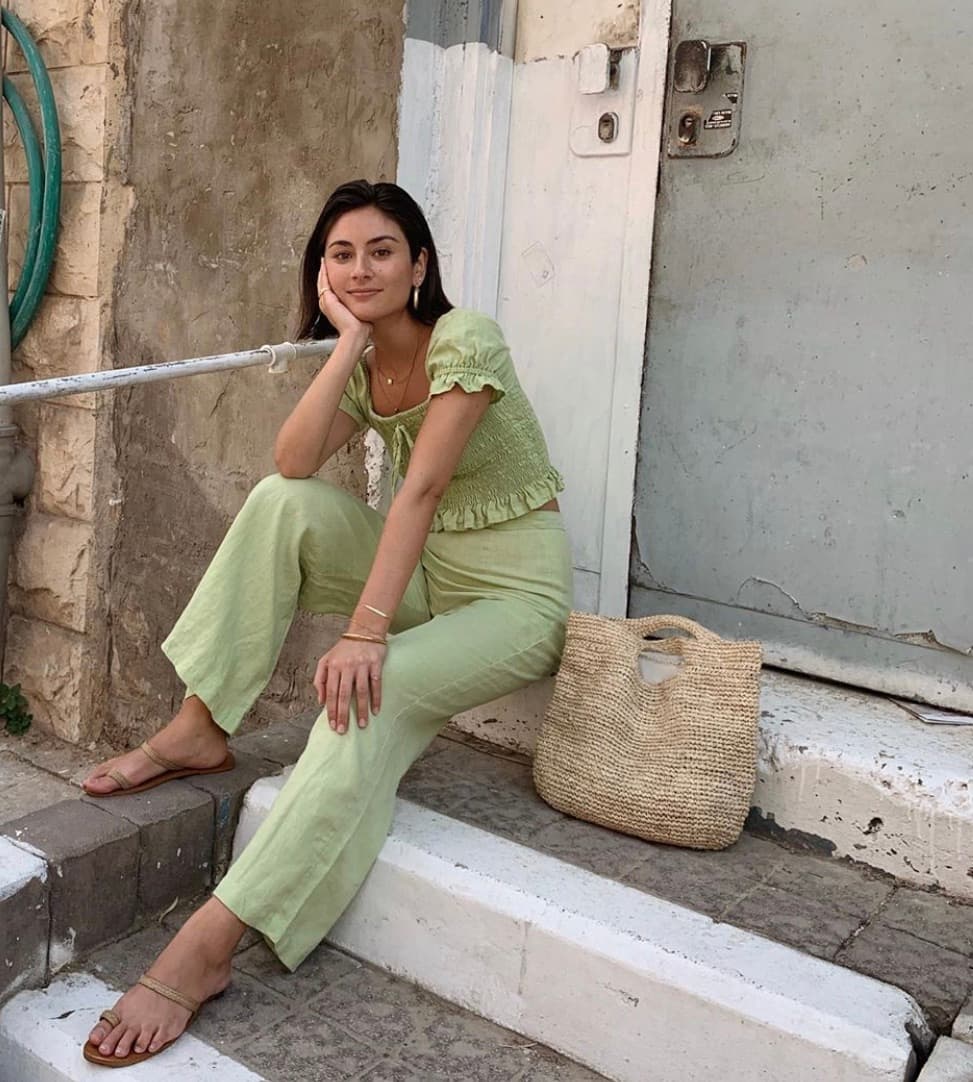 SWIPE LEFT OR RIGHT
TO NAVIGATE BETWEEN PAGES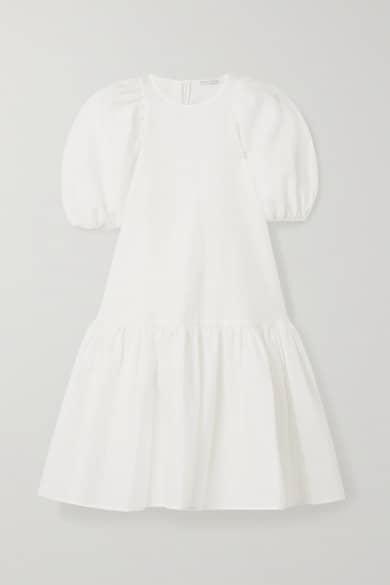 SWIPE LEFT OR RIGHT
TO NAVIGATE BETWEEN PAGES
Dress from Cecilia Bahnsen
Ear Cuff from Suki Jewellry
Sandals from Cecilia Bahnsen
As former mayor of San Vicente, Palawan, Pie Alvarez aimed to use tourism to share the beauty of the Philippines with the world, while also creating sustainable jobs to alleviate local poverty. This national devotion is apparent in her personal fashion, but not in the traditional way. Instead of wearing a terno or Maria Clara, you'll see Pie in a malong, worn for a business casual look, as a knee-length pencil skirt, complete with a modest slit. With more fashion-forward looks that don't take from Filipino traditional clothing, you'll see that Pie still manages to include local imagery. For instance, she has worn a fitted black dress that featured colorful beach umbrella and ice cream cart appliques. At times, her nod to the Philippines is more conceptual than literal. One of her standout party looks is a white ball gown with a sweetheart neckline veiled by a sheer accordion structure, making her look like an elegant folding fan—a ubiquitous accessory among women during Philippine summers. When she's being more subtle in her patriotism, she'll sport a handbag from a local designer, such as purses made from colorful woven straw, like the mini-bayong bags made by Harvey Alumisin. Whatever the occasion, Pie's looks are always thoughtful, delightful, and full of Filipino pride.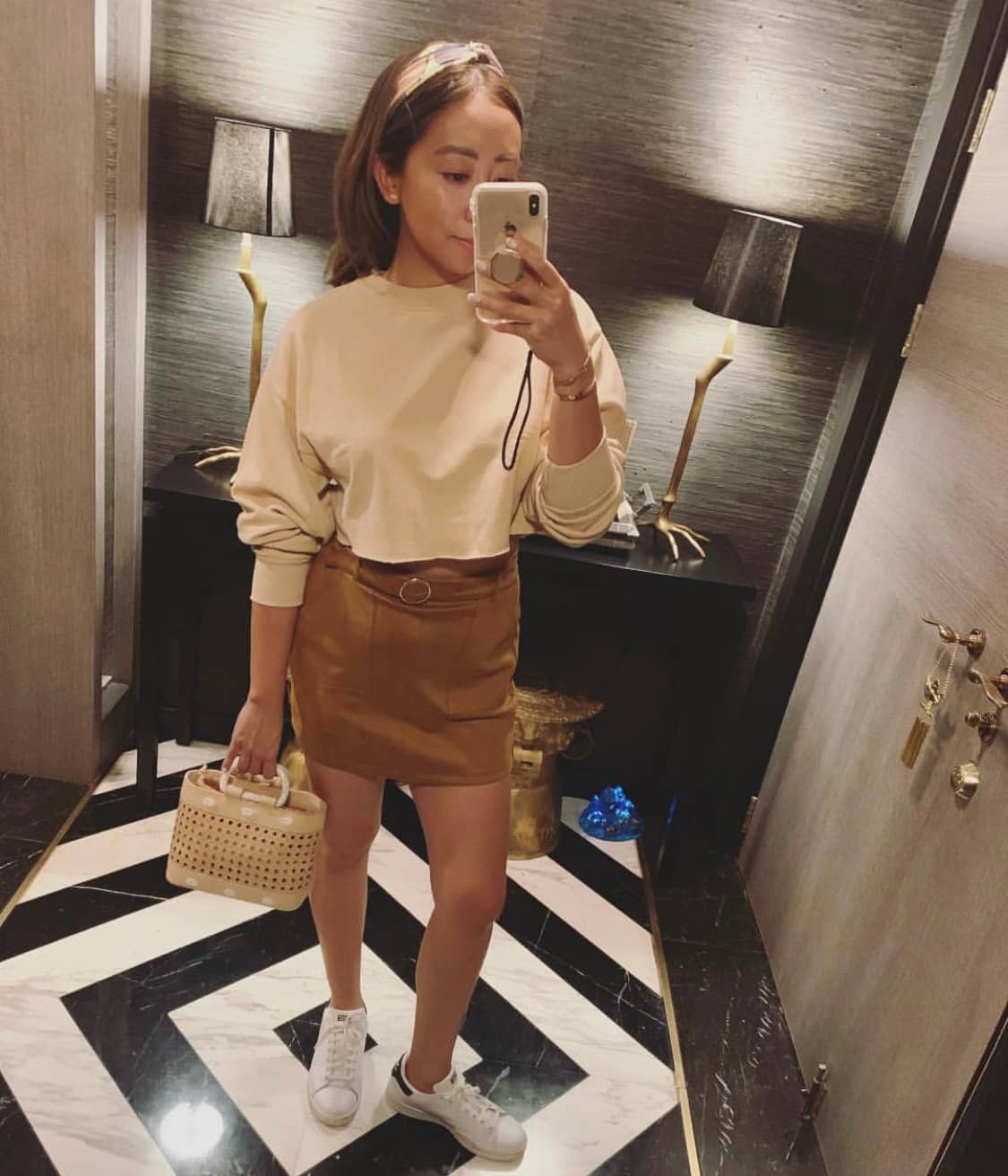 SWIPE LEFT OR RIGHT
TO NAVIGATE BETWEEN PAGES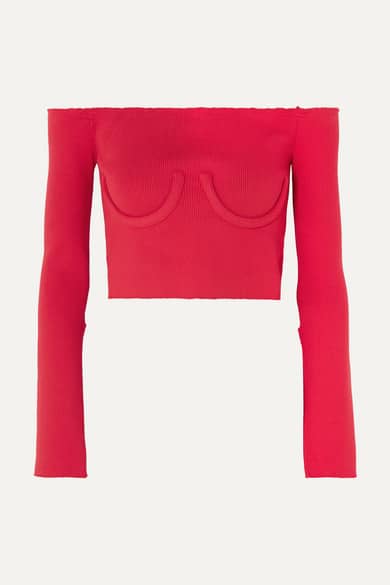 SWIPE LEFT OR RIGHT
TO NAVIGATE BETWEEN PAGES
Headpiece from Matthew and Melka
Heels from Gianvitto Rossi
Kathy Yap-Huang shines in well-tailored garments with clean lines and a touch of drama. To describe her fashion philosophy, she says, "Wear what you are comfortable in, and what you feel happy in." To Kathy, a woman looks best when she is at ease and confident in her look. As such, she always considers her body type, what silhouettes flatter it, whether she can move freely in a particular piece, and whether it will allow her to eat. Over the years, she has evolved from wearing basketball jerseys and baggy jeans, to polo shirts and clam diggers, to maternity clothes, which she admits she wore "long after postpartum." Now, more settled in her style, she's learned what she likes and feels comfortable in. Such looks include everything from an eye-popping gold drape dress cinched at the waist with a bold black belt, to a white column tube dress so minimalistic that its most striking feature is its pockets. "Being able to show different sides of yourself, and express facets of your personality is always empowering," she says. In workout gear or a cocktail dress, she says, clothes are a way to accept every kind of woman she is: "I am able to embrace the athlete, working mom and wife, and fashion enthusiast in me."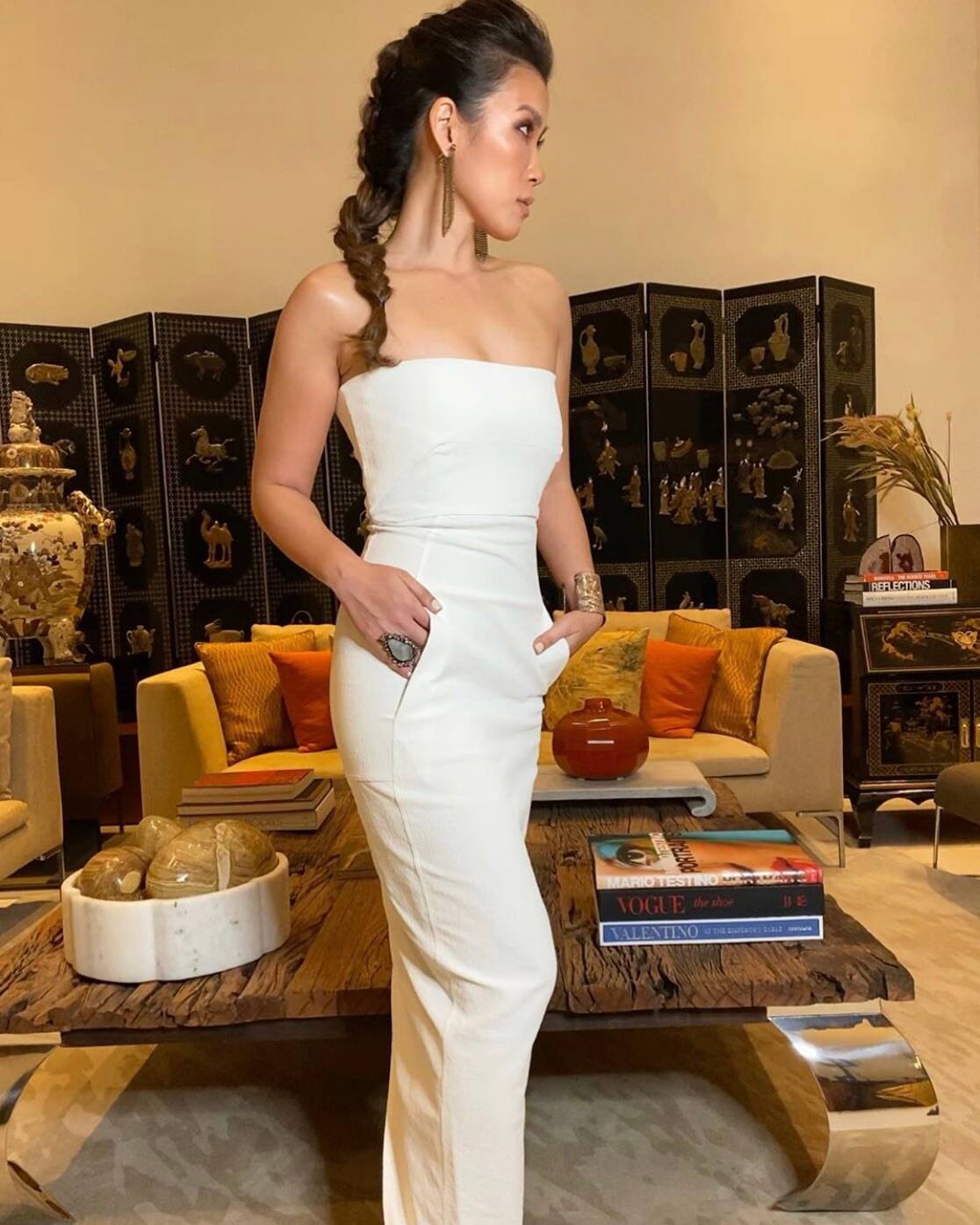 SWIPE LEFT OR RIGHT
TO NAVIGATE BETWEEN PAGES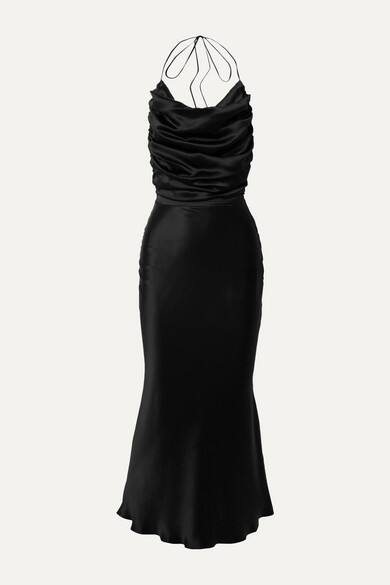 SWIPE LEFT OR RIGHT
TO NAVIGATE BETWEEN PAGES
Dress from Material Tbilisi
Purse from Bottega Veneta
"Island girl in the city" is how Aliza Apostol would describe her style. With a year-round tan, sea sprayed curls, and comfortable, well-cut clothes that can straddle casual and business dress codes, she is able to take a laid back beachy vibe into her everyday life. One of the cornerstones of her aesthetic is the stack of crystals she wears daily on her wrist. She wears them whether she is glammed up or in streetwear. "I feel they keep me calm, centered, and focused," she says. Despite her bohemian-leaning style, Aliza manages to always be polished. "For me, it's all about the silhouette," she says about choosing which items to invest in. "It could be on sale, the right size or the most popular style, but if it fails my silhouette test, it goes right back on the rack." Perhaps more importantly, however, she values locally sourced and sustainably made pieces. "When I was younger, I wanted to have whatever was new and popular, then I morphed into wanting designer things," she says, describing the early days of her style journey. "After having my children. and being more aware of various aspects of fashion, I've learned to lean towards locally-made products and support homegrown talent."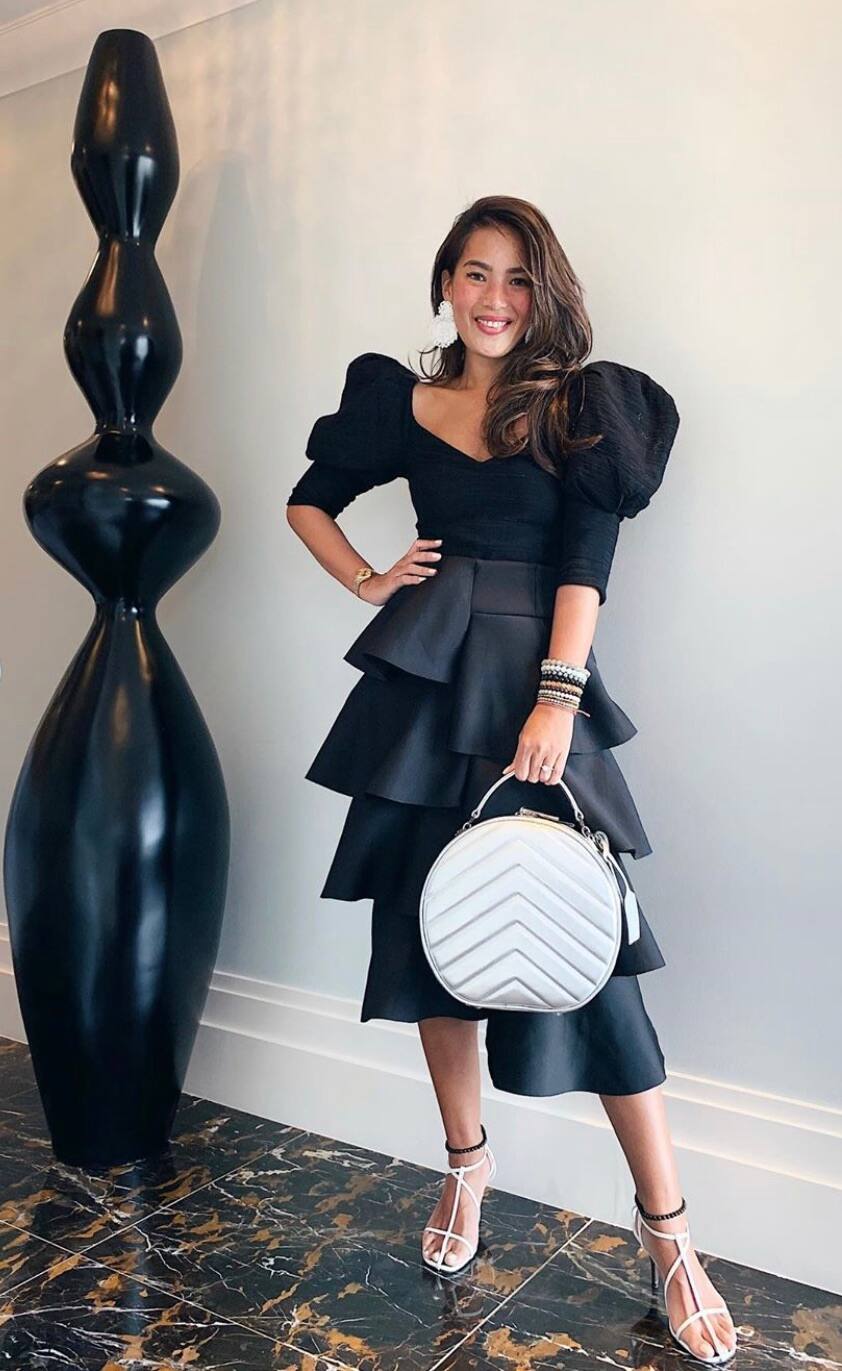 SWIPE LEFT OR RIGHT
TO NAVIGATE BETWEEN PAGES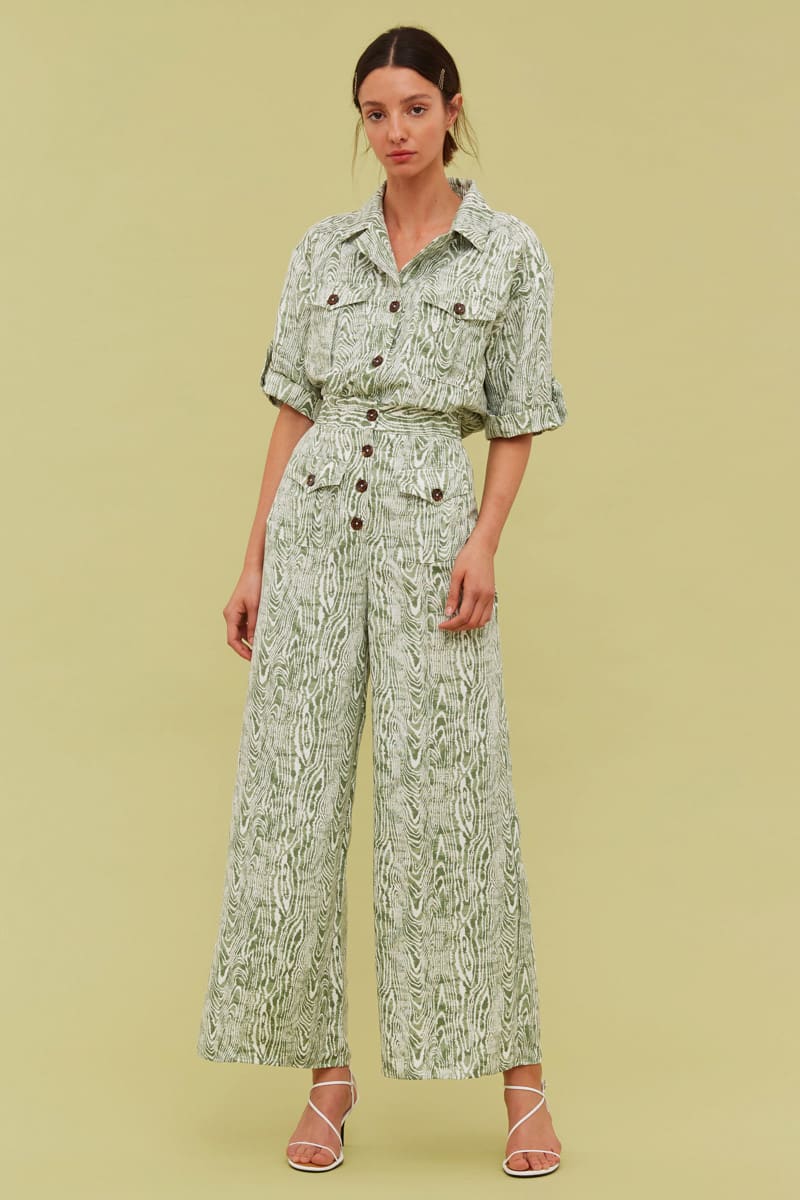 SWIPE LEFT OR RIGHT
TO NAVIGATE BETWEEN PAGES
Jumpsuit from CMEO Collective
Blouse from Johanna Ortiz
Crystal Bracelet by Cat Arambulo Studio
A celebrity stylist, fashion editor, and creative director of her own styling studio, Liz Uy is a force in the fashion world—both in the Philippines and abroad. Despite being the guiding hand behind some of today's best dressed, Liz is not one to stay in the shadows. When it comes to the cutting edge of fashion, she is not afraid to be in the spotlight where she rightfully belongs. Ever-adventurous, Liz enjoys the unconventional style choices. She plays by her own rules, pairing unexpected shapes and proportions, and layering pieces that do not instinctively go together. For instance, in sporting an asymmetrical dress with wide-legged pants, she risks creating a bulky look. However, because she balances the bottom-heavy silhouette with a simple, body-hugging upper half, the result is chic, modern, and effortless. Likewise, she manages to pull off knee-length leather shorts and a structured off-the-shoulder top with billowy sleeves. The soldierly rigidity of the bottom of the outfit should clash against the languid sexiness of the top, yet it all comes together because both pieces, as well as the accompanying boots and sunglasses, are worn in monochrome. The all-black look creates a Matrix-level sleekness that, in classic Liz fashion, is forward-looking and one-of-a-kind.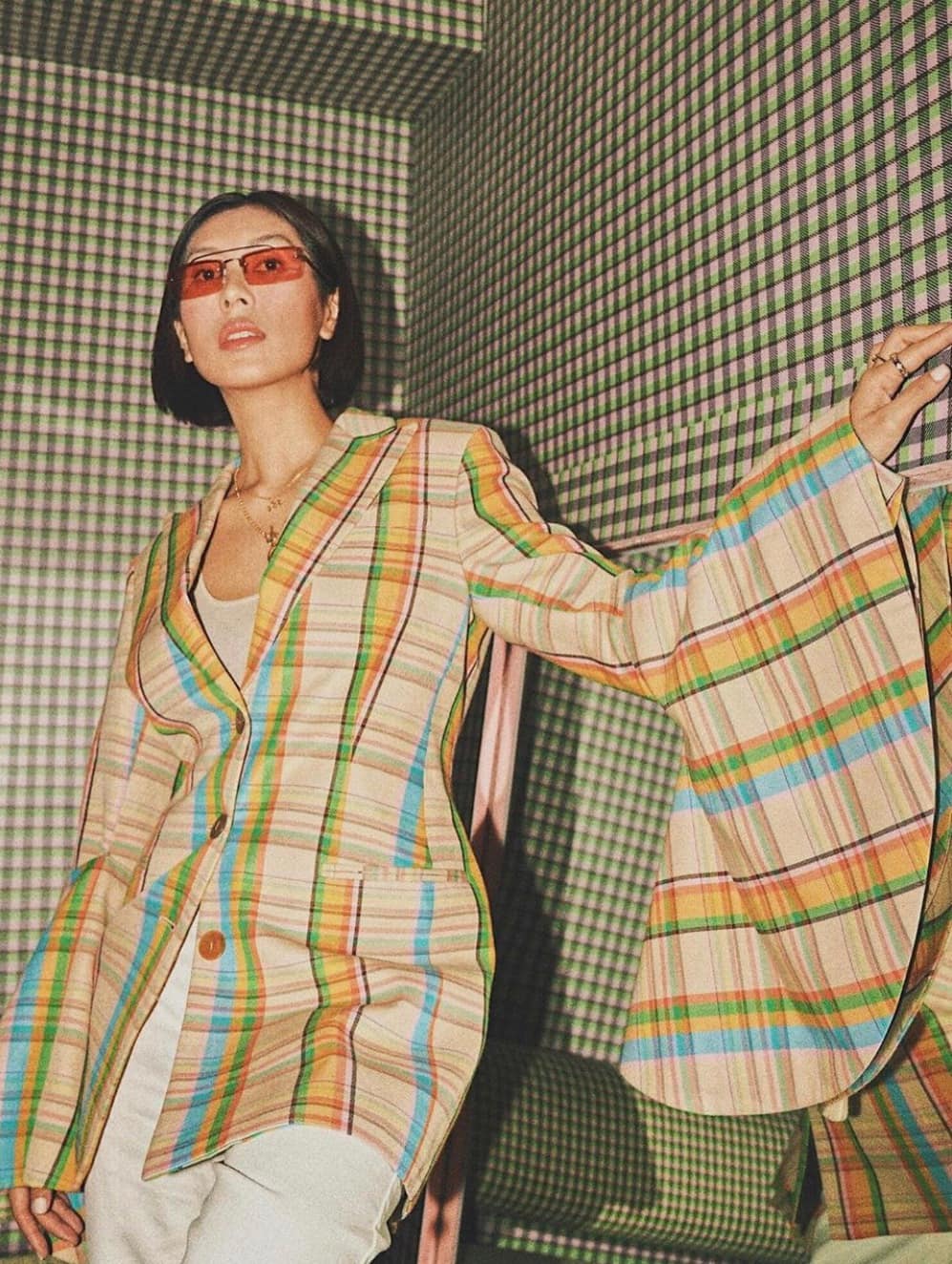 SWIPE LEFT OR RIGHT
TO NAVIGATE BETWEEN PAGES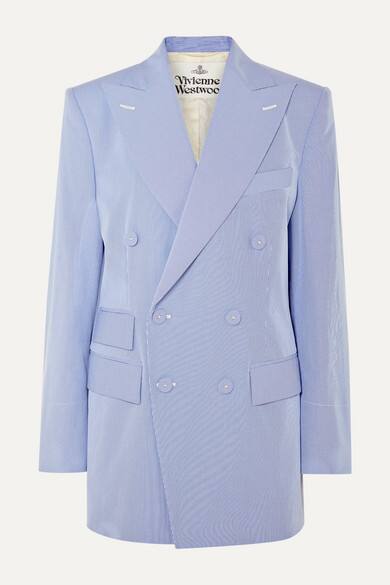 SWIPE LEFT OR RIGHT
TO NAVIGATE BETWEEN PAGES