#MetroStyleWatch: All The Details Of Maja Salvador's Latest Obsess-Worthy Travel OOTDs
The "Killer Bride" star is killing it in the style department, with her uber chic looks in Cuba and Mexico. Credit goes to her stylist, Cath Sobrevega, too, for dressing her up in pieces by Filipino designers and brands
Maja Salvador turned 31 last October 5, and is on a birthday vacation for a week now with boyfriend Rambo Nuñez. The Killer Bride star, who was recently named Best Actress at the 1st Asia Contents Awards in Busan, South Korea for her role in the teleserye Wildflower, is currently in Mexico after exploring the vibrant streets of Cuba.
Maja and Rambo, who recently made their first red carpet appearance together during the recent ABS-CBN Ball, have been traveling a lot as a couple. Ever since they confirmed their relationship early this year, they've been inseparable, exploring the world together. Locally, they have so far traveled to Amanpulo and El Nido in Palawan, as well as Lubao in Pampanga. Abroad, they have been on trips to California, Bali in Indonesia, Switzerland, Italy, and New York.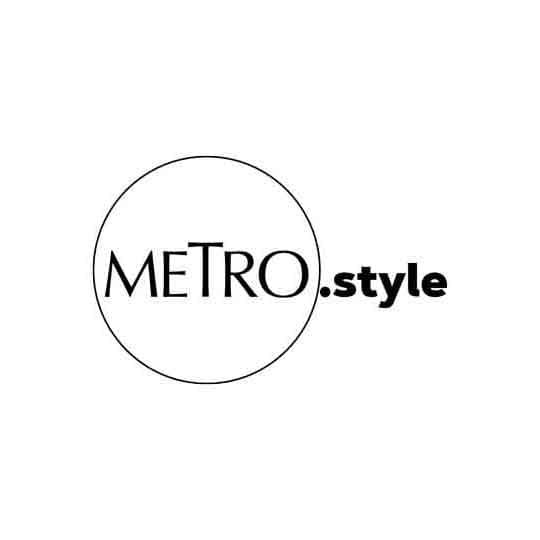 Maja Salvador and Rambo Nuñez in Havana, Cuba | Photo from @iammajasalvador
Now, what better way to celebrate her birthday and her recent achievement than by jetting off to another beautiful destination with the love of her life?!
When she was in the plane, on the way to their first destination, Maja Salvador posted a photo and captioned it with "Still on cloud 9! Birthday vacation starts now!" Well, it's been a week since, and we're sure she's still in paradise now, what with the beautiful places she's been visiting. Cuba, especially Havana, is an item in many people's travel bucket lists not only for its Instagram-perfect spots but also for its rich culture; the same can be said for Mexico. But aside from the tourist spots Maja and Rambo checked out, what we also loved are the OOTDs of Maja. With the help of fashion stylist Cath Sobrevega, the streets (and shores!) became the actress' runway, modeling one chic outfit after another.
Cath was also the one in charge of the stylish looks of Julia Barretto for the actress' luxurious trip to Latin America early this year. Asked about how she collaborated with Maja regarding the outfits for her vacay, Cath tells Metro.Style, "For Maja's trip to Latin America, I made a mood board, and sent it over to her for approval. She told me what she liked and our team started contacting designers. For her Cuba trip, we chose vibrant colors so we can be able to capture the spirit of Havana. We wanted to be playful to match the lively streets of Cuba. For Tulum, we decided to do a lighter palette—white, powder blue, and yellow. We wanted the look to be more polished and clean for the beach."

The style expert adds, "We packed everything that morning on the day she was leaving, very last minute. Maja is very busy but she gave us a few hours to fit her and help her pack for this trip. We took photos of every outfit and then I made a deck that served as a guide that she can just follow while on vacation."
Here, we break down all of Maja's latest obsess-worthy travel OOTDs! She just posted a new one a few hours ago as of this writing, and it seems like we can expect some more stylish looks from her during this amazing trip.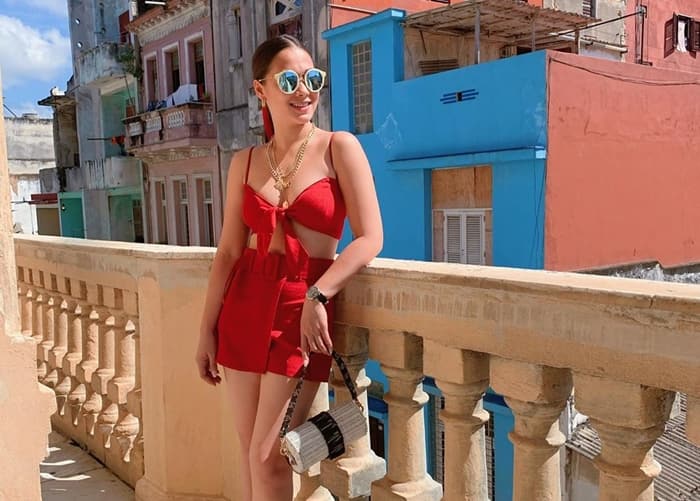 Monochromatic
This rust-hued ensemble is effortlessly stylish, striking despite its simplicity. The cropped blouse and roomy pants combo looks so cool and comfy. The outfit, paired with sandals, is from local brand Studio 17, a label that offers "classic-cut pieces in thoughtfully crafted from natural, breathable, and sustainable fabrics." The rattan bag adds texture to the monochromatic look.
White Hot
What a refreshing contrast this is to the colorful and interesting architecture that defines Havana's streets. This fun and feminine outfit by Filipino fashion designer Charina Sarte is such a standout with its one-shoulder, puff-sleeved top and ruffled skirt. The Malapascua wicker bag from local brand Style Cat lends a subtle yet impactful punch to her attire.
Go for bold
Maja matched the vibrance of Havana with an equally bold dress by local designer Kat Padilla; the piece is part of Kat's "Le Sucre" collection that features ultra feminine and sophisticated creations which were showcased at the recently concluded The Concierge Trunkshow. Simply worn with a laid-back pair of sandals, the overall look is carefree yet stunning and absolutely appropriate to the venue.
Señorita Maja
"The Dance Princess" danced her way through the narrow streets of Cuba, and did so in style! She was such a stunner in this fuchsia pink maxi dress with slit and ruffled hem by local brand Style Staple. We love how Maja styled her hair in a sleek ponytail, to balance the playfulness of her outfit.
Mellow yellow
Maja and Rambo checked out at O'Reilly 304, a tapas bar that is considered as one of the hippest bars in Havana. Complementing their Tangerine and Mango Mojito drinks was Maja's yellow outfit that has just the right amount of sexiness. The cropped top and pants are also by designer Kat Padilla.
Red-y to go
Wittily captioning this OOTD post with "Red-y or not," Maja was ready to impress and grab people's attention with this eye-catching red linen bra top and skirt combo by Style Cat. It's a fiery look that matches Maja's bold personality, fun style sensibility, and sexy aura. This OOTD was taken in La Guarida, a restaurant in Cuba.
Stylish jetsetter
Sexy yet sophisticated is perhaps the best way to describe this look. Ready to head to their next destination, Mexico, Maja donned an all-white outfit that looks so clean and chic. It's a casual attire that is impressively well put together.
Classy and sexy
For her first OOTD in Mexico, Maja looked ethereal in a white lace dress by Charina Sarte; the bustier design put a sexy spin to the well-loved LWD (little white dress). She and her stylist Cath found the right dress to match the "Mayan paradise," particularly the eco-conscious resort Azulik.
Cool blues
Frolicking by the beach in another Charina Sarte creation, Maja looked even prettier in her pastel blue linen dress that is part of Charina's spring/summer 2020 "Trouville Sur Mer" collection. Maja was photographed in Nômade, a 4-star hotel in Tulum.
Flouncy
Garbed in a strapless loose top and a frilly skirt by Style Staple, Maja explored the Yucatán Peninsula filled with so much appreciation for the mind-blowing destinations she went to. Here she was at Chichén Itzá, where a massive step pyramid known as El Castillo or Temple of Kukulcan serves as a landmark.
Photos from @iammajasalvador