Onitsuka Tiger Wins At The Chunky Shoes Trend, Here Are Our Faves From Their Preview Party
The scene was a '90s rave party, Europe style.
Everyone was decked out in head-to-toe Onitsuka Tiger—not just any basic hoodie and the familiar pairs of shoes from the brand we've grown to love: There were now creepers, oversized shiny, padded jackets, and sexy mini skirts—there was a sense of electric youth in the air and new footwear silhouettes on the floor. This equal parts underground and modern scene was just a memory in Onitsuka Tiger Creative Director Andrea Pompilio's head but now we're here, reliving it as the brand's all-new Autumn/Winter '19 collection.
Catapulted back to the '90s, Warehouse 30 in Bangkok turned into an authentic club scene, housing all the reimagined iconic pairs to fit the brand's new theme for the collection. For Andrea, Onitsuka Tiger's iconic shoes are a well of opportunities to switch things up every season, especially today. Case in point: the Mexico Delegation gets an update with thicker soles (a '90s classic!) and the Appian has two modern belts and that same thick sole. "We always take care of the history of the brand and we always take inspiration from the [its] history," says Andrea on switching up pieces that are already iconic themselves. But if there's something he's proud of after designing for the brand for six years now, it is that he mixes in the brand's heritage with the new so flawlessly that everything looks so modern while still feeling familiar.
It is not the easiest position for Andrea if you look at it, trying to link the old with the new, the heritage from the modern. But this A/W '19 collection was a success story at this. For every season, he takes the Japanese brand's 70-year history into heart and feels like he is in constant collaboration with it to recreate things such as we're seeing today. "We are working to form a new agenda, a new generation, a new culture, and officially we have grown a lot," he says on working for a brand that started out as a sportswear company and keeps doing what it does best. For this season alone, this "newness" comes in easy favorites such as loose-fitting windbreakers, matching tracksuits, and ski suit-like inspirations. It's retro, it's futuristic but in a way feels incredibly Onitsuka Tiger.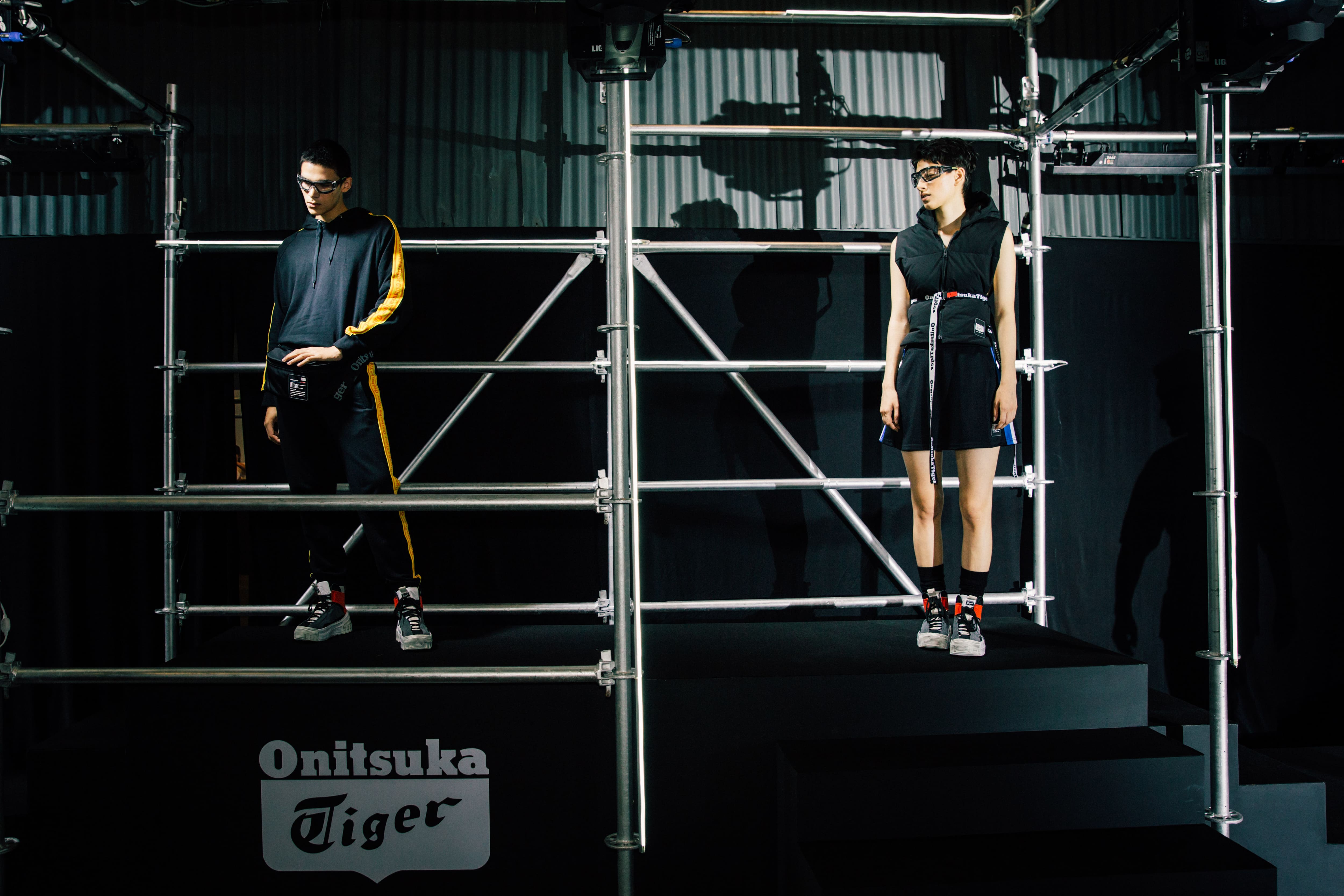 By giving Andrea full creative control over the seasonal collections, Ryuji Shoda, the Director heading Onitsuka Tiger, may seem like he might be giving up a lot from the brand. But not with Andrea. "For me it is very important to work for this company and to collaborate," Andrea spilling out the secret that makes every season so successful. He works with Onitsuka Tiger, harnessing this creative freedom. And for Shoda- he knows he always sees the brand in everything Andrea does. For this season alone "We merged it with comfort, our Onitsuka Tiger shoes are known for [this] and by bringing in the chunky trend together with the comfort, we created our very own Onitsuka Tiger collection," says Shoda proving all the more that the said icons and staples will always be present however they are redesigned.
It was a perfect fit, this particular collection. The downtown rave look mixed in with an authentic Japanese slant. I see Andrea's youth in the vibe of the looks: a little bit rebellious but done so refined; outrageous, yes, but very appropriate for today. I see Onitsuka's heritage in the not-so-subtle nod to this season's version of the iconic Bruce Lee tracksuit, and the brand's logo cleverly plastered on some of the key seasonal highlights. And the shoes, yes! Such standouts like the Chunky Runners in black and white and the Knit Trainers in their signature yellow!
"I think we always try to put ourselves into work," Andrea says in our fun little chat within arm's reach from the warehouse party that's about to happen next door. This is exactly what makes a collection truly authentic—taking in a memory, respecting heritage, and bringing in the new. Andrea's club scene past, Onitsuka Tiger's signature comfort and looks, and out comes something we've never seen before but feels all the more familiar. "We are our own inspiration," Andrea ends speaking both for his take on the collection and the brand's history highlighted that night.
Onitsuka Tiger is available at leading malls. For more information, visit www.onitsukatiger.com/ph and follow them on Instagram and Facebook.