#MetroStyleWatch: Check Out All The Eye-Catching Headpieces We Saw At The Opulence Halloween Party
These celebrities literally topped off their look with a style statement!
While we've all seen the attention-grabbing costumes on the red carpet, it pays to go up close, to admire the details, and to set our eyes on the hard work injected into each of these amazing outfits. Manila's A-list gathered last October 31 for a Halloween party the city has never seen before—Opulence: Let Them Eat Cake truly made its mark!
Oh what fun! Rarely do we see the brightest local celebs and personalities in over-the-top garb, but at Opulence, they pulled all the stops and made sure to prove their style statements worthy! If you're wondering who the best dressed males and females were, we've got you covered; and we also compiled some of the most show-stopping ensembles the local red carpet scene has ever witnessed. But in this edition of #MetroStyleWatch, we're setting our sights on the beautiful headpieces that literally topped off the already outstanding looks.
Back in Marie Antoinette's day, she surely had a ball dressing up, and boy did she have fun with her hair and headpieces! According to The Huffington Post, "Frivolous women covered their heads with butterflies, sentimental women nestled swarms of Cupids in their hair, and the wives of officers wore squadrons perched on their heads. Melancholic women went so far as to put crematory urns in their headdresses. It was also not uncommon to mix feathers with flowers which were kept fresh in tiny bottles of water hidden in the pouf." The hair scene was already up there, but the accoutrements? Those details truly sealed the deal.
Scroll through our gallery to see some of our favorite headpieces from the Halloween party of the year: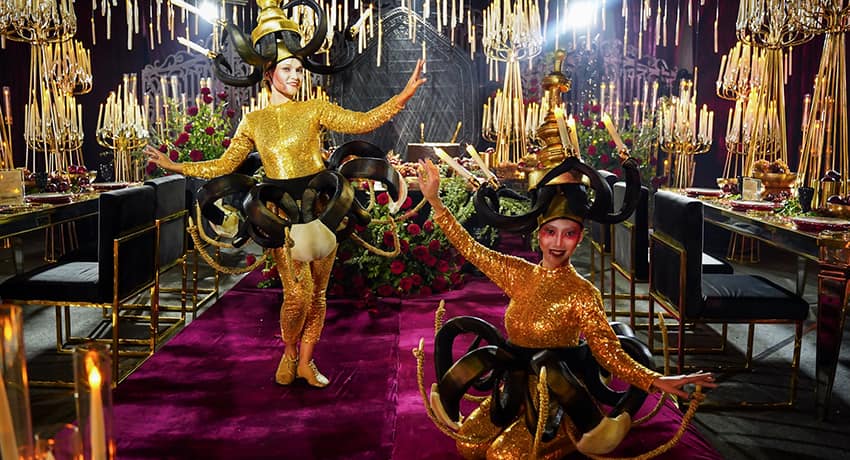 Opulence Most Eye-Catching Headpieces
Opulence Most Eye-Catching Headpieces
Photography by Dane Soriano and Magic Liwanag (Apples Aberin)