Pam Quinones and Kat Cruz Teach Us Power Dressing And How To Feel Stylishly Good
The country's top fashion stylists spill their favorite fashion pieces and styling techniques.
Power dressing dates back to our recent history of self-discovery and acceptance. The idea was first introduced when women started encouraging each other to dress the way they do because they can. Yes, power dressing became socially accepted not too long ago. Dressing up like a girl boss is purely a personal experience and we need to keep it that way. There's no right and wrong when it comes to feeling good about yourself and power dressing is certainly not a one way street, it's crossroads and highways of self-discovery! This women's month, we give all ladies out there the zing of new confidence by way of clothing: Power dressing can and will give you that boost you need.
Take it from fashion industry's tastemakers themselves: fashion stylists Pam Quinones and Kat Cruz-Villanueva. We kid you not, if there's anyone who knows a thing or two about the future of fashion, it's definitely the country's best of the best in style. We asked Pam and Kat on their favorite fashion pieces and key power-dressing techniques, spilling various styling tips and trend-setting secrets for every lady who wants to be their most confident yet!
Dame of juxtaposition and queen of chic oversizing, trust Pam Q that when it comes to styling she has the golden tips up her sleeves. And of course by sleeves we meant all of her to-die-for pouf ensembles and suits that are structured-to-the-gods. Her sense of style bridges boldness and color and it's not a secret that she shares this Pam Q signature to her clients as well. The secret to an incredible stance is confidence and a couple of good styling tircks. When asked what's her feel-good fashion piece, Pam chooses without a doubt the black airism sleeveless turtleneck from Uniqlo. And isn't what makes you feel good also make you feel empowered?
"It brings me back to the 90s—minimal, straightforward, and chic which makes it timeless." Pam also explains that the same top is her greatest tool when it comes to flaunting her arms which she worked hard for this year. She likes to style her Airisms tucked in with a pair of bow-legged slouchy trousers with heels for that overall elongating effect. This ensemble also works when paired with sneakers when you feel like you'll be running/styling around all day. She shares that this piece is so easy to dress up or down with. Dress it up with a black sheer corset and a black fitted skirt or dress them down by exposing a silver of midriff skin paired with high-waist trousers and an oversized blazer.
On styling, Pam would like to practice sustainable styling and recycle/re-style if not some or most of her existing wardrobe. She aims to continue curating pieces for Vestido, her fashion rental space and to maximize as much as she can on her wardrobe. "This year, I would like to work better at choosing well, buying less, and renting more. It's definitely a more economical practice with less carbon footprint. Plus I get to push my creativity on styling existing pieces and making them look different every time."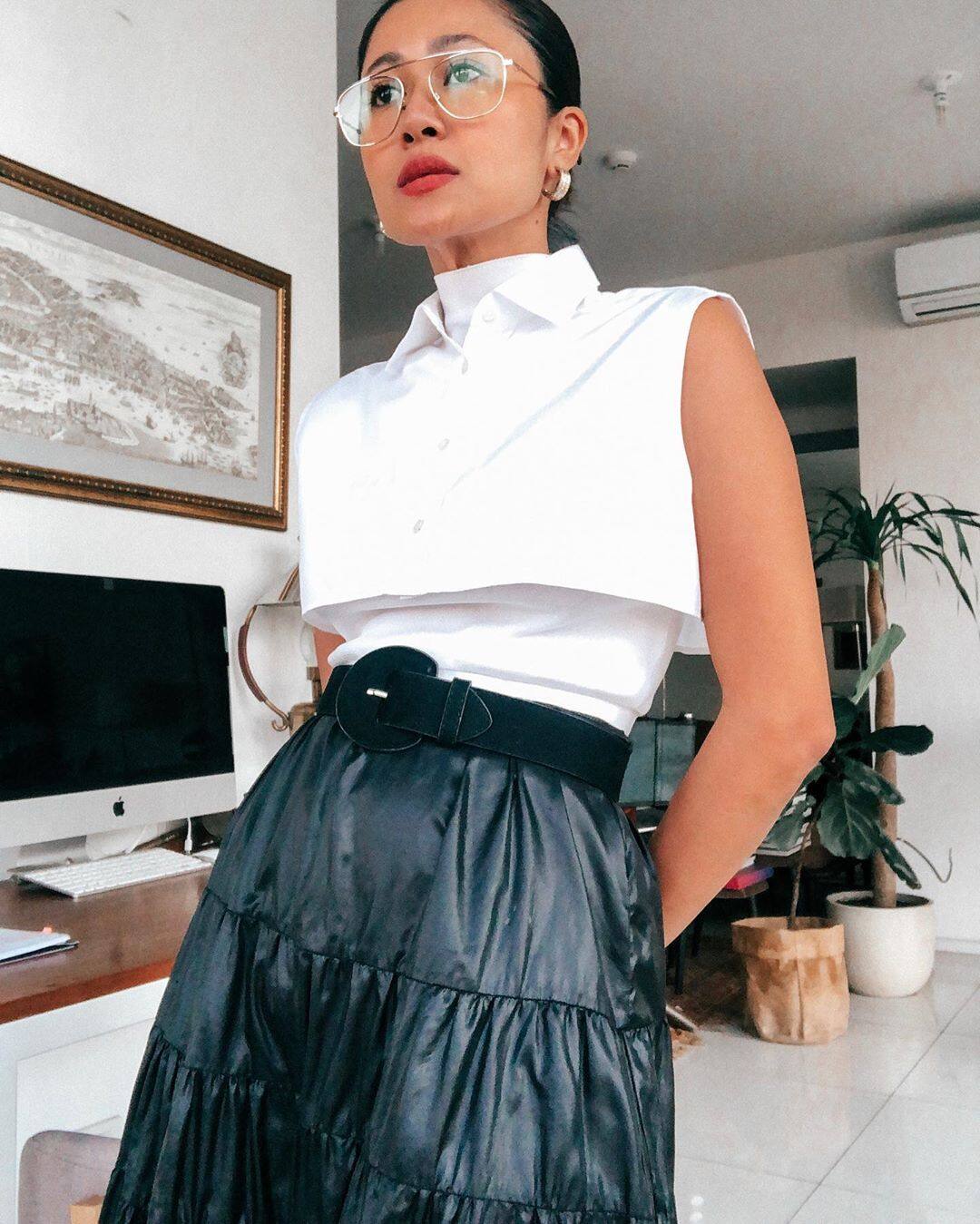 Metro Magazine's Executive Editor, Kat Cruz-Villanueva lives true to her already-impressive fashion stature and she outdoes herself every time. Her sense of style has equal parts of wit and sass. We salute Kat's enviable skill on putting together layers and layers of luxury designer pieces and she's showing no signs of stopping there. Her stellar clientele can truly attest to her one of a kind aesthetic, toss her a pair of Louboutins and best believe she'll come up with something we haven't seen before. Speaking of Louboutins, if you're part of Kat's huge Instagram following, you would know how much she would succumb to an exuberant pair. Apart from her hard-to-miss OOTDs, we can't help but swoon over her interesting shoe finds and well of course, her shoefies! Yes, shoes can give you that power dressing trick you need!
Her feel-good fashion pieces are statement or sprightly coloured mid-height heels like the Christian Louboutin Pansy 85, a bright burst of yellow that is more than enough to cheer you up in these unsettling times! A true closet staple, these type of heels are bold enough to dress up an outfit, yet comfy enough to last you an entire day. Kat believes that mid-height heels are great in-betweens of fashion and function. Take it from the fashion stylist who would spend literally an entire day and more to produce and style editorials you see in our very magazine!
And if you want to see more of Kat, browse through Heart Evangelista's feed to see more of Kat's style aesthetic. As her muse and friend, Kat and Heart have conquered fashion week numerous times and every time they do so, they always turn up with the most visionary looks. Indeed when it comes to fashion, best believe that Kat is beauty, brains, and brawns.