#MetroStyleWatch: The Best Modern Filipiniana Outfits Spotted At SONA 2019
The best-dressed Filipinas spotted at SONA 2019
Another year, another State of the Nation Address.
Every year, the president shares a report on what's been done during their term, and unveils future plans for the Philippines. And while all eyes were on President Rodrigo Duterte as he delivered his 4th SONA, we can't deny that we were also on the lookout for breathtaking, proudly Filipino outfits. After all, this annual event is a rare moment for modern Philippine fashion—and we're always excited to see local artisans' innovative renditions of our national costumes!
Ahead, we've compiled the best dressed Filipinas at SONA 2019.
READ: Philippine Fashion: These Local Labels Incorporate Piña, Abaca, And Other Renewable Resources Into Modern Wear
Yanee Alvarez in Rajo Laurel
This knee-length, all-white Rajo Laurel terno dress is the perfect embodiment of understated elegance.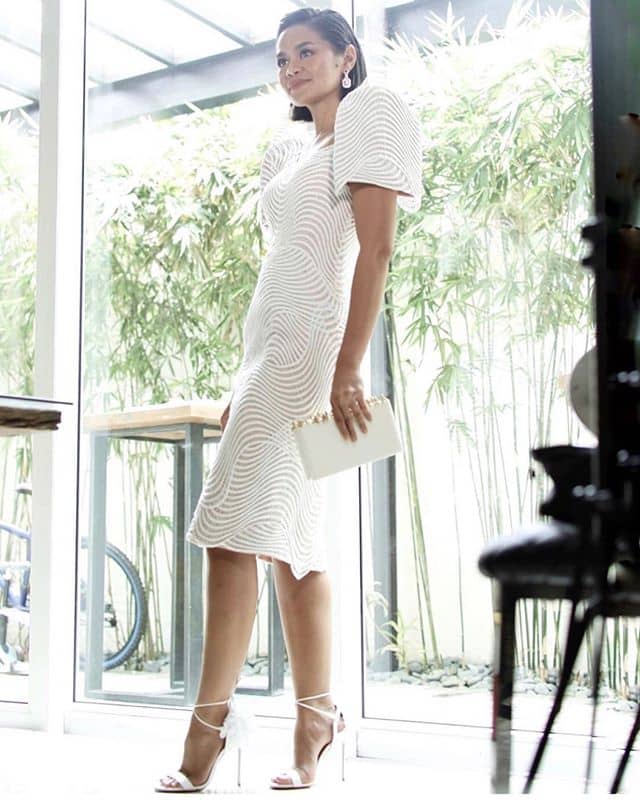 Photo: @rajolaurel
Audrey Tan Zubiri in Ito Curata
Chic and classy, this terno top and slacks ensemble by Ito Curata is simply sophisticated.
Photo: @audreytanzubiri
Tootsy Angara in Michael Leyva
Michael Leyva has done it again! The Metro Most Stylish woman was spotted wearing a gorgeous Maria Clara-inspired dress made of silk piña textile. Spot the LGBTQIA+ rainbow pin!
Photo: @michaelleyva_
Rhea Aquino in Cary Santiago
Maternity chic! This classic, asymmetrical red number was elegantly paired with subtle gold details.
Photo: @rheaaquinogullas
Len Alonte in Michael Leyva
This monochromatic Michael Leyva terno featured a breathtaking serpentina silhouette. The all-white piece highlighted Len's rainbow-inspired purse, in support of the Sexual Orientation and Gender Identity and Expression (SOGIE) Equality Bill.
Photo: @michaelleyva_
Marga Nograles in KAAYO PH
We're in love with this knee-lenth terno KAAYO PH dress inspired by the T'boli tribe of Lake Sebu.
Speaking of indigenous fashion, we recently created a guide on how to wear indigenous textiles responsibly, according to an expert. Check it out here.
Photo: @kaayo.ph
Senator Risa Hontiveros in Joel Acebuche
This contemporary Joel Acebuche piece, which featured piña textile woven in Kalibo and embroidered in Lumban, recently went viral after a Twitter user called it "inappropriate". In addition to that, Senator Risa Hontiveros, who also authored the "Bawal Ang Bastos" law, was slut-shamed and called "thirsty" for wearing this dress.
However, the feminist senator stood up and responded with a powerful statement—"Stop telling women how to dress!" You tell them, Senator!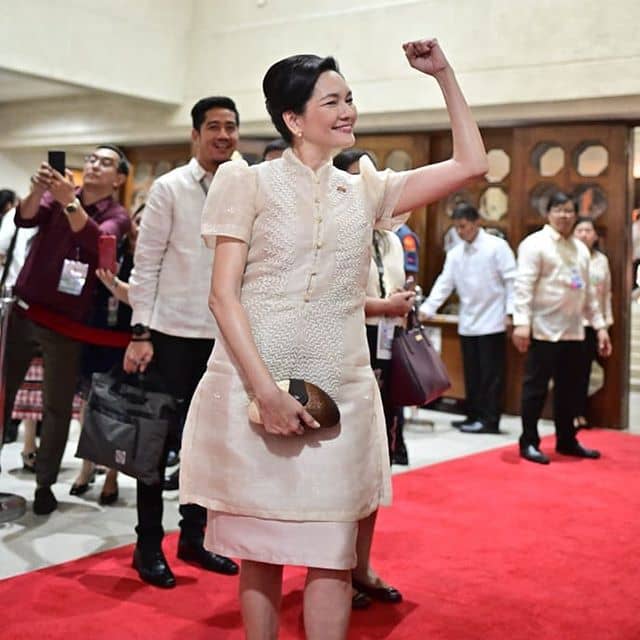 Photo: @risahontiveros
Suzette Lopez in Ito Curata
We're obsessed with this boss woman-approved pantsuit and terno hybrid by Ito Curata.
Photo: @itocurata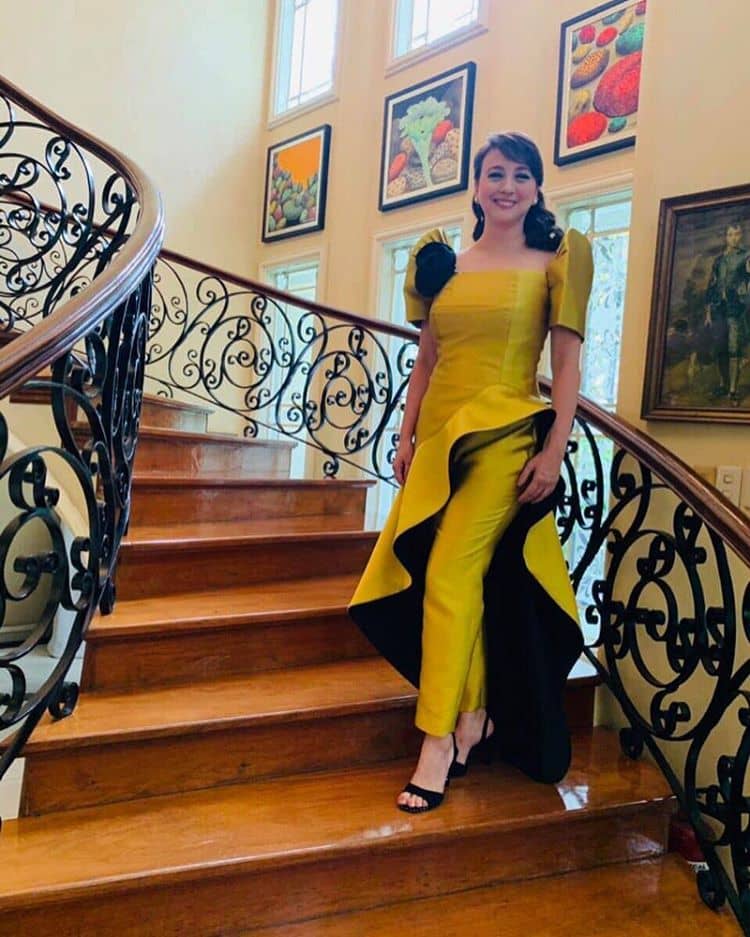 Photo: @itocurata
Margie Duavit in Gabbie Sarenas
This Gabbie Sarenas terno was inspired by Filipino classic lullaby "Sa Ugoy ng Duyan" by Lucio San Pedro. Look closely at the piña dress, and you'll notice hand-embroidered images of bamboos and hammocks (duyan).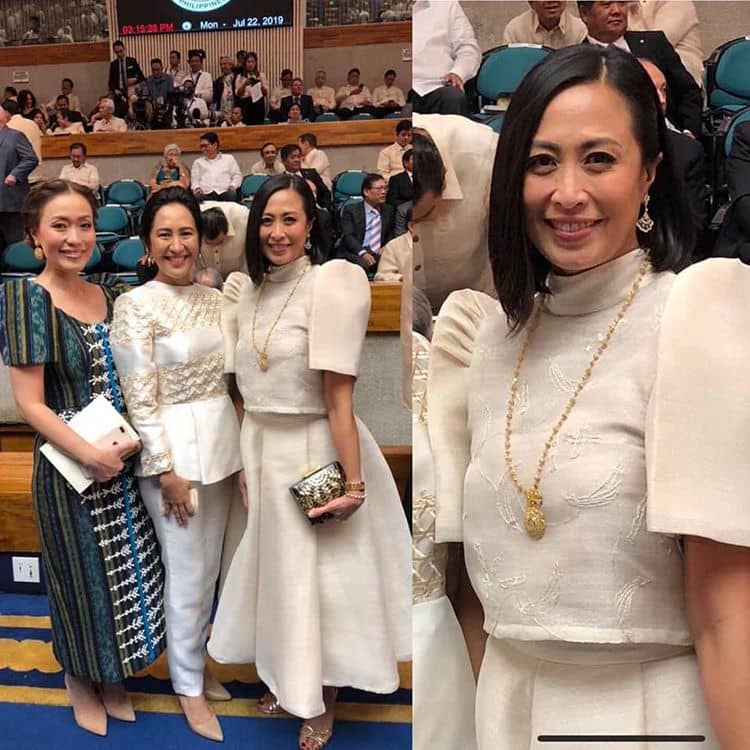 Photo: @gabbiesarenasph
Vice President Leni Robredo and daughters Tricia, Aika, and Jill
The Vice President of the Philippines, together with her daughters, donned indigenous fabrics from Angat Buhay communities in Marawi and Basilan.
Photo: @jpgrobredo
Sarah Elago
Finally, this is how you create a fashion statement—literally! Sarah Elago, the youngest lawmaker in the Philippines, wore a hand-painted blue sash to show the youth's commitment in protecting and defending the West Philippine Sea.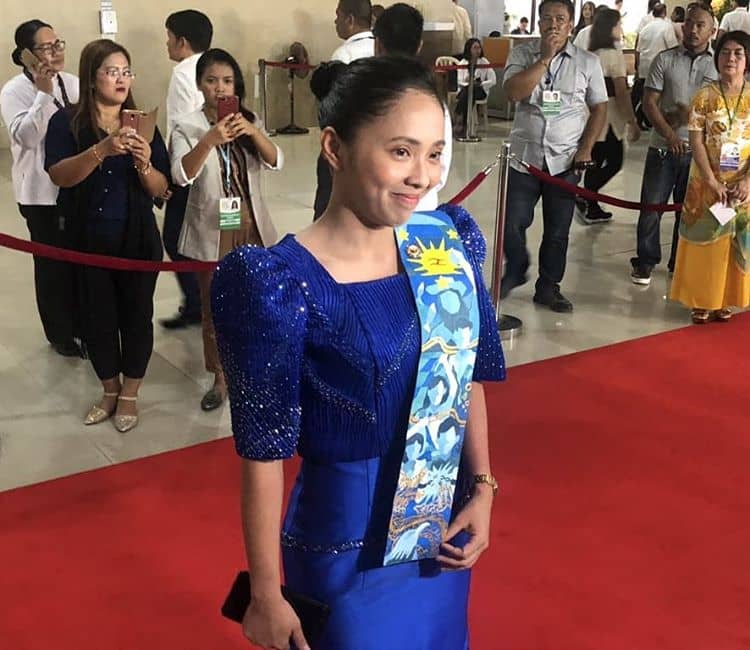 Photo: @sarahelago