Style Hack: Get These Stylish Moms' Tricks To Stay Productive At Home
Working at home with your pajamas on is a big no-no! Here's why dressing up is all part of the job.
Working from home is no small feat and when you top it all of with chores—it just gets harder to hang by a thread! Lucky for us, Ria Prieto, Rosanna Ocampo, Marga Nograles, Tricia Centenera, and Kelly Misa know the easy way out of this misery. Dressing up is the very mood boost you need during times of self-isolation. You may be indoors but that doesn't stop your responsibilities from piling up. From countless Zoom meetings, passion projects, homeschooling to extracurricular activities with your family, trust us that you would want an outfit that best lifts you up.
For us fashion girls, dressing up is a high form of expression. From packing our work bags the night before a Monday to slipping into our newest shoe acquisition, everything just falls right into place when you have yourself prepped for head-to-toe. Staying in your pajamas might be comfort one these days but fashionable momma's tip number one: Toss them as soon as you get up and dress up!
Here's how these style experts a.k.a moms-in-action do it. We're giving you style hacks and key pieces to wear to keep your days interesting.
As a multi-hyphenate, we trust whatever she recommends. From the latest on fashion, tips on beauty, to must-see's on culture, Ria Prieto is a true woman-in-action. She may be busy on riarecommends.com but she finds time to bond with her kids everyday.
During the first few weeks into the ECQ, Ria admits that she has been in a trio rotation of pajama, swimwear (she swims with her kids almost every day), and workout gear but have transitioned into something more polished. "I've been wearing some of my casual dresses at home. I've realized that if I make an effort to get dressed, I'm more productive," Ria further explains, "It's like any other day, if you feel good, it's just better for you and everyone else."
Like an exemplary mom, Ria influences her children to dress up as well. "It also sets a good precedent to my kids, I ask them to get dressed as soon as they wake up. So I should of course do the same."
Fashion Designer Rosanna Ocampo-Rodriguez finds a new purpose this ECQ through producing face masks and face shields. She particularly found the first two weeks challenging but she got in tune and has fully adjusted since. In mornings, she is filled with activities with her children while in afternoons, she learns and relearns through several online courses she applied for.
Her daily uniform is an array of resortwear pieces. "My kaftans and beach wear have never gotten so much mileage. I rotate between linen tunics, day dresses, and denim cutoffs" says Rosanna. If there's one vital rule in surviving this quarantine, Rosanna emphasizes on "Dress up. Being in my PJs made me feel lethargic and sluggish during the first few days. I instantly felt my mood lift once I dressed up for work."
During these times, we do whatever we can to find a little pick-me-up and in our case, clothes are a mount of blessings we should make use of. Rosanna also shares that everyone should have a routine in your household. "The answer to chaos (at least in my house, haha!) is a schedule. We need order more than ever. Figure it out as a family and write on a board or post it where everyone can see it." That way, you're not just gaining from experience but your family gets to enjoy hoorays as well!
Just like us, Marga Nograles, the stylish entrepreneur behind Kaayo Modern Mindanao is now fully attune with her new normal. She pushed through the entire ECQ and created schedules for everyone in her household including those who work for her. Marga started to think long term. "I decided it was time for me to innovate and reinvent. I felt our 'vacation' was over and it was time to move forward."
With a driven team of staff, sub-contractors, sewers, and her partner tribes, Marga is busy setting up her #BeatCOVID19Together program. Kaayo Modern Mindanao has been feeding frontliners in the Southern Philippines Medical Center and her team has also been producing cloth masks which has already donated 2,500 pieces to date. Marga was kind enough to send us photos of her new Kaayo COVID 19 jumpsuit which was inspired of a PPE suit. For every purchase of this jumpsuit, three medical-grade PPE suits will be donated to hospitals. See the photos down below: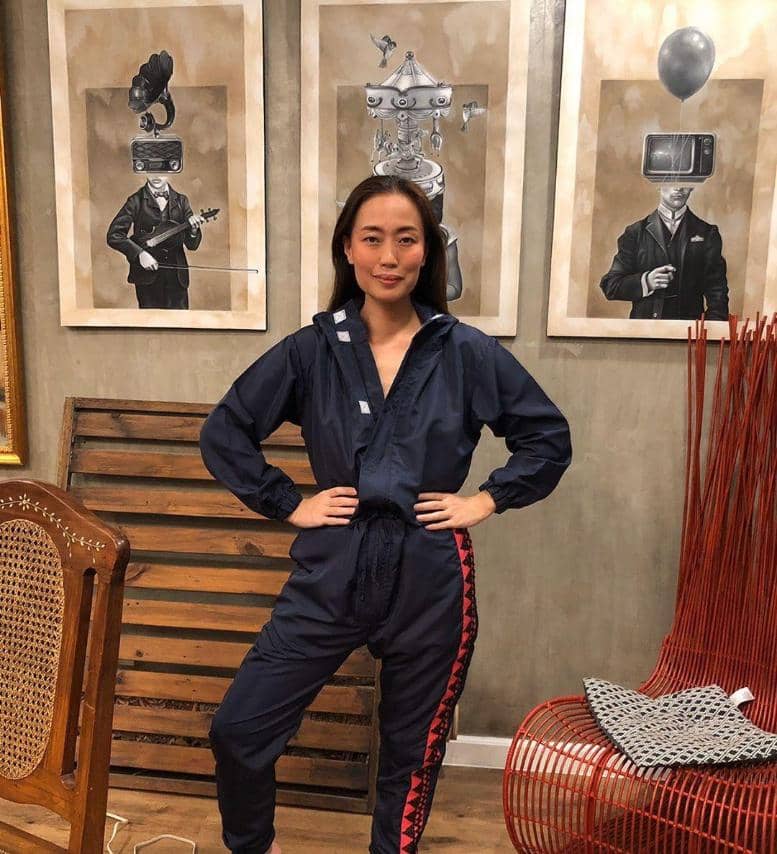 Kaayo PPE-inspired jumpsuit
For her daily uniform, Marga admits that she now lives in her Kaayo Pajamas, not to confuse with loungewear! These pajamas are made out of a charmuse silk collection of jewel-toned separates which were hand beaded by the T'boli Tribe of Lake Sebu. She often pairs this with its matching top but she rotates over button downs or cardigans. Marga truly redefines what it is to be a woman of style and a woman of the people too!
Host of Metro Channel's Talk with Tricia, Tricia Centenera is staying present and routined for herself, her little baby Arrow, and her budding business venture, Skin by Talaluha. Her fashion go-to's have been loungewear piece from Hindy Weber and a couple of day dresses and denim to switch around with. "Keep it comfy, keep it simple, and make an effort even if it's just putting on some perfume." It truly makes a difference when you put effort on how you present yourself even if you're at home!
Tricia was very particular on getting things done especially for her daily quests and keeping her business intact. She's been fulfilling orders and keeping her followers inspired on Skin by Talulah. And if it just gets too much, she stands by a mantra that says "Pause, Pray, Focus, and Stay Patient."
On keeping things productive with her daughter, Tricia is always on her toes for her activities with Baby Arrow. From waking up at 5:30am, staying in bed up until 7am, baking, swimming in the bathtub, to painting in the shower, Tricia is making ECQ a time for her family to bloom! "Structure, routines, and lots of love and laughter is the best advice I can give to my fellow mamas and papas out there. Arrow is thriving and I know it's because of this mindset."
Model and TV Host Kelly Misa-Fernandez aches for the old normal just like the rest of us. During the first few weeks, Kelly admits that she found it hard to adjust in uncertainty as it affects her work and productivity. On the brighter side of things, she has been on the works on keeping a much positive new normal for her family. From bonding with her kids to ultimately becoming the best version of herself every day.
In style, she prefers comfort above everything else. She has been interchanging high performance workout clothes into cottony dresses every now and then. "There are plenty of ways to upgrade your house clothes to make them loungewear cool."
When it comes to dressing up for her quick trips to the grocery, Kelly advices her co-parents to "Wear clothes that are easy to wash and provide an adequate amount of protection. Coverage is a must from masks, protective face shield if you have any, caps, jackets, to leggings, etc. Also wear shoes that are easy to disinfect and wash!"