The Best Shows At Fashion Week This Fall/Winter '22
From Milan to Paris, each show was as exciting as ever!
Balenciaga
One of the most talked about shows, Balenciaga's take on the season and current affairs has never been more on the dot. The models, incubated in a glass room in what looks like a snow storm, made their way around holding on to a surprise bag silhouette: the Trash Bag Bag. It's a sartorial commemoration of the refugee situation happening at the moment as people flee cities amid the war. But it isn't to glamorize but more to resist the war. Demna Gvasalia is coming from a place not just a designer but as a child refugee as well. There's no one better to put up a shown like this than Demna in Balenciaga.
Chanel
An iconic tweed moment is an understatement for Chanel's all-tweed show. From the set design to the looks, the classic Chanel fabric was plastered and highlighted in exciting iterations—and yes, colorways! This playful take on Chanel classic silhouettes and their perennial code is definitely one of their most refreshing seasons yet.
Fendi
The watchword for Fendi in this collection is softness. The pastel-hued looks by Women's Artistic Director Kim Jones were not fussy: light but tailored, exacting but gentle. For Fall, this revitalizing Fendi energy might just be the refreshing take we need. The transparent pieces alongside the stern jackets give a sensational spin to those looking for something new while season-appropriate.
Givenchy
Givenchy under Matthew M. Williams has turned into something the Gen Z generation would come to appreciate. This collection—and the his take on the French brand in general—is a rebel yell to those looking for something cool and current, and dare we say it, definitely Instagrammable. Staged with headlights as if at a concert, the show heralds back to Matthew's heydays of dressing musicians. It makes sense that the pieces are a little bit "Almost Famous" and a lot of grunge spin.
Gucci
No one does magic quite like Alessandro Michele of Gucci. For the season, in a hall of mirrors, he breathed another fairy tale creation to Gucci Exquisite. "Juxtaposing worlds and meanings. Altering the stability of perception. Manipulating and magnifying the existing. Through these interventions, I celebrate the clothes as real optical labs: magical machines that can give birth to fairy tales of metamorphosis and re-enchantment,' he says on the show. The fantastical show also introduced one of the most exciting collaborations this year, the Gucci x Adidas which blends streamlined sporty accents with modern silhouettes.
Hermès
A sexy take on the Hermès spirit is the new mood we are looking for exactly. Nadège Vanhee-Cybulski took the quintessential leather coats and jackets we all love from the fashion house and gave them a younger, fresher spin. There's leather everywhere—as shorts, on tops, on jackets, as dresses, in black, in camo. The season is a perfect example of how you catapult heritage into now.
Valentino
Pierpaolo Piccioli is a visual artist. For Valentino, a hot fuchsia dominated all what your eyes can see. It's less color story but more a return to drawing focus on the details and the silhouette of a look. For 40 pink looks, the looks are extensive—from pantsuits to baby doll dresses, to ostrich feather-lined coats. It's feminine at face value but bold in core. Then for the other half, the collection turned black, primarily drawing gaze to the men's pieces that are as sharp as the ladies'. What a moment!
Balmain
Nothing says power more than Balmain's show. Almost army-inspired, the models dressed predominantly in black and white looks came in strong pieces that are armor-inspired. The bold looks came with accents of tactical gear and protective wear, almost like Balmain Creative Director Olivier Rousteing's ode to protecting one's self from online image dysmorphia. It is in no way a political stance on the current events but more a celebration of strength through fashion. Peak highlight of the show was the ending where two models in all-black and all-white came in a voluminous ball skirt paired with body-hugging compression pads as bodice. Chic!
See some of our favorite looks per show in the gallery below!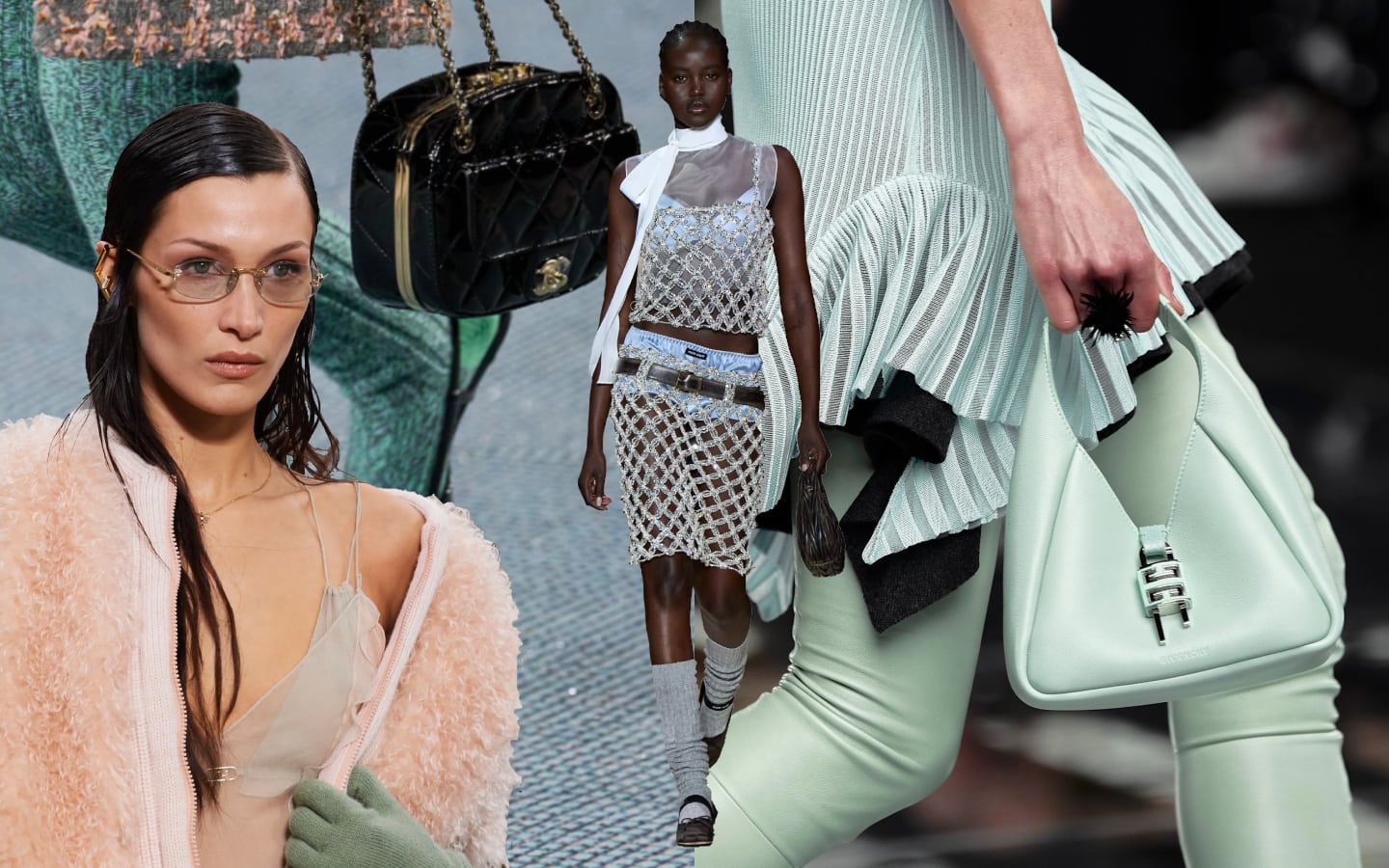 Best of F/W '22
Best of F/W '22