Upcycled Denim Becomes A Hit At The Givenchy Spring/Summer 2020 Show In Paris
Entitled "NY Paris 1993," Clare Waight Keller looked into her heydays shuffling back and forth between New York and Paris in the '90s
At first it might be hard to connect what a British designer who used to hold the glory days of Calvin Klein in '90s New York is doing at a French luxury fashion house. But for the Spring/Summer 2020 show in Paris for Givenchy, Clare Waight Keller's design chops celebrated both cities, their sensibilities and their moments, combined into a collection that gave hard-hitting wins.
Entitled "NY Paris 1993," Keller looked into her heydays shuffling back and forth between New York and Paris in the '90s. It was a peculiar time: pared down, tomboyish women conquered New York—raw and real; Paris was just moving on from the '80s extravaganza. And this season we see both in one collection that at first might seem to jump up and down, but if you understand the looks, you understand Keller.
On the New York side were minimalist, sleek pieces. A tailored dress-suit over knee-length shorts, chin-high blouses defined on the shoulders, and leather and satin bra tops and skirt combos. On the opposing side of the fashion spectrum were the best of Paris, in couture-like silhouettes. Khaki dresses, billowy and ballooning, appliquéd dresses that reaches the floor for more dressed up occasions, and ruffled voluminous dresses for more impact. And surprisingly, either city doesn't better the other. It's in the control and defiant tailoring that marries the clash, or should we dare say—the complementing of fashion capitals?
But the seasonal standout in the show were the denim, in all cuts and shades. They're in Bermuda shorts, overly ripped jeans, a chic coat dress, under a V-neck suit. The show notes say something about '90s upcycled fabric which all leads to Givenchy's idealized vision of a "conscious future." Denim and sustainability have been two different conversations in fashion. Can denim be a luxury item? How can a brand be so sustainable while delivering the same fashion? In this season alone, Givenchy's show didn't just deliver the goods, but also the answers we were so looking for even early on.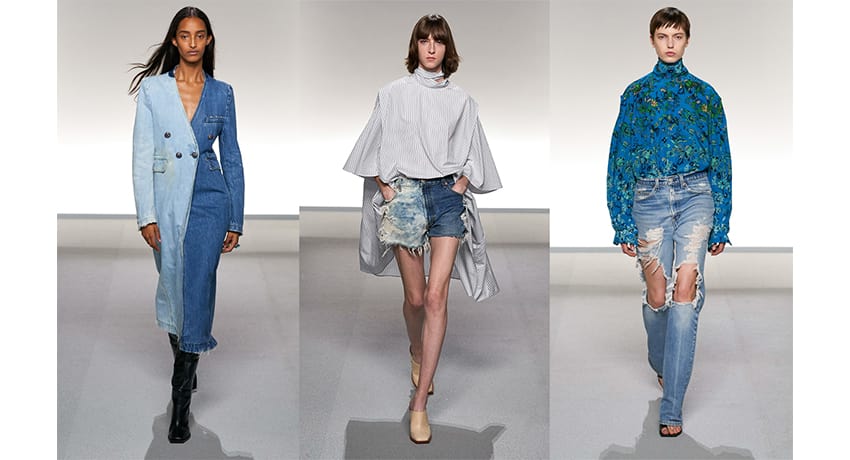 Photos and videos courtesy of Givenchy
Special thanks to Specialty Stores, Inc.