This Iconic Brand's Latest Collection Brings The Spirit Of The French Open To The Limelight
Get in the mood for Lacoste's updated signature aesthetic on tennis-inspired garb
More than just an event to present the 2019 Fall-Winter collection of Lacoste; the event staged by SSI and Lacoste proved to be that Tennis Party that outdid all past events of the popular French apparel brand. In truth, we may have been at the Power Plant, Rockwell; but it felt like the red clay of Roland Garros, home of the French Open, and the spirit of the Lacoste founders, René Lacoste and André Gillier, were with us that night. Sure, I couldn't actually see puffs of red dust rise from the Rockwell tennis courts, but if you squinted hard enough...
Since 1933, Lacoste has blazed a trail in classic and modern clothing that's predicated on a sports affinity, casual and yet inspired by French elegance and savoir faire. With current Global Ambassador Novak Djokovic tied in until 2022, Lacoste is well-positioned to be the winning brand and logo in several of the upcoming Grand Slam Finals. Just this year alone, Novak won the 2019 Australian Open in January, and Wimbledon a couple of weeks ago. The US Open starts August 28th, and don't be surprised if we find him at the Finals, hoping to add to his now 16 Grand Slam titles (only Federer with 20, and Nadal with 18, have more).
The Lacoste Tennis Party was themed Life Is a Beautiful Sport; and it was the perfect marriage of Lacoste and SSI Life. Beautiful people were in attendance, there were actual tennis matches being played as preliminaries to the evening, and a fashion show highlighting the new season's collection became one of the highlights of the evening.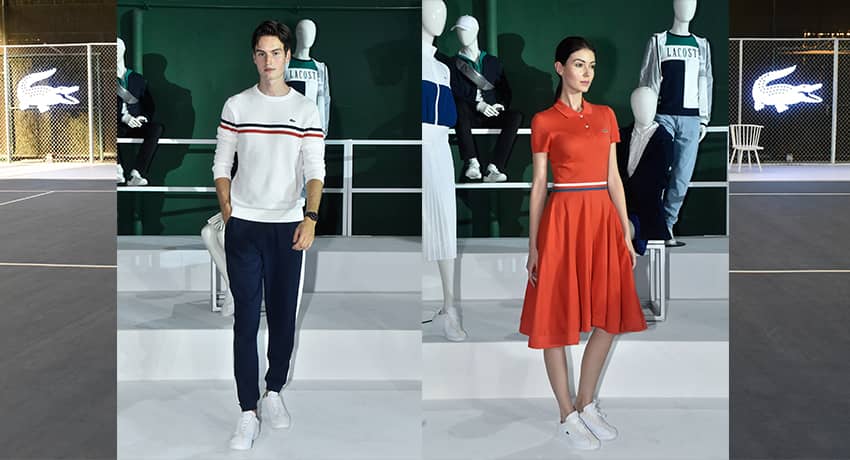 Lacoste F/W 2019
Lacoste F/W 2019
I say 'one of' because in truth, one of the other highlights would be the party concept in itself, and the people who showed up. It was a steamy, rain-threatened, muggy evening; but that was completely forgotten as the party atmosphere was being created and sustained, led by SSI's Anton Huang, regional representatives of Lacoste, and the French Ambassador Nicolas Galey, with his wife, Camella. There was fun and enjoyment etched on the faces of the people who were there.
And I know for a fact that Ernie Lopez, who played mixed doubles with Christine Jacob-Sandejas, enjoyed being invited to an event where he wouldn't have to just stand around and chat - he was actually getting in some exercise while attending and technically, 'working'.
It was a Lacoste Tennis Party that successfully blended the sports provenance of the brand and the Crocodile, with Fashion, partying, and fun.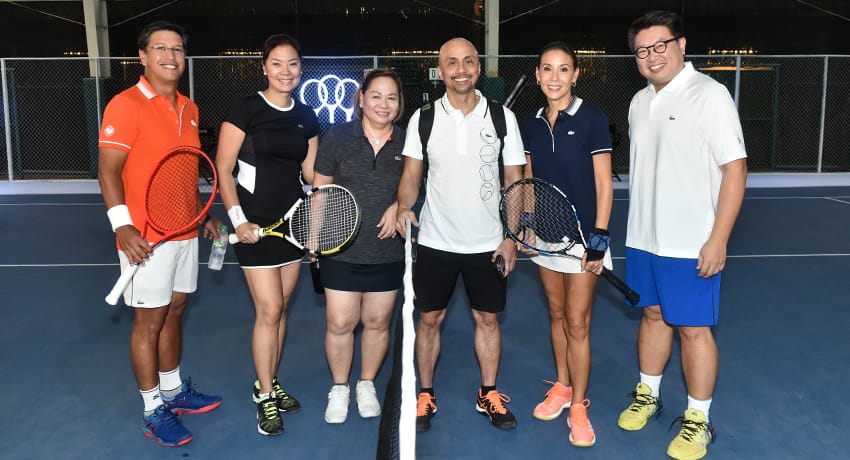 The Lacoste Life Is A Beautiful Sport Party
The Lacoste Life Is A Beautiful Sport Party