Louis Vuitton Merges Their Savoir Faire With A Streetwear Slant For F/W '22
The Musée d'Orsay in Paris served as the backdrop for this show. See all of the show's highlights here
Romanticism, idealism, the vibrant youthful spirit—these were the tenets of Nicolas Ghesquière's Fall/Winter 2022 presentation for Louis Vuitton. The creative director, who has crafted such a strong identity for the women's collections, delivered a show that is worthy of the Maison's heritage and forward- thinking spirit. In an unprecedented fashion show held at the Musée d'Orsay—the very first of its kind in such an iconic venue—Ghesquière brought together history with modernity, savoir faire with streetwear and Louis Vuitton's aficionados who spanned generations.
When the Old-World Merges with the New
The Courbet gallery of the Musée d'Orsay is one of Ghesquière's favorite places. It is also steeped in the Maison's history when it was still the Palais d'Orsay and Louis Vuitton himself admired it from a distance as he delivered custom orders to the Empress Eugénie across at the Louvre. This Old-World institution was the chosen backdrop where Ghesquière presented his new collection.
When the Icons Meet the Ingénues
Being one of the most highly anticipated shows during Paris fashion week, the star power of Louis Vuitton never dims. Especially this season, when fashion finally regained its footing, celebrities made their presence felt in the front row once again. Perhaps as an apt representation of the multi-generational appeal of Ghesquière's aesthetic, the icons of film and fashion, such as Catherine Deneuve and Julianne Moore gathered with the young movers and shakers of the industry the likes of Sophie Turner, Emma Stone, and our very own Heart Evangelista.
A Fusion of Tradition and Trend
The show was opened by the Maison's newest ambassador HoYeon Jung, the fresh-faced Korean star wearing a loose pair of grey, pinstriped trousers matched with a boxy, chocolate brown leather jacket and a wide yellow tie – a nod to youth and the languid style of dressing that comes effortlessly at this age. There was obvious experimentation with textures, lengths and colours, something we all remember doing. The Louis Vuitton woman for Fall/Winter 2022 has the freedom (and courage) to mix and match, as seen in the most distinct look in the collection: the inverted, U-shaped hemline of tweed dresses paired with sneakers. This season showed that perfect pairing of tradition and trend – Louis Vuitton's distinct take on the polished side of playful dressing.
See the full highlights in the gallery below!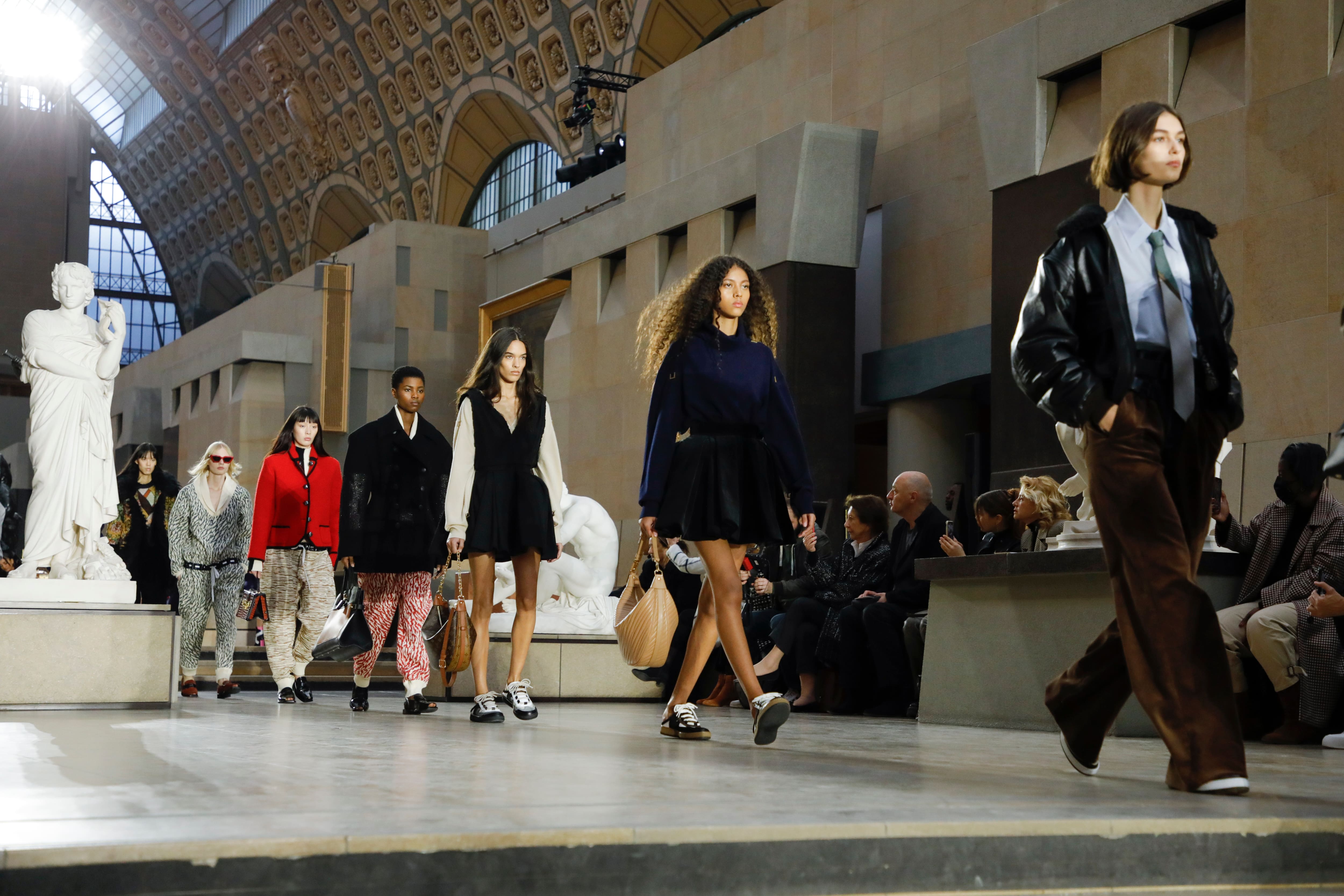 Louis Vuitton F/W '22 Highlights
Louis Vuitton F/W '22 Highlights