The Louis Vuitton Fall/Winter '22 Show Is Younger Than Ever
Teenage spirit, rebel prints, pieces you can mix and match—this collection has everything!
For the first time in the history of Musee d'Orsay in Paris, the iconic museum opened its doors to a fashion house for Fashion Week and it has to be Louis Vuitton. The Louis Vuitton Fall/Winter 2022 is all about celebrating youth and adolescence and the poetry that links them to a flawless and well-crafted garment.
The stylistic idea of adolescence is embedded in the pieces. One carries influences from their interests and forms them into personalities and, sartorially speaking, style. This collection is about that: tops and scarf-knits that you can leave as is or style depending on your mood, chunky sweater that can be tied around your dresses or rugby polos. It debunks any form of uniform as the collection is about making it your own. And if we may use the age-old word: authenticity.
The show, though staged in a historic landmark, is one of the youngest collection Louis Vuitton Artistic Director Nicholas Ghesquiere has staged. The d'Orsay houses some of the most extensive Impressionist art, works that caused a stir back in the day. It is only fitting for this collection as the pieces were anti-norm. Plastered on shirts were photos by David Sims in the 1990s, sort of like band shirts, pieces that you won't readily associate with LV but for this, they belonged.
Don't be fooled by the easiness of the looks as the they too meticulous work to look so effortless. Natural materials like silk, knits, cashmere underwent hybridization to ensure freedom in movement and total comfort. The tenderness amid the beauty was in the painted and embroidered drawing of flowers inspired by the 19th century.
Pantsuits, oversized jackets, ties—the dandy woman has a lot of room to play in from this show. I guess as we grow up, and this applies to the new Louis Vuitton show, we get things from around us and make them our own. We are given pieces feminine and masculine, old and new, modern or historical, and it boils down to what we make of it. The show calls for re-embracing our youth—that new energy and vigorous we feel when we're dressing up.
See the full Louis Vuitton F/W '22 collection in the gallery below!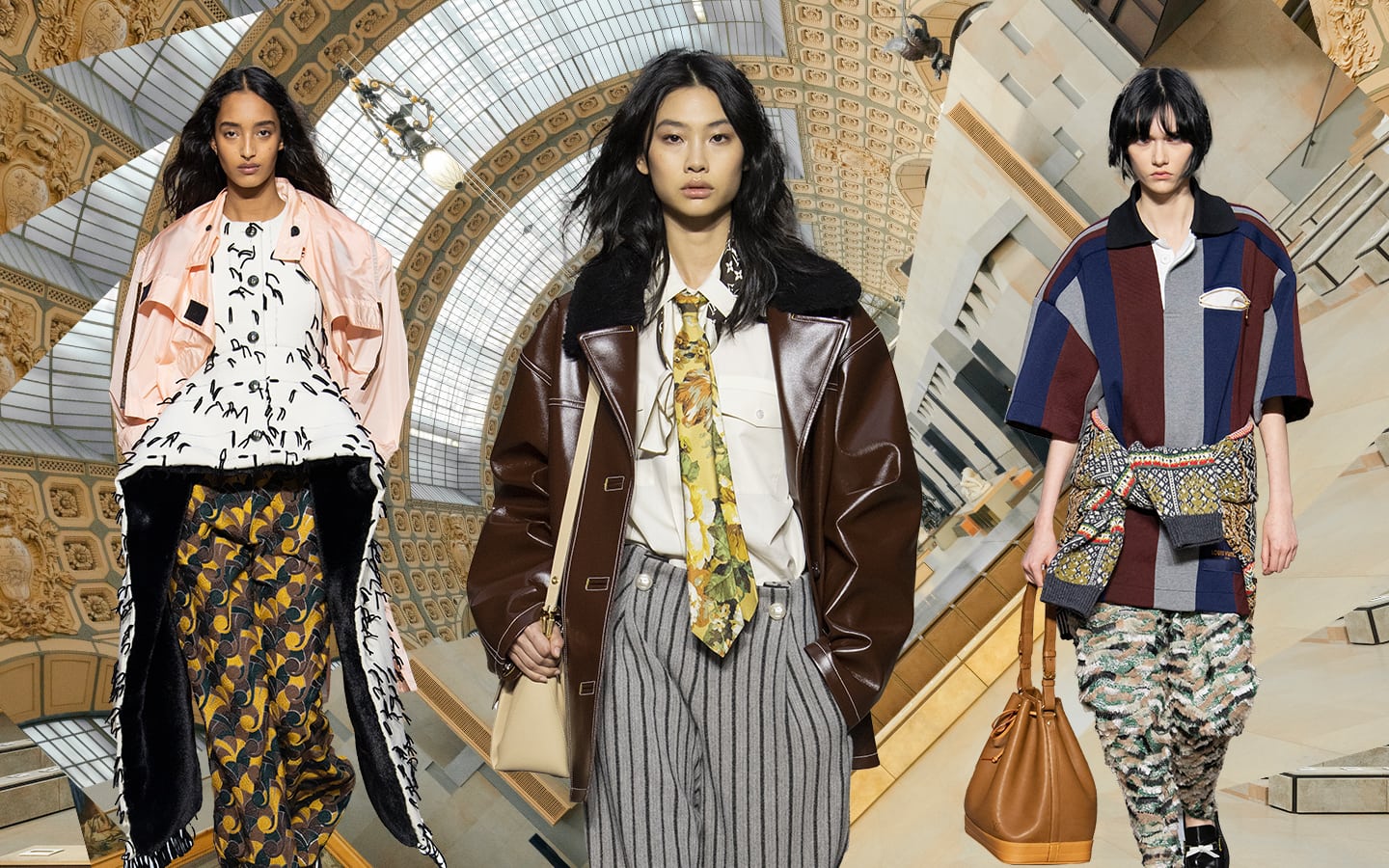 Louis Vuitton F/W '22
Louis Vuitton F/W '22
Watch the full show below!
Louis Vuitton in the Philippines is available at Solaire Resort & Casino and Greenbelt 3
Art by Raff Colmenar