This Is What Happened At The Louis Vuitton S/S 2020 Show Inside The Louvre
We caught all the live action on the runway!
It's the last day of Paris Fashion Week, more so the very last show of the Spring/Summer '20 season. The culmination of the four fashion capitals led to the Cour Carrée of the Louvre where Louis Vuitton drew the curtain to a really good fashion month that was.
Front and center was a gigantic wooden set—is the collection big on sustainability? Not entirely just yet. Then the screen that covered the entire set turned dark then pink, then blue skies, projecting Scottish trans artist and musician Sophie's extended track of "It's Okay to Cry." Is the collection now about gender identity and self-acceptance? Perhaps in bits!
But in true Louis Vuitton fashion, the show heralds back to the heart of the show: the clothes. From the same screen projection out came models decked in looks that feel entirely knew while looking all so familiar: puffed sleeves, Art Nouveau hints, mismatched suits, and a redefined version of a quaintrelle. While the show at first glance seemed hinged on the late '60s or the '70s (the psychedelic prints and the A-line skirts gave it away!), that wasn't entirely the case.
Creative Director Nicolas Ghesquière's greatest skill is in warping time and space. Call him a time traveler if you may, he'd take you to the beaming future one season only to usher you back to the '80s in the next only because… why not? And this season isn't an exception, perhaps even a stellar achievement at that. He turned clock to a different century, the La Belle Époque. This golden age in French fashion welcomed the dandyism in the collection, and a celebration of women just being women in cattleya boutonnières, corset vests, and chic bibs.
Out comes welcome surprises too, a VHS bag opened the show and tote bags which played with The Terminator changed to The Trunkinator (perhaps a reference to the house's ever-so-popular trunk bags). The 21st century spin to whatever decade (or future!) Vuitton is working with always feels of-the-moment. This push and pull in time has never seemed so exciting. So in the next time Nicolas dials the clock again, it's not really when he's taking us, it's to where and how.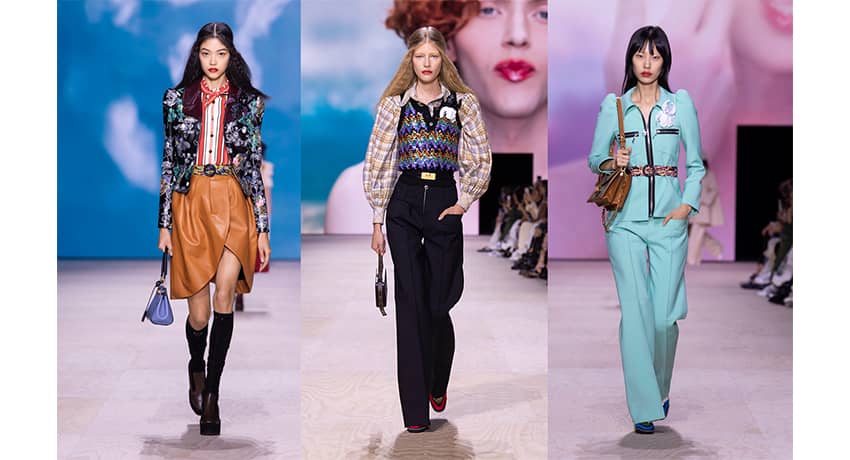 SWIPE LEFT OR RIGHT
TO NAVIGATE BETWEEN PAGES
Photos and videos all courtesy of Louis Vuitton