Givenchy F/W 2020 Runway Show Meets RTW With Couture And It's Dazzling!
Straight from Paris, Metro sat at the Givenchy show where we were treated to upgraded ready-to-wear looks, all with a couture slant. Here's how they did it
I always look forward to a Givenchy show every season in Paris. The vibe is all sorts of cool—when you're ready to think cool is just cool. Givenchy under Clare Waight Keller redefines tomboy chic. She's fiery, she's sexy, she's—need we say it—really cool. This season is a special kind.
For Fall/Winter 2020, the French luxury house looked to an unsung arthouse heroine as its muse. She's elegant in a humdrum of ways: having the Frenchness in her but at the same time a ruggedness, sort of bohemian take on it. She's imperfect, but she's so good at it that she always takes the spotlight.

And so are the clothes for this season. Sprinkled with loads of references—printed patchwork! Mid-century shapes! Feathers! A Mod palette! Shirred blouses! They're all over but also all threaded by an untamed elegance and unbridled sartorial spirit only Keller can orchestrate herself.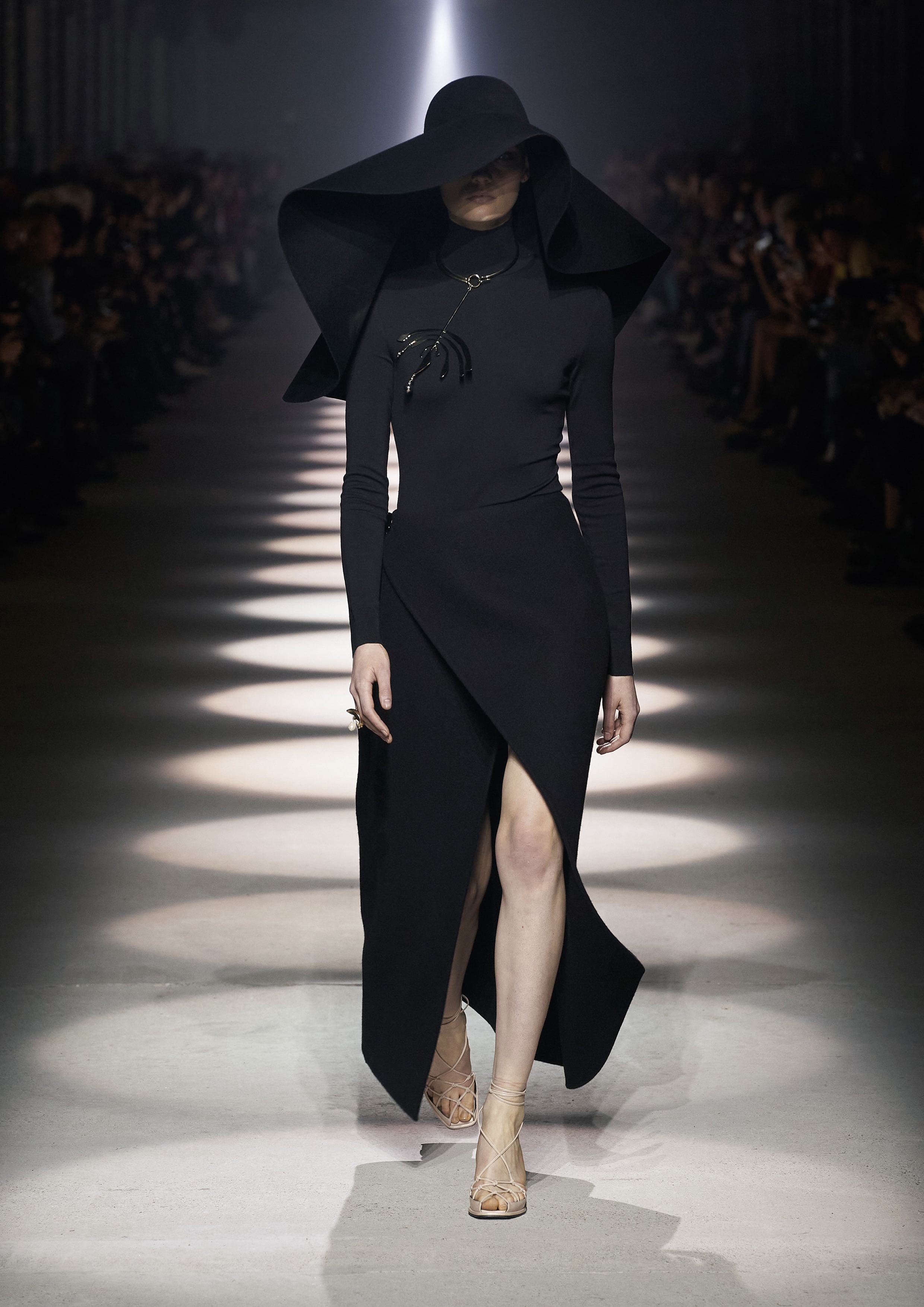 A favorite must the all the tailored looks which Keller does so perfectly all the time. The suits are with an impeccable finish, often surprised by a scrunched down leather gloves and now, wait for it, a structured shawl! Such a simple tweak to a tried-and-tested look can make a 21st-century-spin to make it feel all brand new. It is in these little musings that the collection's supposedly RTW slant took a couture route, too. The feathers trickling down on gowns and skirts and tops were standouts. Liquid silver sequins and showers of plumage and tassels also make any otherwise plain silhouettes even more theatrical like the muse that's made to wear them.
And as for the accessories area, the mismatched earrings took even further heights. Body jewels, haute 'ombrelle' hats redux and a slim wedge laced up on the ankles. But it is the Antigona Soft that's given new life by way of interchangeable print silk foulards.
Yes, indeed the collection is for the arthouse heroine—taking different shapes and forms like the silhouettes made for her. But the silver screen limelight turns to the working girl, the belle of the ball, the red carpet celeb. They are the muses of the collection—which is basically any one with a thirst for the sartorial spotlight.
All photos courtesy of Stores Specialist, Inc.