Salvatore Ferragamo Pre-Spring '21 Shows Us These Must-Have Italian Shoes Of The Season
Elegant, progressive, essential, and precious, it is a profound consideration of the properties of shape and structure informed by both nature and design.
Today, it's all about making the most of what we're given. But in fashion, you still have to do so in a manner that creates a statement. Paul Andrew, Creative Director of Salvatore Ferragamo, says: "This collection was made in exceptional times, under exceptional conditions, through which we were all obliged to adapt and innovate. Even before lockdown began, I was planning to start with a consideration of mid-century Scandinavian furniture design. Later, that inspiration came into its own: functionalism inspired by nature featuring clean lines, organic materials, minimal construction and a relative lack of ornament were all design aspirations that were very much in sync with the limitations we were working under."
"The result is a collection of which we are proud. We worked to turn the limitations of the period into positives by considering what is most essential," he continues.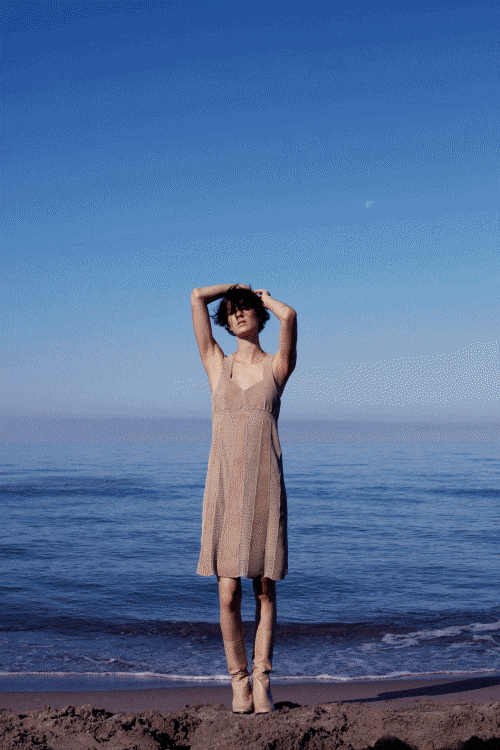 Salvatore Ferragamo Pre-Spring 2021
Salvatore Ferragamo Pre-Spring 2021
Details
The collection features upcycled leathers, cashmere and fabrics, recycled nylons and organic cottons as part of Salvatore Ferragamo's ongoing initiative to increase its environmental mindfulness. Both in womenswear and menswear there is an ongoing contrast between the clean and minimal lines of softly tailored, neutrally-toned silhouettes and the expressive giraffe/leopard hybrid print of the season. This pattern is based on Andrew's research into the extensive Ferragamo scarf archives and is a recast and blown-up interpretation of a design first seen in the 1970s. This pattern is reflected in the perforation in tailoring and shirting, a detail both inspired by nature and functional by design that simultaneously affords pieces lightness and strength. So too does the incorporation of leathers including soft suedes, light nappa and perforated calfskin. Flares of intense orange punctuate the collection in pull-over outerwear for men, as well as front-pleated skirts and dresses for women and an irregularly striped, wide-cuffed knit kaftan.
Shoes include Gancini slides in nappa leather and a new wedge espadrille with a woven, upholstery inspired sole and grained leather upper. There is a new almond-toed driving shoe with a new sleek double Gancini hardware attachment on grosgrain that is designed to be foldable, and resilient. The Viva continues its evolution in new colorways, while the biker boot is refined and redefined by a chunky high heel.
Finally, a block heeled pull on boot in black or sand-dune tones also features the new Gancini motif. Bags include a series of pieces in rich, wood-inspired colors—including teak, cork, and walnut - that range from roomy, unfussy totes to Gancini-affixed clutches.
"This collection is planned for it to be totally relevant for that moment so there is no dissonance between the items on sale and the season. We shot this lookbook at a location that feels both modern and eternal, a mid-century villa in the Tuscan countryside by the architect Maurizio Tempestini, who also designed the house outside Florence in which Salvatore and Wanda Ferragamo nurtured and raised their family. In these extraordinary times, the values of family, inclusivity, longevity, and responsibility—the common good - inform what we do more than ever, as the exceptional work of my colleagues at Salvatore Ferragamo demonstrates," Paul Andrew ends.
In the Philippines, Salvatore Ferragamo is exclusively distributed by Stores Specialists, Inc., and is located at Greenbelt 4, Rustan's Shangri-La, Rustan's Makati and Solaire Resort & Casino. Visit www.ssilife.com.ph or follow @ssilifeph on Instagram for more information.