Michael Cinco Wowed The Russian Crowd With His New Bridal Collection Shot In Moscow's Red Square
His opulent pieces never fail to amaze the fashion set
We're not surprised that Michael Cinco has done it again. This veteran Filipino designer based in Dubai is one of those visionary fashion personalities who seem to never run out of beautiful designs to share to the world. Collection after collection, he manages to inject his signature Michael Cinco grandeur, while still offering a fresh take on its presentation. With him, no room is left for boredom.
This time around, Michael flew to Moscow, Russia to launch a collection inspired by the city itself. "Michael Cinco's The Impalpable Dream of Imperial RUSSIA shares a unique sense of heroic drama and poetic melancholy beauty translated into an emotional, highly-technical collection featuring a lot of tulle and lace and diaphanous fabrics in luxurious, romantic colors of gray, white and purple tones."
Reimagining Russia's historical period's rich brocades, sartorial styling, grandiosity and pomp, a magnificent couture manner of walking the runway in a traditional folk art to a more modern style reflecting old civilizations and bringing to present royalty, from Queens to its Princesses and the spirit of the culture which is the impeccable romantic unique and couture style of Russia.
Inspiring brides in both the Philippines and Dubai for quite some time now, Michael brings his brand of decadence and touch of royalty to his new collection in Russia. Both the Dubai and Russian markets are fond of the richness and the luxury his designs bring, so it was just a perfect fit. Showing his collection in Moscow made a lot of sense. "The collection focuses on pure royalty of the Tsar, referred to a supreme rulers of Russia in glorious splendor which fashion was another mean used by the Imperial Russian Royalty to show off their superiority and power, complete with an edgy twist that modernizes royalty which inherited a religious and sumptuary legacy from Byzantium."
Check out all the looks from the Michael Cinco Al Arabia Fashion Days runway here: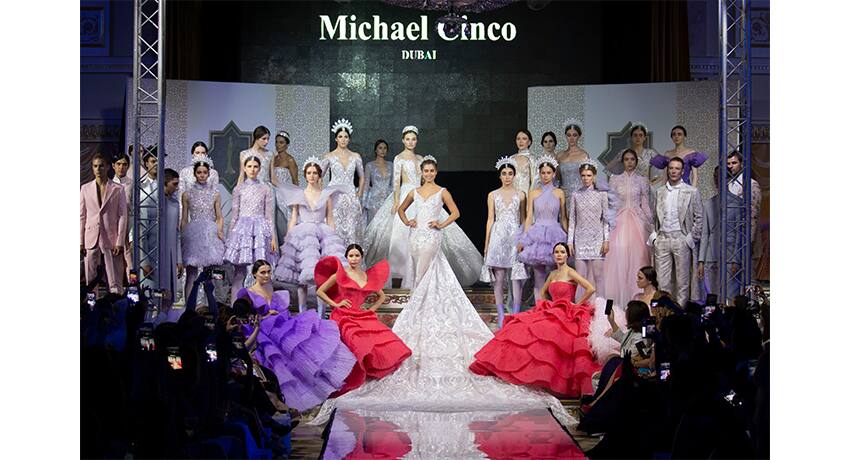 Michael Cinco at Al Arabia Fashion Days
Michael Cinco at Al Arabia Fashion Days
Special thanks to Nicolas Gregorieff of Only Fashion Network.