IN PHOTOS: Michael Leyva Welcomed His 30th Birthday With A Celestial-Themed Collection
The young designer took his couture to next heights with pieces that depict his ethereal, astral dreams
They say life begins in your 30s, but in designer Michael Leyva's case, entering his 30s is just a mere continuation of a beautiful creative life he has already begun many years before this milestone. At such a young age, his vision already centers around living a life that continues his late brother's legacy, as well as giving back to God, and his loved ones.
We asked the birthday boy about the best lesson he's learned so far, and he simply quips "Give back all the glory to God and always be grateful. Never give up and don't stop reaching for the stars." For a humble, talented, and determined creative like himself, it's easy to see a bright future ahead. And with a brand new decade in front of him, his plans of conquering new heights in the international scene is bound to become reality—it's just a matter of time.
Just like all of Michael's past collections, for his new birthday collection "Clouds", there is that feeling of grandeur, that imaginative aspect brought to life with every dress he sends down the runway. Visions of tulle, embellishment, sparkle and shine are seen in the dreamy dresses, wedding gowns, and evening frocks perfect for the woman who loves to inject whimsy into her wardrobe. Michael urges you to have the key words "heavenly, divine, ethereal, and astral" when thinking of this collection.
Clouds—a sign of ephemeral impermanence. Just as thoughts and emotions come and go, clouds give a magic spectacle for a while. Catching this beauty momentarily brings humans to another level of awareness, freezing them in admiration of aesthetically-based emotions.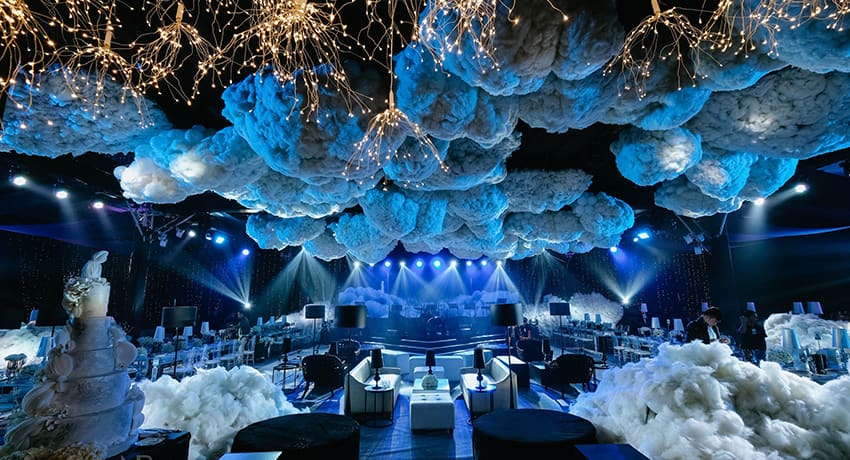 Michael Leyva's 30th Birthday Collection
Michael Leyva's 30th Birthday Collection
Photos courtesy of Michael Leyva