We Can't Wait To See The New Collections At The Panasonic Manila Fashion Festival!
Lots of fashionable surprises await at the festival's 5th anniversary!
One of the biggest fashion events in South East Asia came from humble beginnings—from starting with 12 designers to celebrating and inspiring fashion enthusiasts for over 11 seasons. Panasonic Manila Fashion Festival, together with Panasonic, has come a long way!
Panasonic Manila Fashion Festival has opened a lot of great opportunities for the fashion enthusiasts and has brought life to some of the most impactful collections this side of the globe. As years passed, it was fortunate enough to have Panasonic as the naming partner for our 8th season thus acquiring the name, Panasonic Manila Fashion Festival, and continues its legacy of being one of the most influential and biggest fashion events in the region.
As Panasonic Manila Fashion Festival celebrates its 5th anniversary, Panasonic Manila Fashion Festival doesn't just want to celebrate fashion and design, but also to celebrate life. It created an impact on a lot of people, to appreciate the art of fashion and to see what it can bring to the world. For five years now, it has showcased the best talented designers, locally and internationally, with their collections; to let them express their stories, creations, and passions. Not just that, but to also discover new talents—aspiring models are now able to pursue their catwalk dreams, and are able to walk the PMFF runway with highly talented designers pieces.
In line with discovering talents, Face of the Philippines has reached its 6th cycle! With over 50+ auditionees, it was trimmed down to 19 finalists who will battle it out to be the new Face of the Philippines. From extreme makeovers to creative and daring photoshoots, the contestants were tested on their modeling capability and patience. On the 3rd day of Panasonic Manila Fashion Festival, the verdict will be out on who emerges the winner, and who will #OwnTheLook for this year's!
All will be broadcasted live on the Face of the Philippines' Youtube channel. Face of the Philippines celebrates its 6th cycle in partnership with the following sponsors: Panasonic Beauty, Maquillage Professionnel as the official makeup partner, Privé Revaux, World Balance, Faith and Fearless, SIP Water, and Creations by Lourd Ramos.
For the beauty enthusiasts, a segment was created for this year's PMFF dubbed "Panasonic Beauty Lifestyle Talks". As we are celebrating beauty, Panasonic Manila Fashion Festival's aim is to let these beauty enthusiasts be inspired and educated on the field. With topics such as hairstyling, makeup application, fashion photography, and fashion entrepreneurship, attendees are surely in for an educational treat!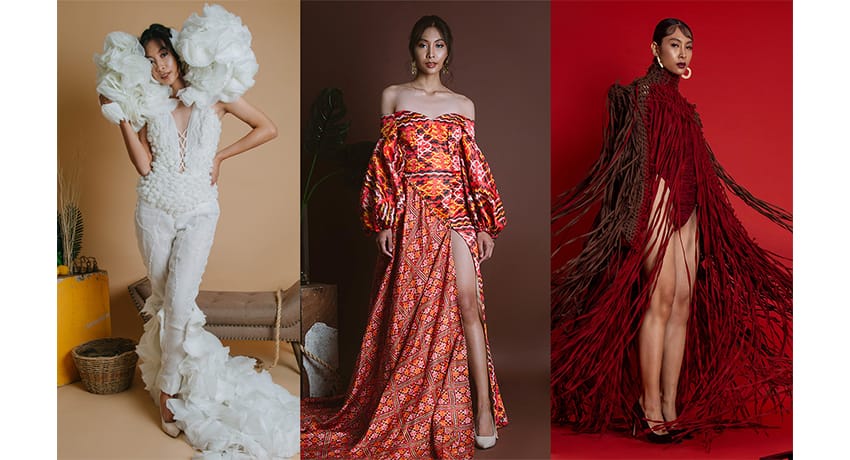 SWIPE LEFT OR RIGHT
TO NAVIGATE BETWEEN PAGES
As part of the Panasonic Manila Fashion Festival anniversary, a partnership with SoFA Design Institute was made wherein the top six fashion graduates of the school will be featured. In line with this, starting this season, Panasonic Manila Fashion Festival will be featuring one designer that will close the event of PMFF. For this year, a chosen designer will feature a 40-piece collection that showcases his or her brand thoroughly. A collaboration between San Miguel Light and PTRI is about to happen as well for this year's PMFF, wherein PTRI is going to provide sustainable fabric and see what the designer can come up with. Who best live up to this challenge than Yong Davalos?
Panasonic Manila Fashion Festival wouldn't be possible without its generous sponsors. Maquillage Professionel as our official makeup partner, Figaro Design & Regoris as our official hair partner—the biggest hair salon in Japan, Privé Revaux as our official eyewear partner, and Faith & Fearless as our official bag partner. CHG Global, Inc., World Balance, East Rock, Easy Soft, San Miguel Light, Yellow Tail, SIP Water, Shea Mira, Zeal Cosmetics, One Globe Limited and XDE Logistics will also join us this year in celebrating our 5th Anniversary.
Of course, last but certainly not the least, the biggest gratitude to Panasonic, Panasonic Beauty and Lumix—for keeping the fashion enthusiasts' passion alive. Cheers to Panasonic Manila Fashion Festival 5th anniversary and let's Celebrate Fashion! Celebrate Life! together. —Panasonic Manila Fashion Festival
For more info, log on to manilafashionfestival.com or follow us @manilafashionfestival on Instagram & Facebook