Levi's X Peanuts Create Super Cute Tees
Snoopy is the all-around sports MVP so it's no wonder that this special collection of Levi's features our beloved pet character excelling in different activities
When our go-to heritage apparel brand teams up with our favorite childhood characters, you've got a collection that is a must-buy not just for collectors but for everyone of different ages.
Indeed, Levi's and Peanuts collaborate once again, this time focused on Snoopy, who is the true athlete of the Peanuts gang. From football to soccer, baseball to tennis—take a spin through the beloved Peanuts comic strip so you'll see that Charlie Brown's canine pal is one sporty little beagle.
The collection features tees and sweatshirts, as well as a tracksuit inspired by the vintage Levi's sportswear version from 1984, this collection features an array of Snoopy graphics straight from the Charles Schulz team. With Peanut's trademark dose of whimsy irreverence, you'll see moments like Snoopy returning a tennis serve, punting a soccer ball, racing with his pal Woodstock, ollying a skateboard, and driving the lane in a game of hoops, among other sporting activities.
Apart from the individual graphics, the collection also features unisex football tees, a set of reversible Snoopy graphic bucket hats, and oversized crewneck sweatshirts in a range of bold garment dye colors such as gold, yellow, fuchsia red, and fern green. Plus there's the iconic co-branded white logo tee which features Snoopy racing Woodstock over the classic Levi's sportswear logo.

This collection is perfect for anyone who likes their athletic wear to come with a lot of playfulness, wit, and nostalgia.
Check out the collection below: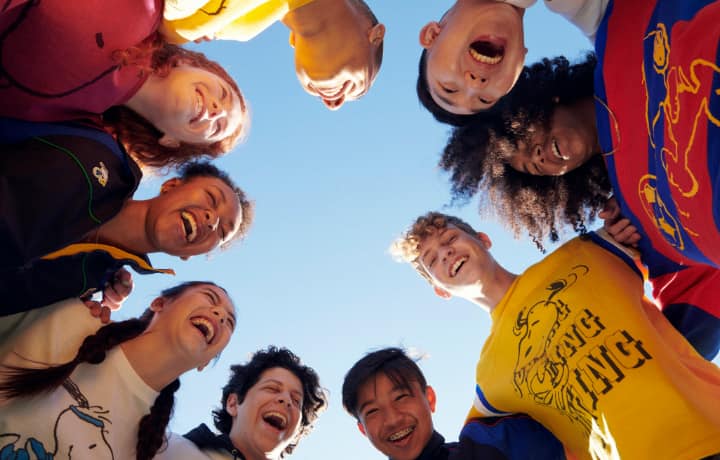 Levi's x Peanuts
Levi's x Peanuts