Metro's Up And Coming Designer Awardee Showcases Her Spring/Summer 2020 Collection
Time to get to know the homegrown brand of leather accessories that's all about distilling an avant -garde aesthetic into contemporary, wearable pieces of art
Fashion designer Noelle Lave has always wanted to be an architect.
On some days, she still dreams of what could have been had she gone down on a different path, but unfortunately, her (then) dream profession required twin talents for visuals and numbers—the latter of which she jokes she just wasn't born to do.
It was simply one of life's many detours that she faced head on as a young designer, the consequences of which she transformed into new avenues of creativity rather than treated as lost opportunities.
These days, Noelle might not have the title of "Ar." before her name, but what she does have is O-El, a successful homegrown fashion brand with a Spring/Summer 2020 collection of leather bags and accessories that—as you might have guessed–were influenced by her love of architecture, beautiful interiors, inventors, avant-garde artists, and the magnificent works of art and science they've contributed to the world.
The collection is the third that Noelle has released since her foray into fashion as a SoFa Design Institute student in 2009. It's also her most personal yet.
In it, Noelle concentrates on training the spotlight on her favorite names from the arts and sciences including Matisse, Picasso, as well as Einstein, Newton, and Da Vinci himself. She took some of their most notable work—Da Vinci's fixation on motion and form and Matisse's bold use of color, for example—translated them into images in her mind, and finally, devised a way to draw out the visuals as tangible designs, accents, shapes, and accessories.
All the while, lines, angles, geometry, and structure still play a part in Noelle's designs as a tribute to architecture. The result? A totally fresh and synergized take on art and history inspiring fashion that has passed through the lens of a feminine designer.
Made with imported leather and by Marikina artisans, these head-turning bags and accessories will be sought out by fashionistas far and wide—guaranteed!
Learn more about the inspirations behind some of Noelle's best work in O-El's Spring/Summer 2020 collection in the gallery below!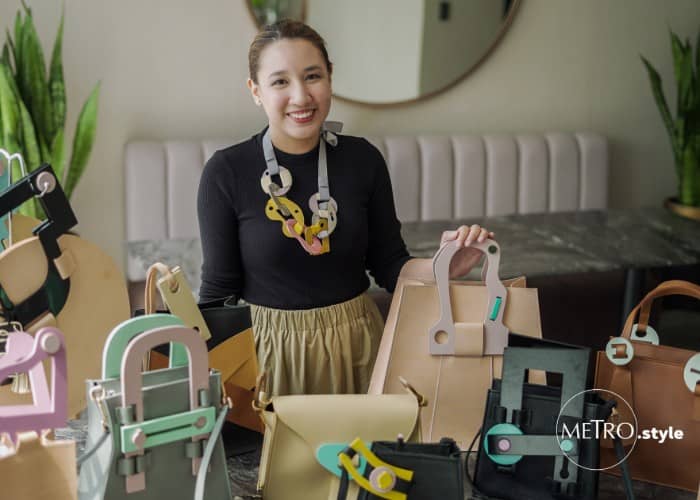 Produced by Grace Libero-Cruz and Kate Paras-Santiago
Photography by Pat Buenaobra
Special thanks to Gab Perez and Larissa Robles
Shot on location at Privato Hotel, Makati