The Louis Vuitton Capucines Bag Is Our New Wear-Anywhere Bag
Wear it your way, take it wherever, this is our new must-have bag of the season!
What do we like in a bag? Simple but striking, stunning but purposeful. The Louis Vuitton Capucines line is everything we looking in a bag, for any lifestyle and any purpose. Its architectural lines enhance any look in a flash, making styling yourself so easy. This summer, the piece is re-imagined yet again but with the same contemporary spirit and exquisite craftsmanship.
Supermodel Miranda Kerr still posts the new collection, showing the multitude of ways he LV Capucines goes with you day-to-day, even minute-to-minute. Available in BB or Mini sizes, the new line boasts a stunning Taurillon leather detachable strap braided with gold chain, in a range of bold shades–Orange Tonic lined with Rose Jasmin, or Apple Green softened by Lavender. Held by the handle or slung over the shoulder, it can be creatively worn and styled.
The season opens with two designs to join this collection. The first, available as a Mini version, features cream leather entirely embellished with green embroidery. This braided effect gives the piece a textured, three-dimensional surface, and required more than 68,000 stitches. The second model is just as expertly crafted: the Capucines' white leather has been perforated and then bejewelled with Monogram flowers to create a Broderie Anglaise motif—an instant favorite! This beautifully conjures up images of the immaculate cotton silhouettes from Nicolas Ghesquière's ready-to-wear collection.
What must be the new must-have for this season, the Rue des Capucines model is dressed in a timelessly chic natural canvas, enhanced with black or brown Taurillon trims for the MM version, or with Jaune Plume trims for the BB version. Leather covers the handle, the flap and the back of the shoulder strap, while the latter is embroidered with Monogram flowers and the words '4 rue des Capucines'. This single feature requires no less than four hours of work and more than 100,000 stitches in the Louis Vuitton workshops.
As simple as it may look, the craftsmanship behind the Louis Vuitton Capucines is truly impressive. The savoir-faire, the design, and the overall feel of the bag make it a new staple to add to your repertoire of bags on rotation. See the gallery below for more Louis Vuitton Cappucines bag!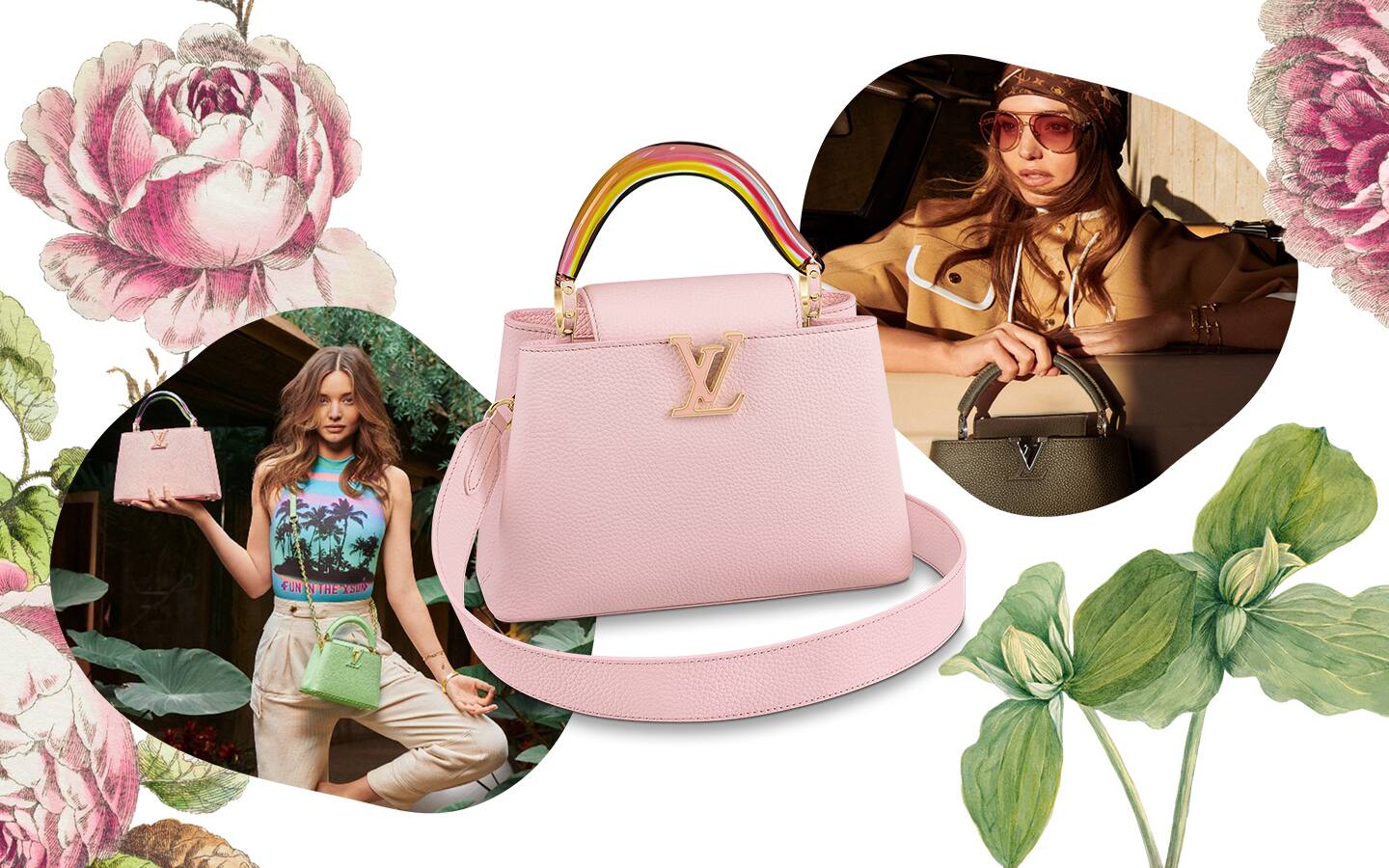 Louis Vuitton Capucines 2022
Louis Vuitton in the Philippines is available at Greenbelt 3 and Solaire Resort & Casino
Art by Raff Colmenar