Design and Nature Go Hand In Hand in Nespresso's Festive Collection
This collection is inspired by nature and made in collaboration with Colombian fashion designer Johanna Ortiz
The holidays are upon us—and we can't wait to find the best curated gifts of the season. One of our biggest finds combines one of most coveted labels, Colombian fashion designer Johanna Ortiz, with coffee brand, Nespresso. In this special collaboration, these two brands come together to enchant coffee lovers through their launch of the Festive collection, this time inspired by forest motifs.
Taking off from the beauty of forests, this nature-inspired collection is entitled 'Gifts of the Forest,' which likewise captures Nespresso's devotion and commitment to the environment that coffee is grown in.
The collection has a range of limited-edition coffees, along with Festive-infused accessories—all of which make delightful gifts for family and friends. Plus, you'll love the fact that Nespresso is actually giving back to the forest, as the brand goes beyond its agroforestry commitments by helping to protect 10 million trees in the Amazon in partnership with Conservation International.
Designed by Johanna Ortiz
It also gives everyone a chance to own a piece of Johanna Ortiz's handiwork. She is known for innovative designs with motifs of nature and sustainability.
"For me, design and nature go hand in hand, which is why this collaboration resonated personally. Colombian coffee also has a truly special place in my heart as an active supported in the fight against climate change, knowing that Nespresso is going beyond its agroforestry commitments by supporting the protection of 10 million tress in the Amazon, it was another huge reason why this collaboration made perfect sense," says Johanna.
"When designing the collection, I took the idea of capturing the beauty of the forest throughout each piece, by incorporating rich forest canopies and dark earthy tones within my designs. It's been an amazing process and partnership which I have deeply enjoyed," she says.
Here are some of our favorites from the collection!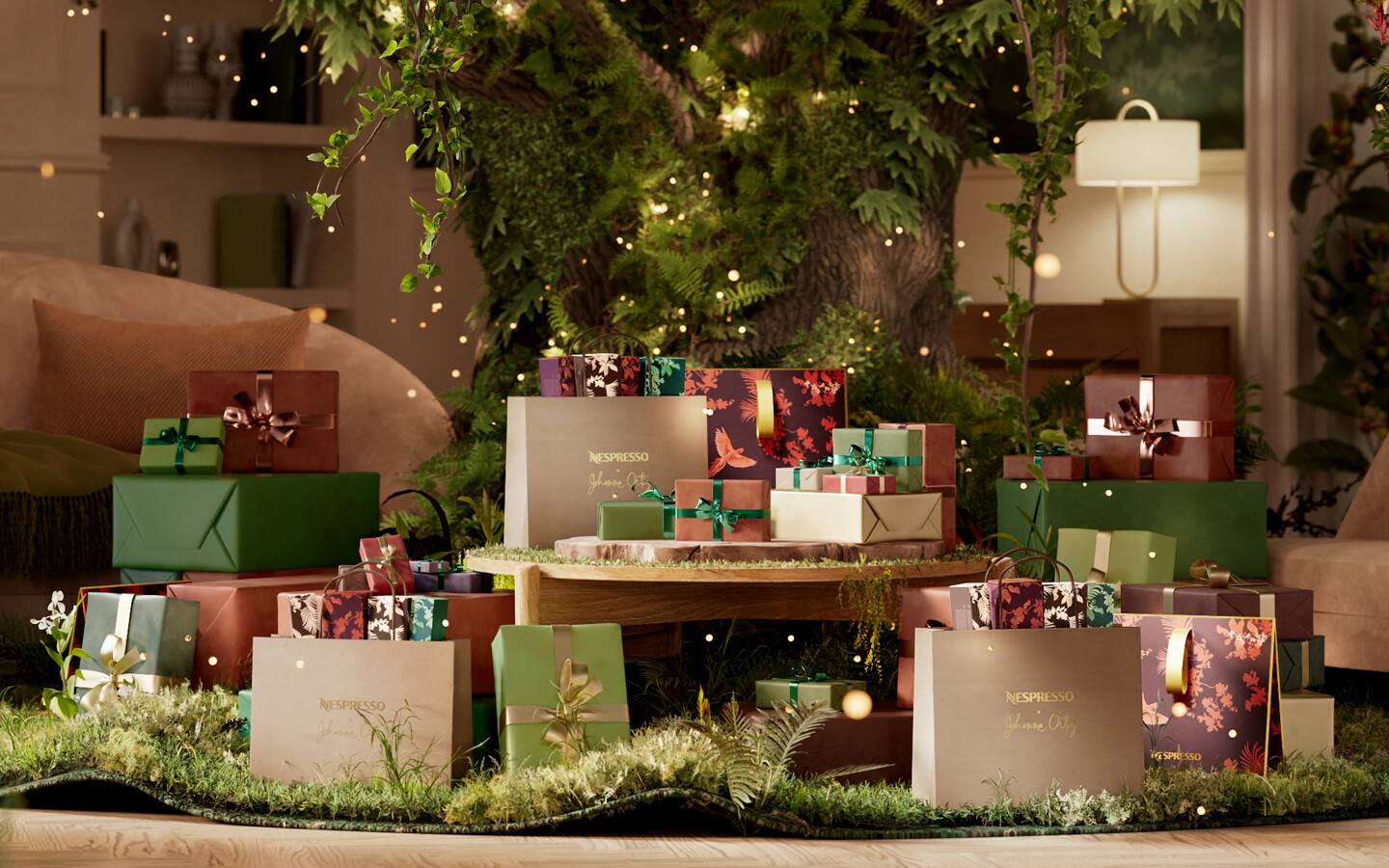 Photo Gallery
Surprise and delight loved ones with exclusive presents
In addition to its coffee offer, Nespresso is excited to propose two exclusively designed items for the festive season. You can check out the notebook, while the tote bag will arrive by mid-November.
Be sure to take note of the Nespresso x Johanna Ortiz LE Notebook, made from 100% recycled paper and responsibly sourced to protect natural resources. Shoppers can also get their hands on an alluring reversible organic-cotton tote bag made from sustainable materials. Both are decorated with the signature Nespresso x Johanna Ortiz pattern showcasing sweeping forest canopies and capturing the true essence of the forest.
Nespresso x Johanna Ortiz advent calendar
To arrive together with the Tote Bag starting mid-November! To kick off and add excitement to this year's festivities, Nespresso is proud to bring back its highly coveted Advent Calendar. For this edition, its stunning packaging has been designed by Johanna Ortiz as part of her festive collaboration. This year's advent calendar will take Nespresso lovers through a different coffee each day from December 1 to 23, with a special gift on the 24.
Touch Travel Mug
Available starting mid-November. For a limited time only, Nespresso is also revamping its iconic Touch travel mug. This Festive Season the travel mug will be available in a golden color, for those looking for a touch of sparkle while on the go.
10 Million Trees
Nespresso has also partnered with Conservation International to gift back to the forest. For almost 20 years, Nespresso has been focused on protecting nature through agroforestry projects to protect the ecosystems its coffee farms rely on. Going beyond coffee farming and supporting the local communities, now Nespresso has announced its contribution to protecting 10 million trees in the Amazon Forest in La Pedrera, Colombia. This is in collaboration with Conservation International and La Pedrera's Madroño community.
The limited-edition Gifts of the Forest collection are available in Nespresso boutiques, pop-up stores, and online via www.nespresso.ph. You can also visit the Nespresso PH FB account to get updates on the availability of the items.
Nespresso continues to give you the best coffee choices for your lifestyle. From November 11-18, enjoy up to 20% discount on coffee machines and selected accessories. Indulge in your coffee experience with a 10% discount on Essenza Mini and Inissia. Level up your Nespresso moment with a touch of elegance—Pixie, Citiz, Essenza Plus, Lattissima One, Lattissima Touch, Gran Lattissima, Atelier, and Creatista Plus offering a 15% discount. Complete your coffee accessories and enjoy 20% off on LUME Espresso Set, Cappuccino Set, Coffee Mug, and Gran Lungo. Experience extraordinary coffee moments with Nespresso.