Tea Mama: A Tea Shop For The Health Buff, Vegan, And Lactose-Intolerant
Goodbye, unhealthy tea drinks; hello, good stuff! We haven't seen this many customization options anywhere!
Now I can enjoy my milk tea with almond milk, vegan sago, and stevia—and it still tastes so so good!
Milk tea is all the rage in the metro now. Oreo milk tea, cream cheese foam, Okinawa, brown sugar—and the list goes on. But what we forget is that tea is supposed to be a healthy drink. It's filled with antioxidants that help protect the body against a boatload of diseases; it's supposed to keep us young and protect us from pollution, and even reduce risks of heart attack and stroke.
But are we getting all of these benefits from the tea shops that we've been lining up for? More often than not, the answer is no.
Now, we've got a specialized craft tea shop that stands for all the good things that tea is rooted in. Tea Mama is a rebranded tea shop located at the Mega Food Hall inside SM Megamall, which we know before as Sweetea's by da.u.de. It's founded and managed by Renée Sebastian, a Filipino-American singer and songwriter who has ventured into bespoke tea here and abroad.
When it comes to tea, trust Renée to know her stuff. She has been researching and working with tea for more than a decade now, and she has turned her passion for the drink into a brand new concept to educate Filipinos about the benefits and the goodness of real tea.
So where does Tea Mama stand in our current crazy landscape of milk tea? Tea Mama is all about healthy options, customization, and bringing out the heart and art of tea making.
Real tea
"With Tea Mama, I though to myself, 'What would I want to give to my children to drink? Just like a mom, you want to give your child what they want to enjoy, but you want it to be healthy, too. There's a balance. That's why our mantra is to educate—we're going to give the customers what they want, but in a cleaner and healthier way," says Renée.
It all starts with the tea, which Renée sources herself from different tea plantations all over the world. She makes sure she knows each farmer who provides her with tea leaves, and that the quality is always consistent. Unlike other stores that prepare their tea in bulk, Tea Mama brews its tea per order, where each tea is steeped in a specific temperature for a specific amount of time to balance the release of flavor and the retention of the antioxidants in the tea.
Customization, customization, customization
And from there, the options are endless! Renée wants every person to be at home at Tea Mama. All the fruits used in the fruit teas are fresh. Aside from standard dairy milk, you can customize you drink with lactose-free milk, vegan milk, and almond milk. The add-ons are also all house-made, with options like vegan sago for the extra health-conscious. No sugar? No problem! You can swap with honey or stevia, or no sweetener altogether—and Tea Mama can balance the flavor for you.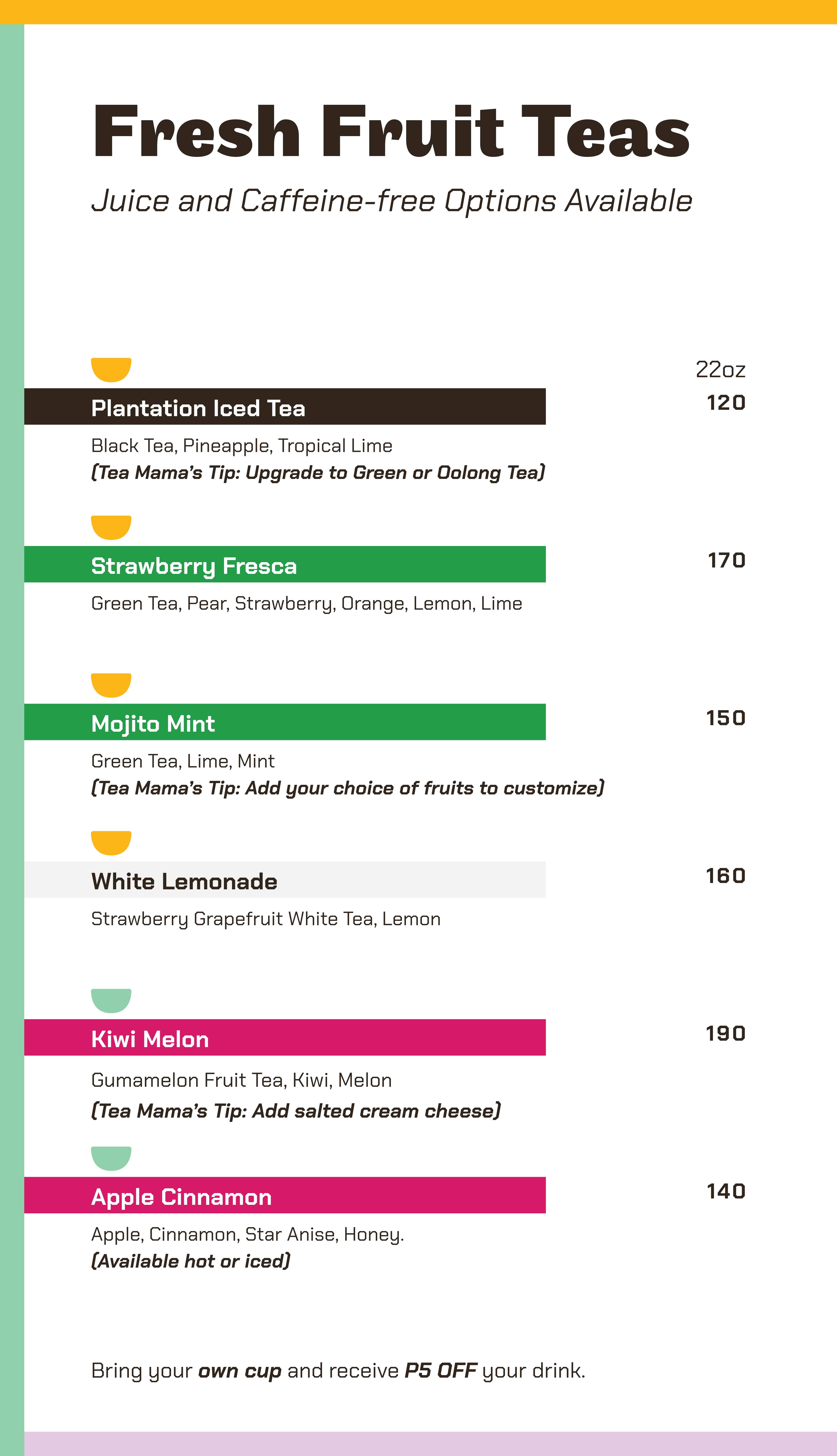 More than tea
More than a business, "There's a higher purpose behind the company," says Renée. "I really want to establish the tea industry in the country."
For years, Renée has been going around the world to discover different tea leaves. And for the first time, she has finally succeeded in crafting the very first orthodox tea grown here in the Philippines. She presented this in the last Tea Expo in June and they're already in the middle of farming the tea. Her next steps are to educate Filipinos about real, quality tea leaves, and secure the help of the government to grow and protect the industry.
Tea suggestions
At Tea Mama, you can craft any kind of tea drink you desire. They have a wide array of tea leaves that you can choose from, milk options, fruits, and add-ons. So here are some of our favorites from Tea Mama's signature drinks.
For the milk tea person, go for the Salted Crema Milk Tea made with Oolong tea, milk, black pearl, and rich salted cream like no other we've tasted before.
If you want something to refresh yourself, order the Mojito Mint and add oranges for a fresher flavor.
If you want a break from tea, they also have milkshakes with interesting flavors like Ube Halaya, made with real, creamy ube.
And our absolute favorite, perfect as a pick-me-up after a long day, is Matcha Strawberry with lychee nata de coco. In fact, this is also a great pre-workout drink because studies have found that matcha boosts the metabolism and minimizes fat retention.
With Tea Mama, you don't have to hold back just to watch your health. You can enjoy your drink fresh, dairy-free, sugar-free, but flavorful.
Tea Mama, 5/F Mega Fashion Mall, SM Megamall, EDSA, Mandaluyong City