7 Drinks In Vincenzo That Show Why He's The Perfect Anti-Hero
Forget the soju. Son Joong Ki plays an anti-hero with a sophisticated palate and lots of style
Every single K-drama show I have ever watched has had at least one scene where the characters are drinking soju. A good soju drinking scene is as ubiquitous to K-drama as a sampalan scene is in Tagalog movies. Soju is an effective plot device used to move the story forward. In the world of K-drama, it's entirely possible to fall in love, plot the takeover of another nation, form unlikely alliances, make new friends, or anything else that needs to be accomplished in the story — all over a few bottles of soju.
SPOILER ALERT! If you haven't seen Vincenzo yet, turn back now and go to Netflix to stream. You've been warned!
How refreshing, then, to discover that in Netflix's hit new series Vincenzo, the characters are drinking more than just soju. The drinks menu has enlarged to include cognac, whiskey, wine, champagne, espresso and makgeolli. The alcohol lover in me is truly thrilled.
A lot of this stems from the fact that Vincenzo Cassano, the eponymous lead character played by Korean heart throb Song Joong Ki, is a Korean-born consigliere of an Italian Mafia family. That is, he's ethnically Korean but was adopted as a young child by Italian parents and grew up in Italy. This duality is reflected in everything to do with his persona, including his eating and drinking habits.
I had fun watching Vincenzo drink his way through this slick, fast-paced story, and I even spotted a few Easter eggs! In this well-crafted drama, the drinks Vincenzo holds in his hand have links him inextricably to the dark world of the Mafia. They're used to show off his sophisticated palate, and pays homage to that fascinating underworld of secrecy and crime. Want to know more? Click through the gallery below.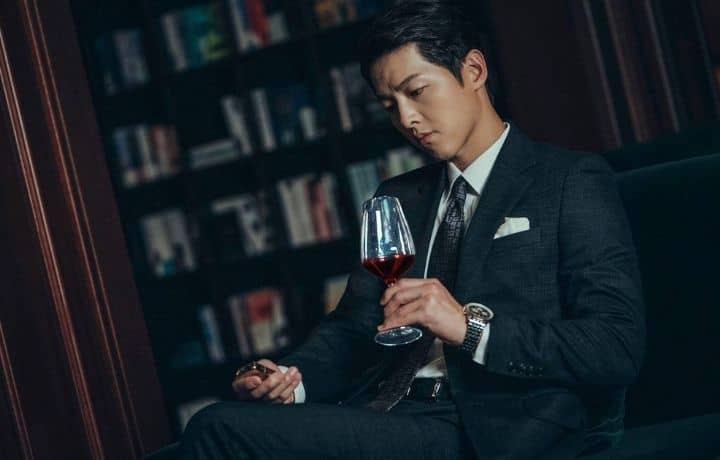 How to drink like Vincenzo
How to drink like Vincenzo
Wasn't that fun? I hope you enjoyed our tongue-in-cheek "analysis" of Vincenzo's drinking habits, and if you found a new drink to explore, so much the better. Till the next K-drama food review.