Birria Mania: 10 Best Birria Tacos That Deserve All The Hype
What's behind the hypnotic, hedonistic appeal of this craveworthy dish and where to find the really good ones in the metro
Birria tacos have a primal appeal. It's meat cooked in a coppery red stew of beguiling complexity, slow-cooked till ultra tender then then shredded, stuffed into a taco shells or tortillas with gooey cheese. It comes with salsa and consomé — the same stew the meat is cooked in, which arrives on your table with a generous shimmer of fat and beguilingly complex flavors. It's hypnotic, mouthwatering, hedonistic comfort food at its best.
Originally a regional Mexican stew, birria became a TikTok sensation during the pandemic. Thousands of posts are show off fantastic melted cheese pulls, and the almost hedonistic taco dips into styro cups of consomé (birria broth). Birria tacos are celebrated for their infinite variations. The social media hype is relentless birria and irresistible. Everyone wants to know what the heck birria tacos are, and where to find the best ones.
If you haven't yet sampled birria tacos, we urge you to do so a.s.a.p. You'll be entranced by the opulence of the meat, almost gelatinous in places; the handmade flour or corn tortillas, rich savory broth, great gobs of cheese, all the elements that coalesce to satisfy a deep, primeval hunger within us. It's just what you need to rouse you from the doldrums. Birria is adventure and comfort packaged in one tiny tortilla at a time. And if that doesn't really make sense, well, that's because you have to taste it to really understand its magic.
Yearning to find the best crazy-delicious birria tacos in the metro? Click through my personally selected, curated-with-difficulty list below.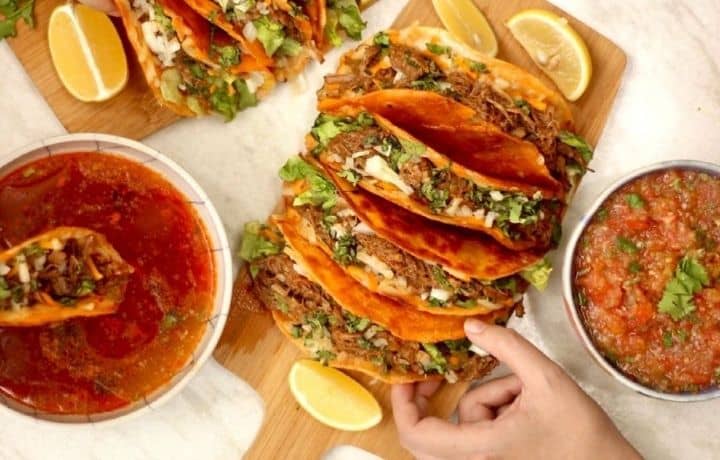 Birria Mania
Birria Mania
Lead photos: House of Birria, Onlypans