The Ultimate Burger Bucket List: 11 Sexy New Burgers You Need To Try
From basic to super luxe to vegan, there's a new breed of burgers popping up everywhere and we're here for it
Not many people know it but the burger, like so many of the dishes we eat, is constantly evolving. From its historic beginnings to its latest iterations, the burger's basic components have always been some kind of bread and a patty. Chefs today have frolicked between these buns and let their imaginations run wild, giving birth to iconic burgers now known around the world like White Castle, Five Guys, In-N-Out, and — dare I say it — Jollibee's Yumburger.
Even just within the Philippines, the playing field nestled between burger buns has witnessed many triumphs and failures. Lately, however, it seems chefs and restaurateurs have had a collective reawakening and decided to reinvent the wheel of the comfort food world. From the humble and plain buns, we now have sourdough, brioche, potato, and even rice buns. The patty, once just made of ground beef, has evolved to fancier versions like Angus Beef or local twists like chorizo as well as lighter options like chicken or even vegan! Additional fillings have grown from the usual cheese, lettuce, and tomatoes to more bespoke selections like different cooks of onions (caramelized, raw, pickled, crispy battered rings), a myriad of imported and local cheeses, signature sauces have become a thing, and even luxury ingredients like foie gras and truffles have made its way into the mix. And these are just some of the ways burgers have changed within the past year during the lockdown — giving further proof that the evolution of the burger is never done.
"[The trend now is] giving the consumers more than an ordinary cheeseburger," shares Chef Luis Chikiamco of Discovery Primea, who recently launched The Burger Library for the posh Makati hotel. "The burger scene is now becoming very interesting with the innovation of the simple and humble burger to something more 'gourmet' with the elevation of its flavor profiles by using choice ingredients."
Metronome's co-owner and Chef de Cuisine Miko Calo, who once worked for French culinary icon Joël Robuchon, is no stranger to high-end ingredients. So when fine dining Metronome had to pivot to take-out and delivery in 2020, she made sure their burgers stayed on brand through Lazy Oeuf.
"Lazy Oeuf came into fruition because of the pandemic. We started it to be able to provide a monthly allowance for our staff. It took me about a few days to finalize the fundamentals which are the patty and brioche bun then a week to develop the rest plus testing if the product travels well. Our burgers are unique because of its French slant. It tastes quite luxurious but still accessible," explains Chef Miko.
She also pointed out that no matter the trend or what's inside the burger, it will always be one of our go-to comfort foods. "I feel like the burger has always had different iterations. It will always be a staple, it will always be something the people crave for. It will always be comfort food."
But when it comes to traditional and out-of-the-box burger creations, Chef Edward Bugia has seen a lot of it — from his "old but now dormant concept" BRGR: The Burger Project in Quezon City (which had us all building our own burgers before a popular chain started saying "Have It Your Way") to his new burger babies at Mimi & Bros in Bonifacio Global City. He sees a different trend in the burger world lately.
"Back to basics. Everyone is going back to basics," says Chef Ed, who's the head of food & beverage for the MFT Group. "They want good quality beef, nice cheese, onions is a matter of preference, pickles, specialty sauce, sometimes nice crisp vegetables… People are understanding and appreciating that in the Philippines we now have good quality products and you don't have to mask it with too many other ingredients. Just keep it simple."
But what makes a burger a good one? Our experts emphasized the importance of using the best possible ingredients, the often overlooked yet crucial bun, and the perfect bun-to-patty ratio.
"[Proper] bread to patty ratio [makes a good burger]. When you bite into it, you should be able to identify the layers of flavors and the beef itself," Chef Miko said.
"A good burger has that perfect ratio all throughout. Every bite [has the] same flavor from beginning to end. It's not too sloppy, it's something you can eat with your hands. And I'm such a stickler for eating a burger with your hands over using utensils. If a burger can be eaten with your hands, I think that's a good burger. It doesn't drip too much. You want it to be juicy, but you don't want it to be sloppy. It has all the right textures with umami and having your perfect bun. People don't understand that the bun plays such a crucial role. Everything should have that perfect bite and perfect ratio," explains Chef Ed.
Aside from the balance between bread and (non-)meat, Chef Luis also mentioned the importance of properly cooking or preparing the components.
"A good burger must use good quality beef, must be seasoned right, and cooked until a nice crust is formed on the outer edges of the beef," Chef Luis shared. "Crisp fresh lettuce and tomatoes must be used [and] a well balanced dressing. And just as important, a nice bun — toasted on the inside and pillowy soft on the outside."
For National Burger Day (May 28), we've put together a list of the newest additions to the growing roster of must-try burgers in Metro Manila. Disclaimer: We know they're awesome, but you won't find established favorites like 8Cuts, Sweet (X) Ecstasy, Pound, Beefier at The Grid Food Market, or even Popeye's Spicy Chicken Burger (despite this writer's recent encounter of the yummy kind) in this list, because we only included burgers that were launched within the lockdown period (from March 2020 up to date of posting).
Now, let's get our burger on!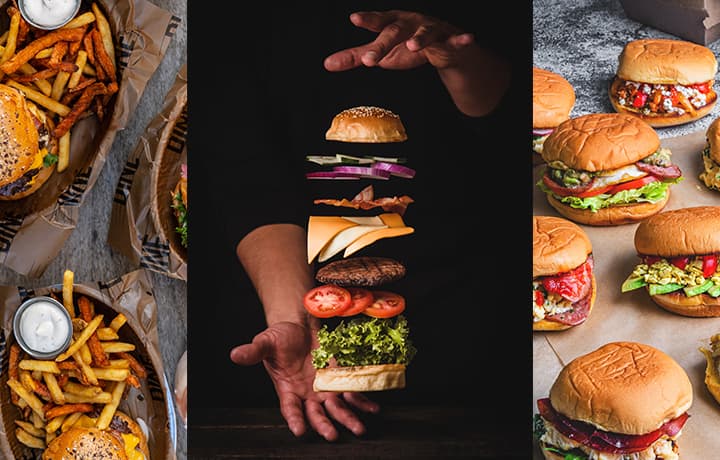 The Best New Burgers In Town
The Best New Burgers In Town