Where To Find The Most Magical Pies And Cookies Ever
Marriage, family and a shared passion are at the heart of the goodies baked out of Chef Chele's Kitchen
"It's really borne of passion and love, and being homemade and sharing it with people, that's the style that we want to let people feel and experience," describes Teri Gonzalez of Chef Chele's Kitchen, the "baby" she created with her husband of five years, Chef Chele Gonzalez. He happens to be no stranger to the local dining scene thanks to his restaurant Gallery by Chele and Deli by Chele store. But unlike his other endeavors, Chef Chele's Kitchen is a different kind of project, one that began literally at home. "This is really our own. We don't have any business partners, it's me and him," Teri reveals.
The couple started Chef Chele's Kitchen at the height of the pandemic as a home-based business with one signature product, the Burnt Basque Cheesecake. During the lockdown, Chef Chele started cooking every day at home, and soon enough, they were baking together as well. Teri relates, "We started with just doing the Burnt Basque Cheesecake because, of course, when we were in Spain, I told him I love the La Viña cheesecake. Then he said, okay, we can just do it at home." The result is a sweet, slightly tangy, and exquisitely creamy cheesecake reminiscent of its famous San Sebastian inspiration. Initially, they baked it for friends and family, but realized that they could be sharing it with the public as well. Soon, their original cheesecake bore siblings in different flavors like Dark Chocolate, Forest Berries, Salted Caramel and Macadamia (Teri's idea for a more on-trend flavor), Dark Chocolate and Fresh Strawberries, and even a seasonal Truffle variant. All these cheesecakes were baked out of the couple's home kitchen.
It was only a matter of time before the Gonzalezes decided to expand the business outside of their home, as people were starting to venture into the malls again. This December, Chef Chele's Kitchen opened its first brick-and-mortar store on the ground floor of The Podium in Ortigas Center. While it may seem like the perfect time to launch, Teri admits that things have been hectic—she just gave birth to a baby girl, their first child, a few months ago; Chef Chele simultaneously opened his first branch of Deli by Chele at the Power Plant soon followed by another one at The Podium; not to mention it's the height of the Christmas rush. But the couple are up for the challenge, expanding their product line beyond cheesecakes, with the addition of family pies and cookies, each with their own family origin stories.
The family pies can trace their beginnings to the six months that Teri and Chef Chele spent last year in his hometown in the Cantabria region of northern Spain. It was a time to reconnect with family through glorious homecooked meals, especially those cooked by Chef Chele's two older sisters, both accomplished cooks. "We really were able to spend time with them… Of course since we're not usually there, they always make it a point that whenever we go to the other sister's house, she will cook her best dishes," Teri recounts, bemused at the sisters' friendly cook-offs. "They have their own desserts that they showcase every time we're there. Since we loved them so much, why don't we include them in Chef Chele's Kitchen?" In a way, Teri and Chef Chele brought that family bonding experience to Chef Chele's Kitchen, via his sister Eva's Tarta de Manzana and sister Amparo's elegant Tarta de Limon. Also on the menu is a deep dark Tarta de Chocolate topped with banana slices, another favorite of the Gonzalez household.
While the Spanish side is very much a part of Chef Chele's Kitchen, the Filipino side through Teri is just as present. She has been cooking and baking since her younger years, and even contemplated enrolling in culinary school at one point. Her career has been steeped in food & beverage and hospitality, first as a restaurant manager, and then as a hospitality executive in charge of events at the Edsa Shangri-La Hotel for the last 16 years. Whatever the food concept, Teri is essential in bringing her marketing savvy and innate understanding of the Filipino market to the venture. "There are dishes that he can come up with, but do you think the market will enjoy it or the market will understand it, so that's where I come in," she relates.
The chocolate chip cookies are based on Teri's recipes which she has tweaked through the years until perfected: Classic Chocolate Chip with gigantic chocolate chunks and a chewy-crunchy balance, alongside a more cocoa-intense Chunky Chocolate Cookie version. The other cookies, Butter and the seasonal Ginger and Cinnamon Butter, celebrate Chef Chele's Cantabrian heritage, its famous butter and dairy industry.
When asked if it was always a dream of Teri's to open a bakeshop or food concept, she answers, "I knew that sooner or later, since I'm exposed to F&B because of my work, [that I would open] something like that. Maybe it can be a bakeshop or maybe it can be a restaurant. Or one of my dreams also is a mini bed-and-breakfast. I can run it and Chele can do the food. Maybe that can be another project in the future," she muses.
Chef Chele's Kitchen may owe its beginnings to its cheesecakes, pies and cookies, but Teri promises that there is definitely more to come, and not necessarily just the sweet stuff. "Right now, we have pastries and desserts. Sooner or later, if we come up with something, it can be more on the savory side."
So Chef Chele's Kitchen isn't a bakeshop or patisserie, nor is it a deli. Perhaps the best way to describe it is as a very tangible symbol of the life Teri and Chef Chele have built together. A classically trained chef and a veteran hospitality executive, a Spanish expatriate and a Filipina, two new parents with a beautiful baby girl—each of these elements find their way into the DNA of Chef Chele's Kitchen. Teri doesn't mind sharing how their family life is woven together with the business, "When we were talking about how do we launch Chef Chele's Kitchen in Podium, we were just in bed and the baby was beside us and we were just making kwentuhan."
Like any marriage or family, there are ups and downs, disagreements and differences of opinion, but then she adds, "For the both of us, it's really agreeing, meeting halfway, and just creating something magical." And perhaps that's the secret to Chef Chele's Kitchen—getting inspiration from the people they love, creating quality products from the heart, and sharing them with those in search of that "something magical."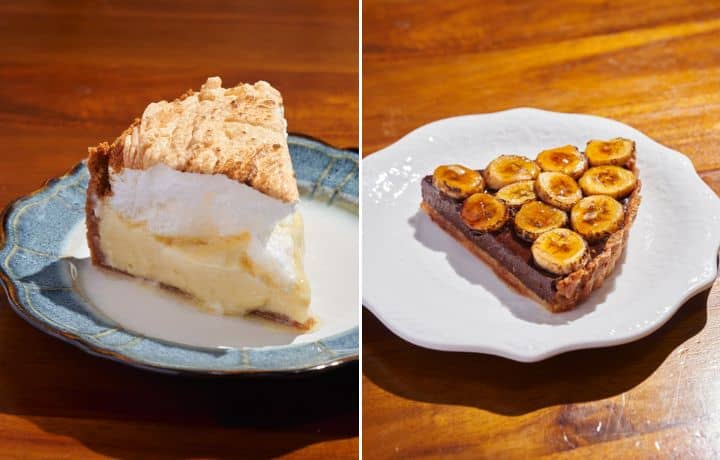 What To Order
What To Order