Chef Robby Goco: Championing Local
Dig into good, honest food with Chef Robby Goco and American Express
When Chef Robby Goco began planting the seeds for his current roster of restaurant concepts, he took with him his deep belief that "good food is a right, not a privilege." As the Director for Research and Development and Managing Partner of Cyma Greek Taverna, Green Pastures, and Souv! by Cyma, Goco is truly a staunch supporter of good, honest food. Goco graduated with a degree in Culinary Arts from the California Culinary Academy and then moved towards creating and nurturing concepts of various restaurants such as Tequila Joe's, Achiote Taqueria, Go Greek, Munchtown, Le Monet, Hotel Luna, Vitalias Villas, Yumi, and many others.
With over twenty years in the industry under his belt, Goco is undoubtedly a force to be reckoned with in the local culinary scene. "My contribution [to the local culinary landscape] is to constantly evolve, to outdo what I did. It is necessary because if you don't innovate, you become irrelevant," he reveals. These days, Goco is increasingly leaning towards healthy, fresh and natural flavors, and using the entire animal or ingredient, from nose to tail, from root to seed. As the chef who popularized farm-to-table years back, it is not a surprise that Goco reveals he finds it to be an exciting challenge to create something that is 100-percent plant-based and organic, yet still a dish that meat-eaters will enjoy.
Following this gravitation towards fresh flavors, the chef is also a pioneer of using what is sustainable and local. Goco is as passionate as he is successful in his advocacy to support the local farmers and help the local industry progress. He believes that a chef must go beyond what tastes good and looks good, and maximize ingredients whilst minimizing waste. A champion of local, Goco builds his menu by looking at what's available around him, with all produce coming from farms, ranches, and fisheries that are guided by the principles of sustainability.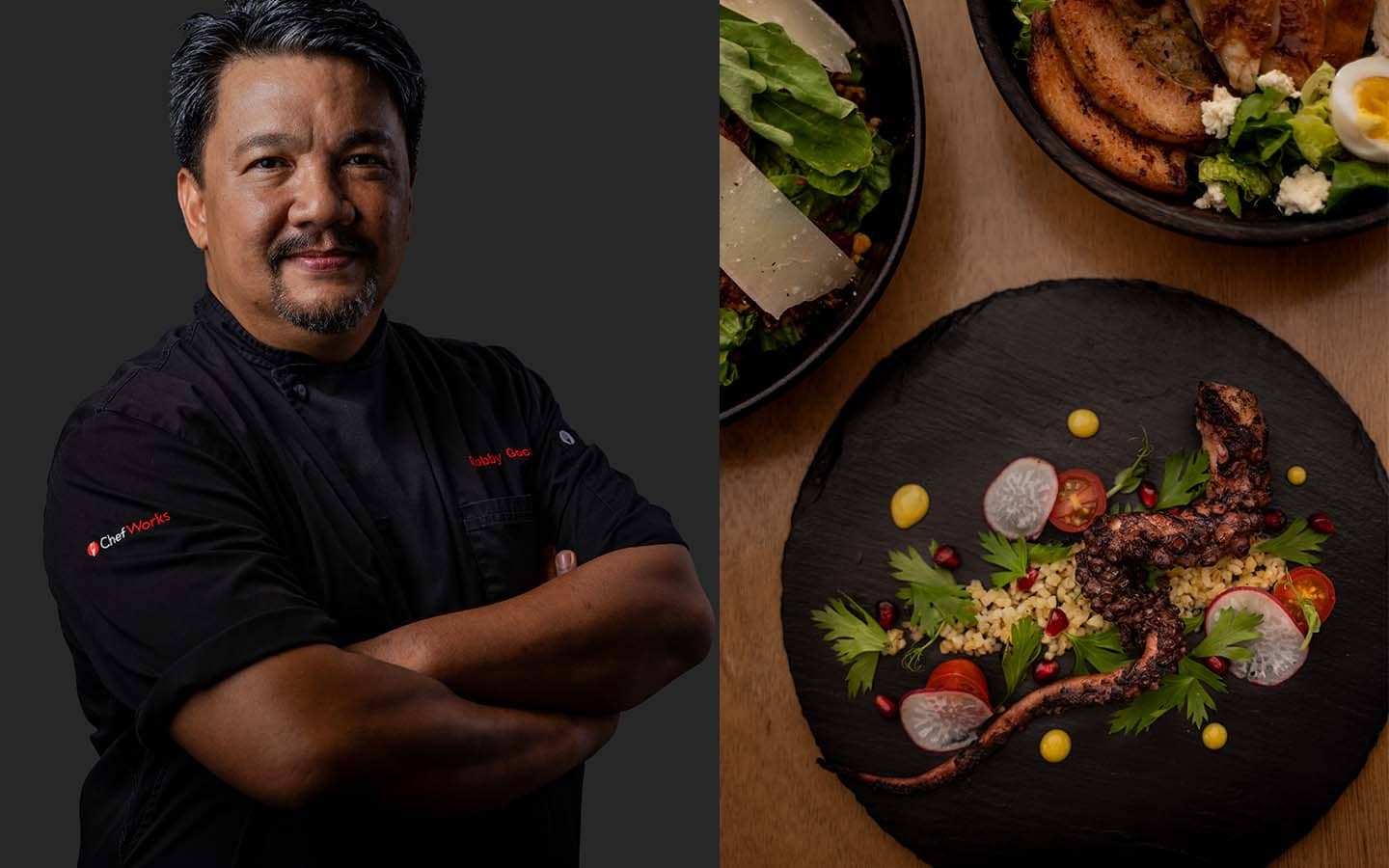 What's next on Robby Goco's plate? "With Green Pastures, I am looking to completely revamp and make something new. I'm also opening three concepts in Palawan which includes a restaurant called Ennea (which means the "ninth"), marking my ninth Greek restaurant. In El Nido, I'm opening a tapas bar called Tanaw, which will sit atop my other new restaurant, Tariktik, [the latter of] which will offer global food served up with island vibes," Goco reveals. Tariktik, named after a bird native to El Nido, features popular local ingredients such as fresh catches from the sea and all the different local produce. He also headlines as the executive chef of the ArtsStream Hospitality Group, a group that operates luxury hotels around the country, and shares that they will be opening the Margarita in Davao City within the year.
For the Amex For Foodies campaign, American Express Cardmembers in the Philippines can enjoy a complimentary serving of crowd favorites at Cyma, Green Pastures, and Souv! by Cyma with every P2,000 spend until December 31, 2019. For Cyma, it will be a solo Roka Salata, a refreshing marriage of arugula, romaine, sun-dried tomatoes, candied walnuts, parmigiano reggiano with a traditional Greek vinaigrette. For Green Pastures, it is a small Farmhouse Salad which combines shredded kale, chopped romaine, konbu roasted chicken, Mambo goat cheese, hard-boiled eggs, bacon, corn, ripe mangoes, grape tomatoes with a honey mustard dill vinaigrette. For Souv! by Cyma, a treat of Grilled Sous Vide Octopus which is served with Ladolemono (a Greek style olive oil and lemon dressing), smoky paprika, greek oregano, parsley salad, and homemade pita.
Taste the experience with #AMEXFORFOODIES. To learn more about this campaign, click here.
*Terms and Conditions apply.