Forget The Fashion: How To Eat Like Emily In Paris
Netflix's hit new series made us crave croissants, Parisian-style steak, crépes and more
Netflix's new hit, Emily in Paris, has been roundly criticized for its very clichéd view of Paris, including in its presentation of the food. Do the French always want their meat rare? Is the customer never right? Is coffee and croissant the national breakfast? Non, say the French. It doesn't matter, however, as we are enamored by this peek into the kind of experiences we'd love to have. We know it's clichéd, but who would refuse a chance to travel to Paris, sip wine by the sidewalk, fall in love with a stranger (preferably while visiting a wine chateau)? Yes, we definitely wouldn't mind being Emily, eating her way through the best Paris has to offer. It is a vicarious pleasure simply to watch her.
But why should we just watch? We thought: since we can't go to Paris right now, why not bring Paris and it's delicious pleasures to us? So we chose our favorite food scenes in Emily in Paris, and we're sharing our suggestions for how you can replicate them at home. Click through the gallery below and bon appetit.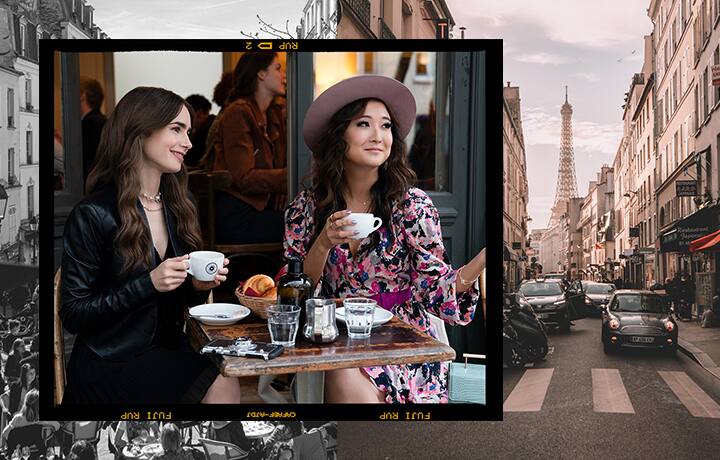 Bon appetit!
SWIPE LEFT OR RIGHT
TO NAVIGATE BETWEEN PAGES
Pain Au Chocolat
Photo Credit: Netflix
Salted Egg Croissants from Paris Délice
Photo Credit: @parisdeliceph
Ube Croissants by Eric Kayser
Photo Credit: @erickayserph
Ready-To-Bake Small Butter and Chocolate Croissants
Photo Credit: @parbaked.ph
Steak in a Parisian bistro
Photo Credit: Netflix
D.I.Y. Steak from Rare Food Shop
Photo Credit: @rarefoodshop
Dine in at Mirèio, Raffles Makati
Photo Credit: @mireioatraffles
The Steak Kit from Wolfgang's Steakhouse
Photo Credit: @wolfgangssteakhouseph
Romantic French Crépes
Photo Credit: Netflix
Sweet Crépes at Ça Va?
Photo Credit: @cavapodium
Savory Crépes, Anyone?
Photo Credit: @cavapodium
Créme Brûlée In Bed
Photo Credit: Netflix
Meet The Crépe Brûlée!
Photo Credit: @cavapodium