15 Quarantine-Born Food Businesses Owned By Celebs And Personalities Worth Trying
Get out those stretchy pants because you're going to need them with a selection like this!
As the Philippines inches towards its fourth month of quarantine coming in mid-July, more and more issues that divide, rather than unite, Filipinos continue to bubble up to the surface. The thought of finding a solution to all the consequences that the COVID-19 crisis has imposed upon the country is a stressful one indeed, but if there's anything that can make these trying times a feel a little bit brighter and better, Filipinos will agree on one thing—that good food can do just the trick.
There is no Filipino who can claim that a good meal, tasty merienda, or a satisfied craving can't lift their spirits, and so, during these times when yummy pick-me-ups are just what's needed, we give you a round-up of all the new food businesses to watch out for!
Making these new food ventures even more interesting is how Filipino celebs and popular personalities are behind them. Born out of wanting to explore new hobbies, diversify their business portfolio, or simply to take advantage of their free time or help those in need, each of them are worth checking out.
See who and what we've discovered so far in the gallery below!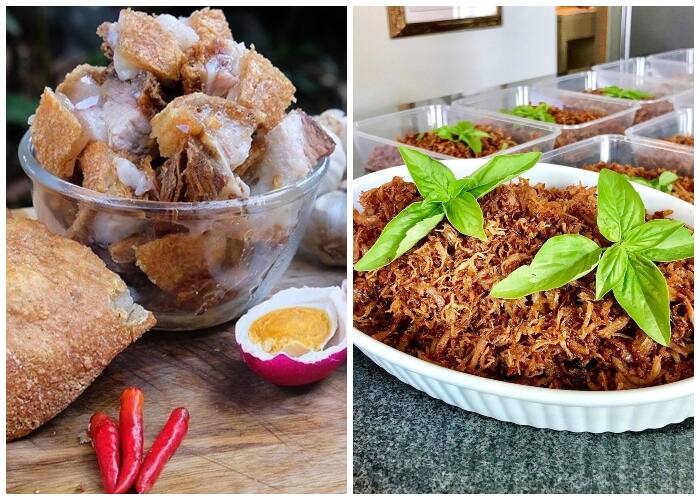 A Star-Studded Menu
SWIPE LEFT OR RIGHT
TO NAVIGATE BETWEEN PAGES
Judy Ann Santos' Angrydobo
Albie Casiño's Papa Bagnet
Laura Lehmann's homemade meals
Sarah Lahbati's Cravesimply.ph
Lourd Ramos' Kusina ni Lourd
Patrick and Nikka Garcia's Heat and Eat by the Garcia Fam
Maxine Medina's steaks for all
Nico Bolzico's Bolzico Beef
Georgia Schulze-Del Rosario
Marvin Agustin's Mr. Vin Munchies
Rhen Escaño's æ Coffee Cold Brew
Chef Gino and China Cojuangco's special longganisa
Jing Monis' Jing Monis Kitchen
Patty Yap's Pattylou's Kitchen
Charisse Tinio's Cremosa PH
Louella Chan's Eleven Baker St.
Although food seems to be the most popular choice of quarantine-born businesses for celebs and other personalities, there are those who took it a step further and explored other ventures.
Charisse Tinio, for instance, didn't stop with her yummy ensaymada business. She also set up Mrs. Herbs PH (@mrsherbsph) to spruce up life at home (gardening is chic these days!) while putting health and hygiene first by selling Speedster Car Care Cleaner and Spritz & Go leather shoe and bag cleaner.
La Belle Fete's Ycoy Sitchon, an expert at events planning and styling, has also found ways to circumvent restrictions brought about by quarantine. After all, the pandemic might have hit the breaks on the events industry, but with creativity and perseverance came a solution. La Belle Fete now organizes home-based parties and families, couples, parents, and other individuals can continue to celebrate special milestones, pretty setups included, while keeping safe.
The same goes for Gideon Hermosa, a florist and event stylist, who often works with Ycoy and her team.
Now, with 16 new food joints to explore, which one will you try first? (Here's the right answer—all of them!).
Images from @cravesimply.ph @thestallion09 @papabagnet @sarahlahbati @iamlauralehmann @officialjudayph @officialangrydobo @lourdramos @heatandeatbygarciafam @onlypatrickgarcia @shopxmaxinemedina @maxine_medina @nicobolzico @bolzicobeef @sweetestgeorgiapeach @butter.ph @marvinagustin @realrhen @aecoffee.ph @chefgino @china_cojuangco @jingmonis_kitchen @jingmonis @pattylouskitchen @elevenbakerstreet @louellahazeline @cremosa.ph @charissetinionp