5 Handy Tips For First Time Bread Bakers
Three home bakers share their breadmaking journey and the lessons they learned along the way
A curious thing happened during the first few weeks of the enhanced community quarantine in Luzon—loaf breads, burger buns, and soft pan de sal were gone from most groceries and supermarkets.
Many Filipinos are used to buying everything at the grocery store including breads, so the absence of packaged breads on supermarket shelves was quite unsettling. The operations of commercial bread manufacturers were affected by the lockdown and could not meet demand. Many panaderia also had to temporarily close down.
As a result, people retreated into their kitchens and started making breads on their own. "I guess people do it more these days primarily to take the edge off and just be lost in the process," says Jane U. Gaspar, a food illustrator and art instructor who began making breads at home in Ilocos Norte.
Breadmaking is indeed an activity one can happily get lost in as the baker focuses on its multiple steps, from measuring ingredients to fermentation, kneading, shaping and so forth until the dough is ready for the oven. The lockdown provided two things essential to making bread: patience and time. You cannot rush the yeast as it makes the dough rise and flavors develop during fermentation. Shaping is a repetitive, almost meditative, labor-intensive process necessary for the final form.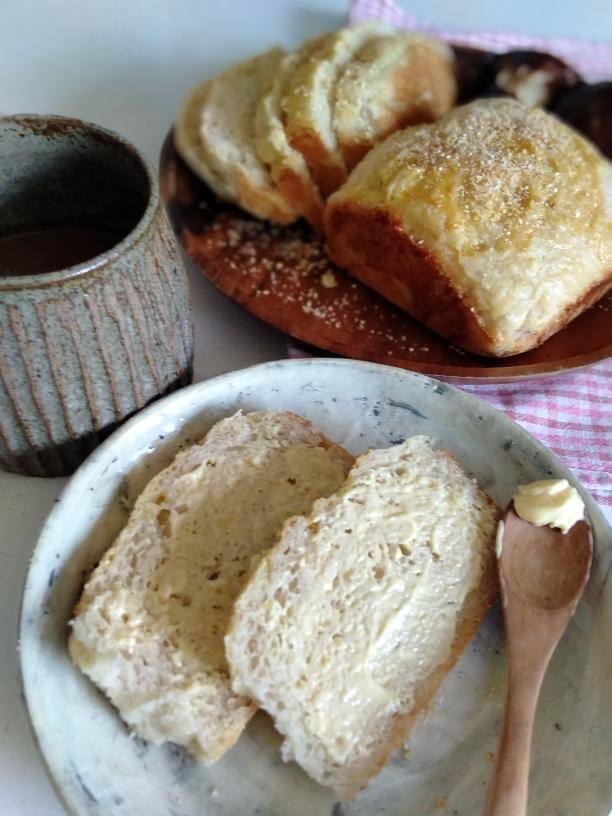 Ciabatta | Jane U. Gaspar
First time bread baker
When they ran out of store-bought bread, Jane's mother asked if she could make some. A self-taught home baker of cakes and pastries, she made ciabatta bread. "It was an easy recipe and didn't need much kneading so I went with it," says Jane. After posting her baking adventures on Instagram (@eateggsforlunch), a friend suggested she make milk loaf, which turned out great and used the leftover dough to make coffee buns.
While other home bakers made complex breads such as traditional pan de sal (and its ube cheese variation), Spanish bread, and sourdough, not everyone started out successfully. Cecille Torrevillas-Gelicame, mother of four from Cavite, had never baked bread in her life but it did not stop her from trying. Her family loves breads as part of their meals so with their supply almost gone, she decided to make breads.
Cecille's work as museum director made her too busy to learn baking at home. But her interest was kept alive by watching baking shows. She was also inspired after setting up a photo exhibit on Cavite's bread traditions for work. Then the lockdown happened.
Soon, Cecille found herself researching about baking online. "Sometimes I would search based on a craving, sometimes based on whatever supply is at hand. It's a bit time consuming and requires patience especially when you must factor in the very limited supplies you have on hand since most specialty baking stores are closed. When an ingredient is not available, I would check for possible alternatives," says Cecille.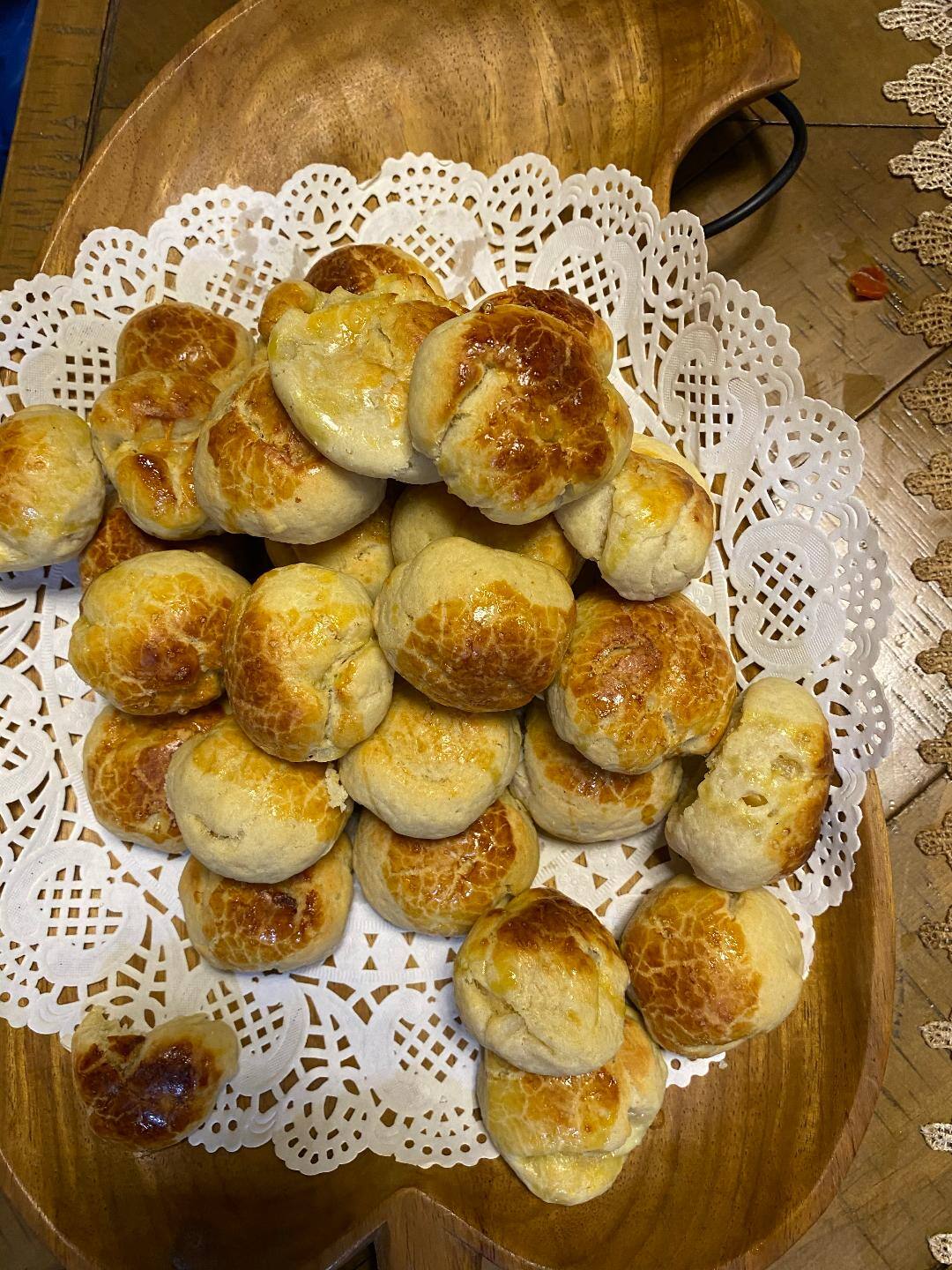 Homemade dinner rolls | Cecille Torrevillas-Gelicame
An alternative for yeast, based on her search, is plain yogurt which she used in making dinner rolls. But without the beneficial properties of yeast, the rolls turned out hard (not springy or soft) and since they only had flavored yogurts, the bread had an interesting and confusing flavor profile. But her family was only too excited for their mom making bread. "Naubos naman," laughs Cecille on her first attempt.
Baking may be known for its precision and science, which ensures that you produce the same delicious result every single time. But baking at home—especially in the time of COVID-19—is a lot more forgiving especially if you have eager (and hungry) family members ready to taste test anything you bake.
One also benefits from being resourceful when baking. When she finally got hold of a pack of yeast (the last one at the supermarket), Cecille was able to make pizza dough from scratch. She did not have a rolling pin but was quite happy using a roll of plastic wrap instead. She had no pizza pan but a baking tray did the job. The family enjoyed homebaked pizza topped with cold cuts, four types of cheese, and fresh basil that night.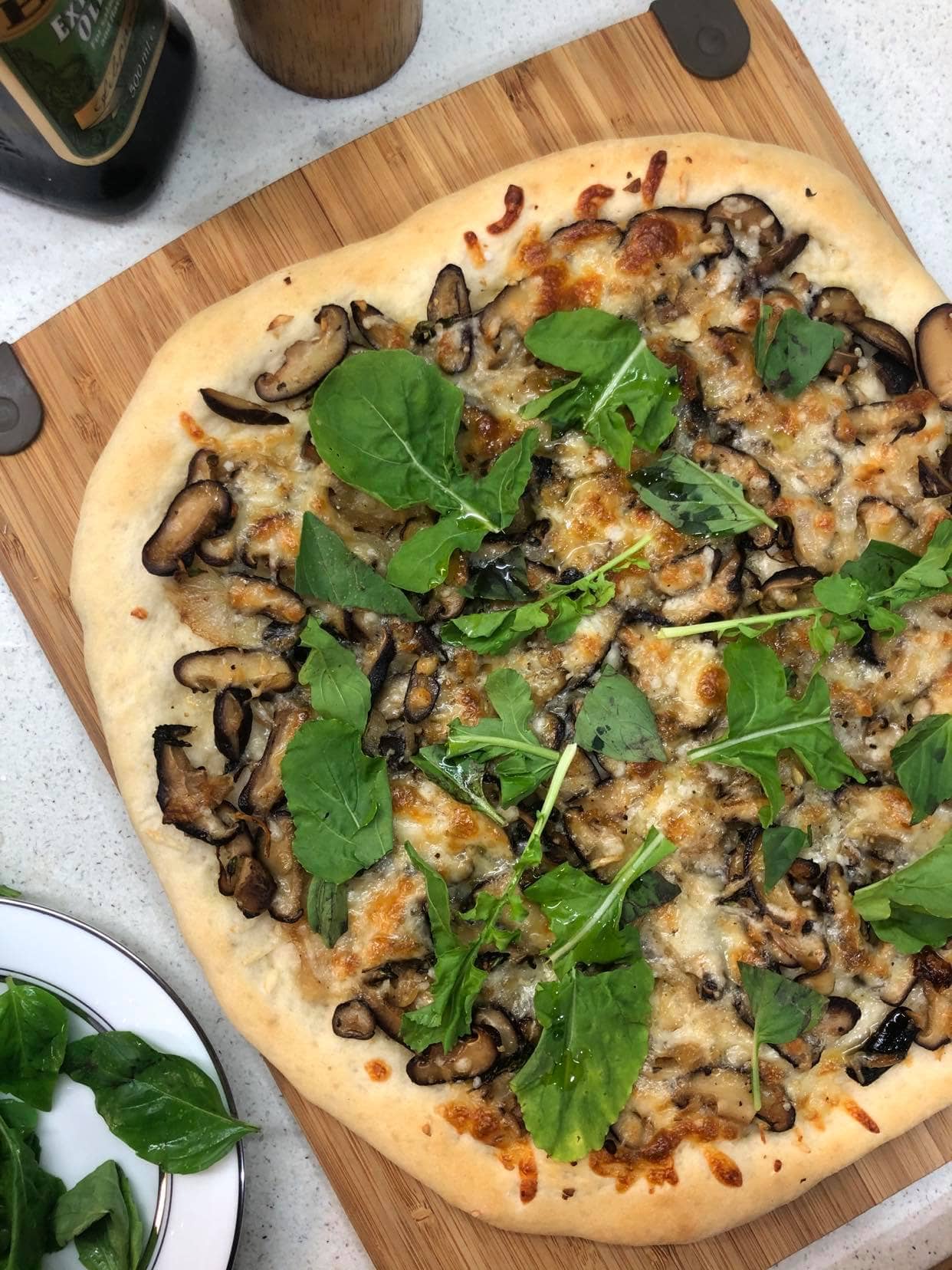 Mushroom arugula pizza made from scratch | Amy Uy
Bakers gonna bake
Bread was also unchartered territory for professional baker Nicole Uy, who makes her popular Hundred Gram Cookies and custom cakes at The Flour Girl Bakery in Pasig City. With her shop closed and their household running out of bread, she made pan de sal and Spanish bread.
Some of the pan de sal were given away as sandwiches to frontliners at their residential building. "We wanted to share some egg sandwiches to our guards and maintenance staff who have been with us prior to the lockdown and most of them haven't gone back to their homes. A little gesture of sending them an afternoon snack is the least that we can do to show our appreciation," says Nicole.
She documented her Spanish bread on Instagram (@theflourgirl), which inspired many of her followers to make their own using the recipe archived on her story highlights. One of her followers is a mother who made the dough into a hotdog roll which her children enjoyed. Nicole also went back to some of her cooking school recipes and recreated them into Spiked Orange Sticky Buns and Nutella Babka. She also successfully made a mushroom arugula pizza from scratch.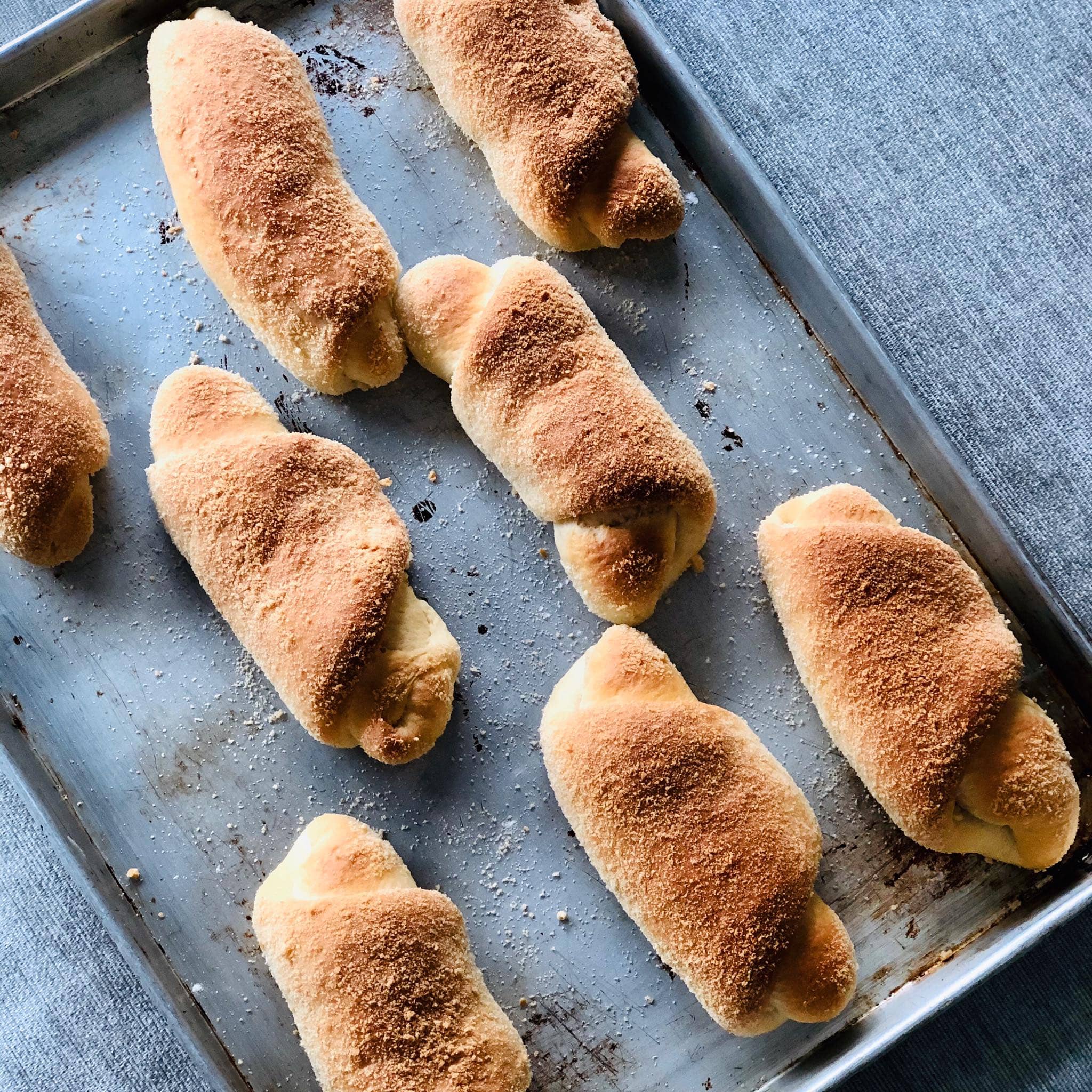 Spanish bread | Amy Uy
For many, baking during lockdown has also been a time to learn new things. For Jane, it became an opportunity to level up her baking repertoire. [Ciabatta] "was a great way to learn different crumb structures when you play with different levels of hydration and longer proofing time." Cecille discovered the joy of baking for others. "My "fans" loved them! No leftovers. Otherwise, I would have stopped baking," says Cecille. "It's therapeutic, it's calming, it keeps my mind away from worrying."
As of this writing, supermarket shelves have been refilled with breads. But the breadmaking fever has caught on, with many first-time home bakers making something as nourishing and familiar as warm bread, while waiting out the uncertainties of this pandemic.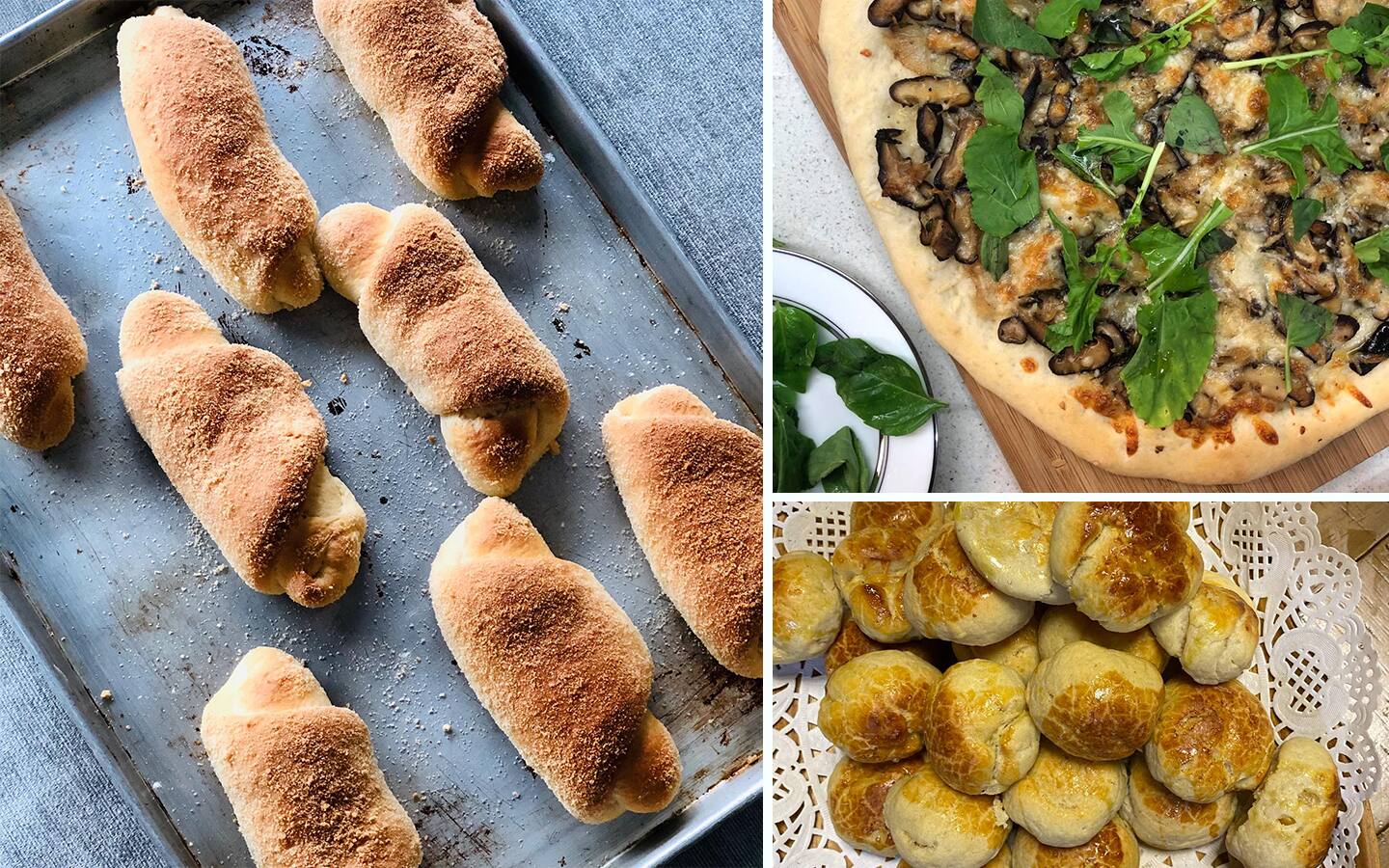 Tips For First Time Bread Bakers
Tips For First Time Bread Bakers
Spanish bread and mushroom arugula pizza photos courtesy of Amy Uy
Banana langka pocket pies, four cheese pizza with antipasti, homemade dinner rolls photos courtesy of Cecille Torrevillas-Gelicame
Ciabatta, milk buns and coffee buns photos courtesy of Jane U. Gaspar