PSA: How To Safely Handle Groceries And Takeout Food During The Coronavirus Pandemic
The grocery is now one of the risky areas for potential coronavirus contamination. Here's how to sanitize your purchases, as taught by a doctor
As we move into the second week of quarantine, we're faced with a very real dilemma: how to get food supplies safely into our homes. Dr. Jeffrey VanWingen, a family physician at Grand Rapids Michigan, shares some very practical and doable tips and techniques to help us ensure that the food we bring in from the outdoors are safe and coronavirus-free. These best practices are culled from sterile techniques practiced by doctors who need to perform surgeries in sterile environments so they don't expose their patients to infection.
Dr. VanWingen makes the problem easy to understand: think of the coronavirus as if it were glitter. Now imagine that the groceries you have are covered with glitter. Your goal is to not have any glitter in your house, your hands, and especially your face. Imagine that disinfectant and soap have the power to dissolve that glitter.
How long does coronavirus live outside the body?
Let's begin by reviewing what we know about how long the coronavirus can survive outside the human body. Last week, the National Institute of Health (NIH) published a paper in the New England Journal of Medicine stating that coronavirus can survive in air for three hours. It can live on cardboard for one hour, and on plastic and metals for three days. Keep in mind that information about this virus is changing rapidly as we learn more about it. Last March 24, the Center for Disease Control (CDC) discovered that quarantined cruise ships had active coronavirus particles 17 days after exposure. Because of this, Dr. VanWingen stresses that it's important to keep updated on new information about coronavirus. But for now, we will follow these guidelines which take into account the study by the NIH.
Good hygiene and a little discipline can go a lot into keeping you safe during grocery store runs | Anna Shvets, Pexels
What to do at the supermarket
Groceries and supermarkets are doing a lot better now about disinfecting their premises, but they are not sanitizing every piece of canned good or every plastic-wrapped item. Here's what you can do to protect yourself:
If you are a senior, have a respiratory illness or are immuno-compromised in any way — the CDC lists among these people living with cancer, or who have heart disease or diabetes. If you fall into any of these categories, please have your groceries and food delivered, or ask someone else (a family member or a friend) to do your groceries for you.
Plan your trip carefully before you go, so you can minimize your stay in the supermarket. Try to get at least two weeks' worth of food supplies in one trip.
Wipe down your cart with disinfectant before using it. You can now consider your cart as a "safe" zone.
Avoid touching too many items from the shelves. Dr. VanWingen suggests to commit to buy an item before picking it up. You don't know if there's coronavirus lurking in the cans or other items, so better safe than sorry!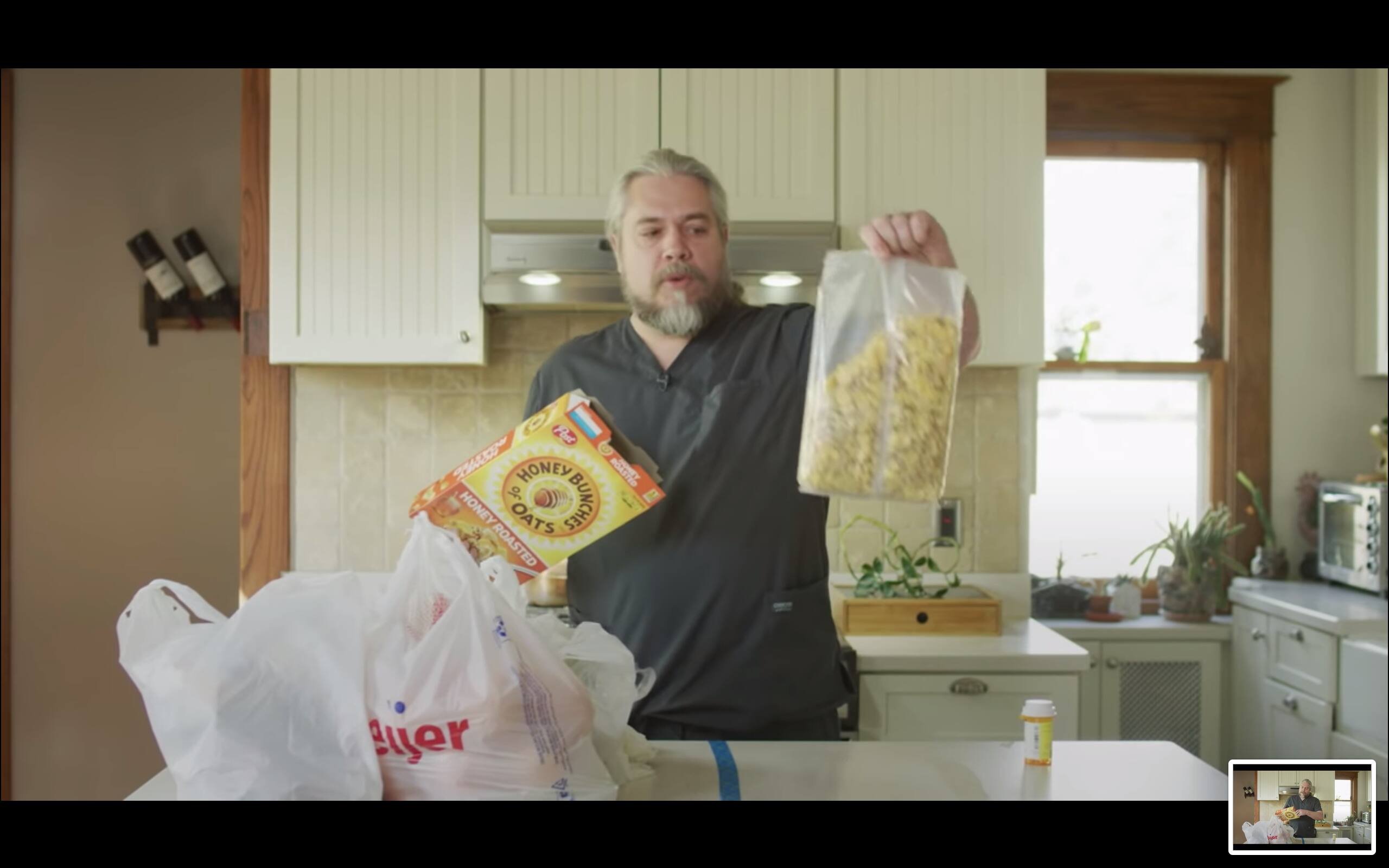 What to do when you reach home
The best practice is to actually not bring groceries into your house unless you need them. Leave them in your garage or porch for three days, or just slowly bring them in when you're ready to use them. When you must bring them in, here are some modified sterile techniques to remove possible coronavirus contamination from grocery containers and the actual groceries themselves.
Sanitize a worktable using standard disinfectant, then divide it into clean and dirty spaces. Saturate a cleaning cloth with disinfectant. The CDC says you can use any standard disinfectant, or create your own chlorine bleach solution by mixing 1/3 bleach per gallon of water, or 4 teaspoons bleach per quart of water.
Disinfect all nonporous containers like cans, bottles, metal and plastic containers by wiping these down with disinfectant. Let sit for a minute before you dry off.
Fresh fruit and veggies are porous. Dr VanWingen suggests to dump fruit in mild soapy water then wash each piece for 20 seconds. However, since some soaps are not safe to ingest, you can also opt to wash fruits and veggies under a running faucet while rubbing them clean. Do this for 20 seconds for each piece of fruit or vegetable. Fortunately, there is no evidence that the virus is transmitted through fresh produce, says Dr. Francisco Diez-Gonzalez, director of the Center for Food Safety at the Universisty of Georgia, in an interview with the Washington Post.
Finally, disinfect all surfaces that your bags have touched.
How to safely handle food deliveries and takeouts
If you choose to receive food via delivery services, here are some steps you can take to ensure it is safe. Luckily, you don't have to worry so much about cooked food as the coronavirus doesn't do so well on food, says Dr. VanWingen. Instead, focus on its wrapper or container.
Wash your hands for 20 seconds before handling the delivery, and have clean containers ready.
Holding the food by its wrapper and keeping it as free of contact as possible, transfer it to a clean plate. Discard the wrapper or container.
Heat destabilizes the coronavirus, so it's good practice to zap dishes in the microwave before eating (even the sauces)
The downside is, some coronavirus species can live for up to two years in freezing temperatures. If you've ordered a frozen pizza, for example, transfer the pizza into a clean container and get rid of the cardboard box it came in, which you can consider dirty. If you buy ice cream, make sure to disinfect the outside of its container before you put it into the freezer. But the best thing to do is to choose to buy more hot foods over cold foods until the crisis is over.
Taking care of our elders
If you're delivering food to elderly relatives, make sure to practice all of the above. Make sure that you deliver the food in sanitized containers, and do not make contact with them. Simply leave the food bag in a designated safe area then step back, keeping a distance of at least two meters between you.
Let's all stay safe and healthy during this quarantine.
Lead photo: Anna Shvets, Pexels