8 Inspiring Young Foodpreneurs We Could All Learn A Lesson From
They make the world a better place one scrumptious, irresistible dessert at a time
When Manila went into lockdown last March, many of us found an outlet in the kitchen. But while most of us were sorting out our pantries or baking bread, these kids and young adults were setting up their own food businesses. We're seriously impressed.
It takes chutzpah to start and run your own business. You need to be resourceful and disciplined, have courage and imagination. And you have to be able to make a product that's genuinely delicious and good enough to compete in a tough market. We think these kids have all these things and more.
Here are our favorite young business powerhouses. We love their food, we admire their drive, and we are touched by how many of them are in business because they want to help others. They make the world a little sweeter, and we are inspired.
Kylie Po, founder of Sweetened Bakery
Since the age of five, Micaela "Kylie" Po was already selling chocolate rice crispy-covered marshmallows and chocolate chip cookies every summer. Now 15, Kylie started Sweetened Bakery, a home-based online food business through which she sells cookies and caramel bars. Her best sellers? "That would have to be my Ube Caramel Bars and Cheese Caramel Bars," she says. "They stand out because no one else has combined the unique taste of ube or the saltiness of cheese with the decadence of caramel bars."
The incoming tenth grader was inspired to bake by her mom, Jackie Ang Po, pastry chef and owner of Fleur de Lys Patisserie. But creating Sweetened Bakery was her very own idea, and one for which she has a purpose. "I'm currently donating a percentage of my sales from the caramel bars. The money will go to purchasing gadgets for students who cannot afford them for the next school year," she reveals.
To order, call (0922) 850-6467 or send a message to @sweetenedph on Facebook or Instagram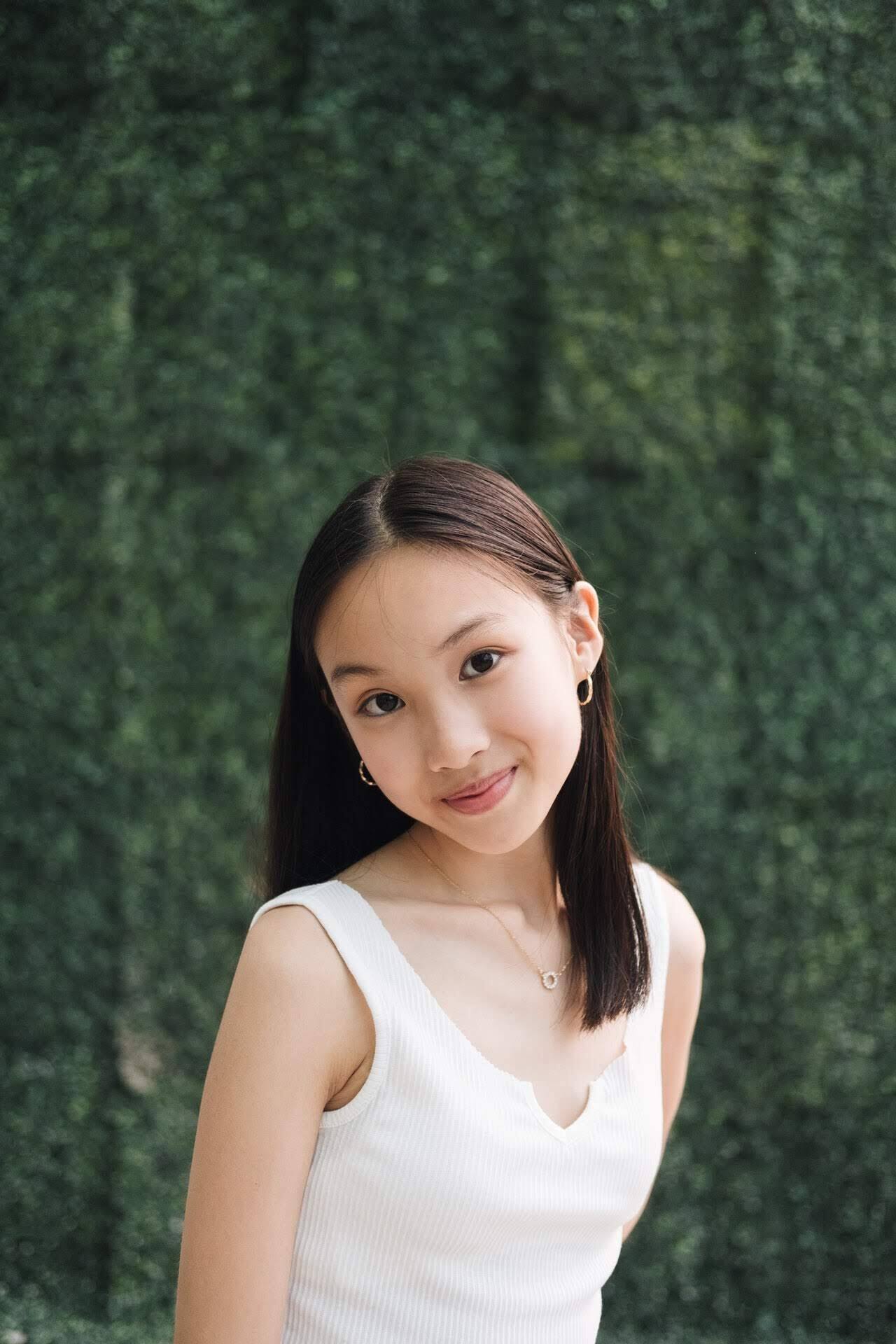 Sweetened Bakery
SWIPE LEFT OR RIGHT
TO NAVIGATE BETWEEN PAGES
Cheese Caramel Bars
Photo Credit: @sweetenedph
Ube Caramel Bars
Photo Credit: @sweetenedph
Double Treat
Photo Credit: @sweetenedph
Salted Caramel Chocolate Mini Cookies
Photo Credit: @sweetenedph
Bacon Cornflake Chocolate Mini Cookies
Photo Credit: @sweetenedph
Just like mom
Photo Credit: @sweetenedph
Alexa de Guzman, founder of Baked by Alexa
Shortly after Manila went into lockdown, 12-year-old Alexa de Guzman received a cookbook with kid-friendly recipes from her mom, Chermaine. It inspired her to have fun creating her own cookie recipes and last May, with the encouragement of her mother and her best friend Mara, she started her very own cookie brand, Baked by Alexa.
Alexa had fun selling customized variations of her favorite cookies. They are amazingly sophisticated, like her Classic Brown Butter Two Chip with Sea Salt Cookies, Brown Butter Apricot with White Chocolate and Sage Cookies, and the Half & Half Dark Chip Cookies.
Alexa says she wants to raise funds for a piano keyboard and for a laptop she can use for distance learning. "I set a goal to sell 200 dozen," she says. "My mom and I started sending cookies to our family and friends. They would ask for more, so we would bake every day, which kept me busy." As of this writing, she's sold over 600 dozen baked goods. That's roughly over 300 dozen cookies a month in just two months, an astounding 3,600 cookies a month baked by a young baker working from a home kitchen! What is her recipe for success, we ask. "Offer only what you love," says Alexa. "If you love it so much, then it would be a hit. My mom gave me this advice."
Alexa is taking a brief break from baking, but do follow @bakedby_alexa on Instagram for updates.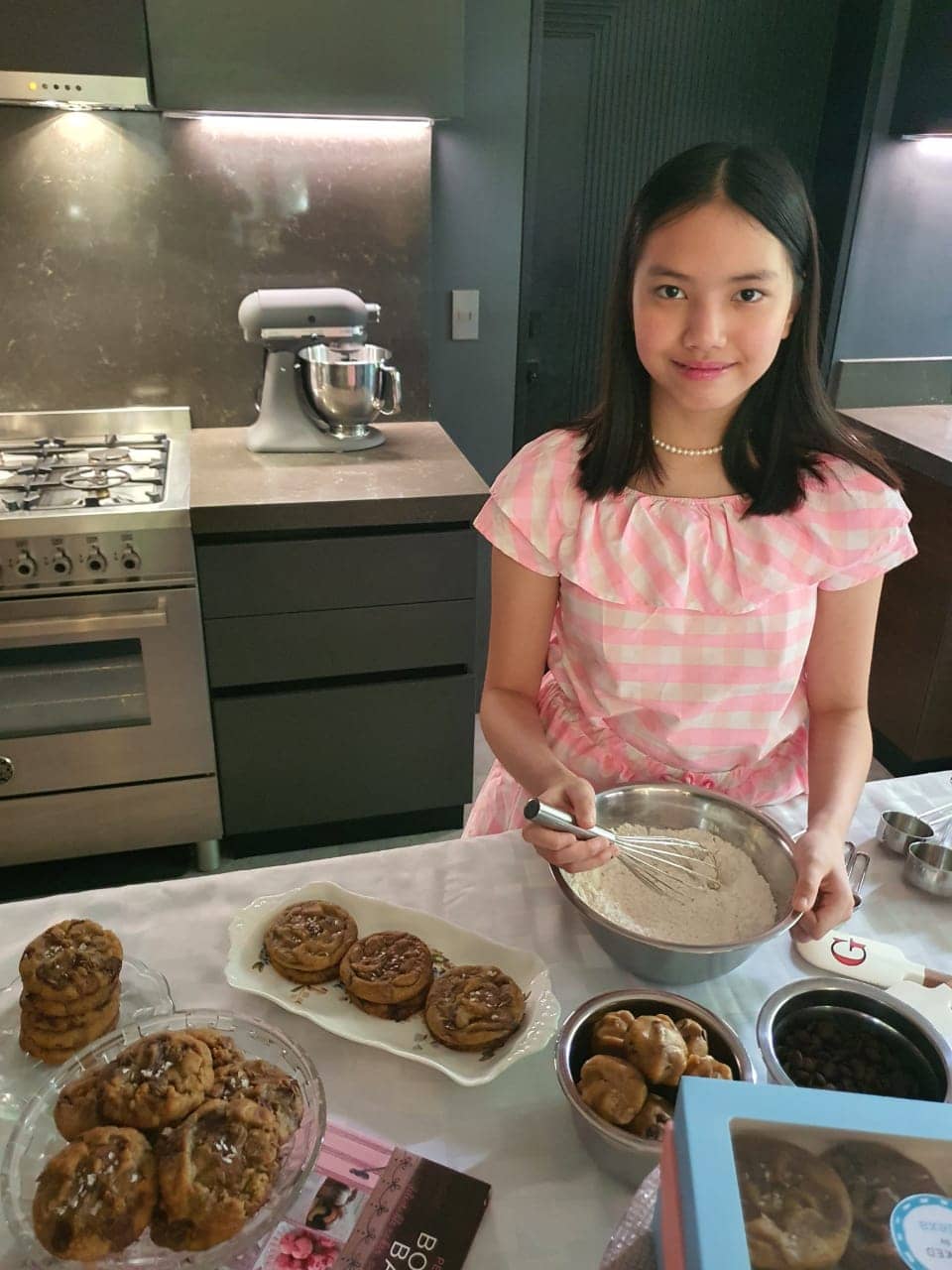 Baked by Alexa
SWIPE LEFT OR RIGHT
TO NAVIGATE BETWEEN PAGES
Brown Butter Two Chip Cookies
Photo Credit: @bakedby_alexa
White Chocolate & Apricot with Sage Cookies
Photo Credit: @bakedby_alexa
Belgian chocolate and bacon bits
Photo Credit: @bakedby_alexa
Javi's Milk + White
Photo Credit: @bakedby_alexa
Alexa's home kitchen
Photo Credit: @bakedby_alexa
Jewell, Adrienne and Nicole Cobankiat, founders of The Molten Drive
The lovely girls behind The Molten Drive are three sisters — Jewell, Adrienne and Nicole Cobankiat — who launched their brand just last June. Their unique offering? A magical Molten Lava Cake.
"I was craving lava cake but I couldn't find one who was selling it," shares Jewell, an advertising management student who wanted to experience running a business before she graduated from college next year. With younger sisters, Nicole, who has a passion for baking, and Adrienne, who's good at numbers, they decided to become entrepreneurs.
"We based our positions on our strengths such as Jewell being in charge of marketing and sales, Nicole being the baker or pastry chef, and me taking care of finance and inventories. After that, we came up with a powerpoint presentation and presented our business plan to our parents for approval and seed money," adds Adrienne. Just like every family, they had to adjust to their different personalities from time to time—but it works.
Nicole spent time developing the molten cake recipe, which at its base is a wonderfully rich, moist and buttery cake made with the best ingredients they can source, including free range eggs, premium butter, and imported pure chocolate. Molten cake can be overwhelmingly decadent, so we're delighted to find that their product has balanced its sweet, rich chocolatiness. It's the perfect treat to keep in your fridge and take out at the end of a long working day (and doesn't it go so well with a glass of red wine?). As of this writing, the sisters have sold over 2,500 cakes. Kudos!
To order, send a message to @themoltendrive.ph on Instagram, or call (0917) 513-2339.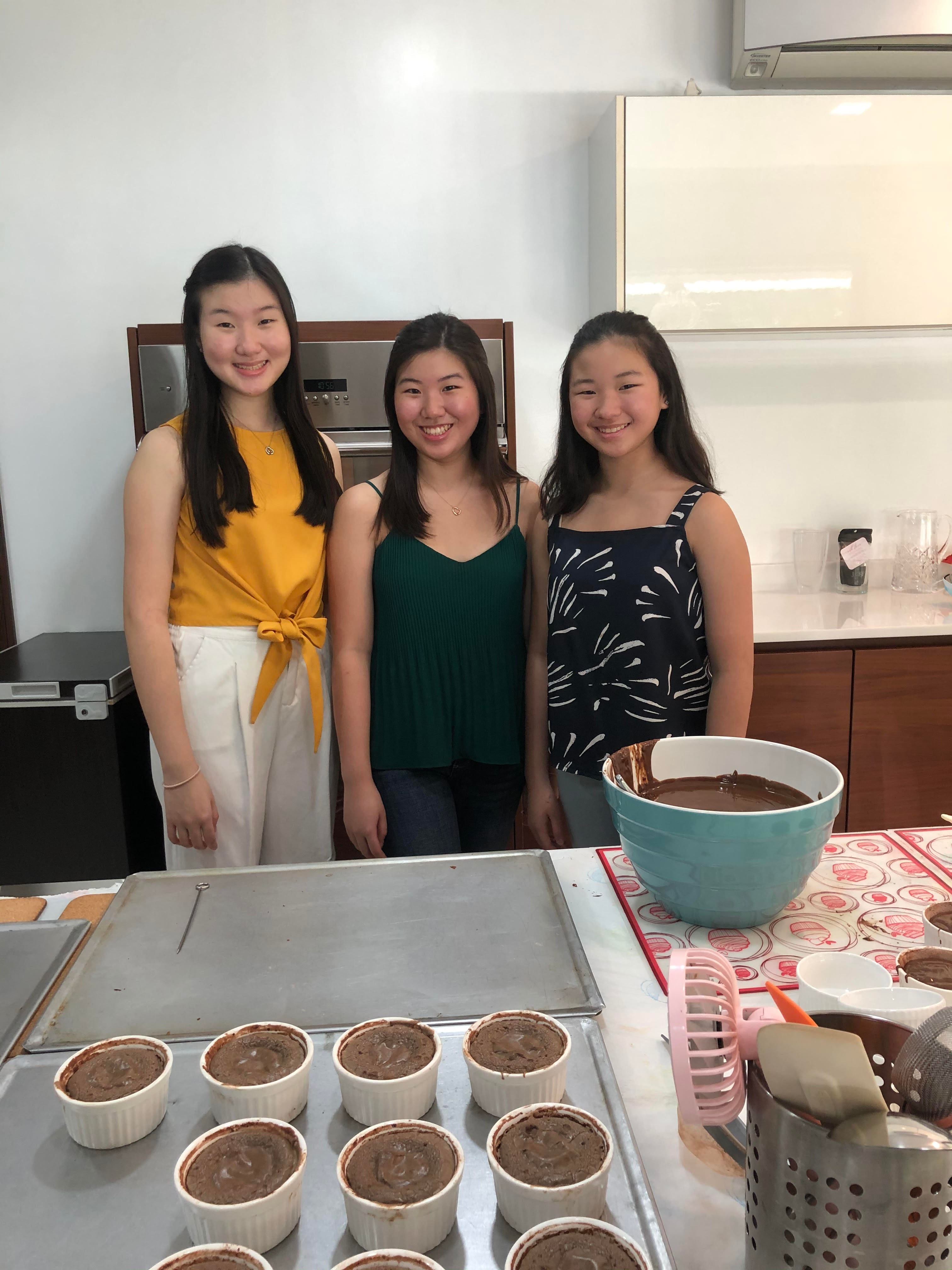 The Molten Drive
SWIPE LEFT OR RIGHT
TO NAVIGATE BETWEEN PAGES
Molten Lava Cake
Photo Credit: @themoltendrive.ph
Perfect rainy day desserts
Photo Credit: @themoltendrive.ph
Matcha Lava Cake
Photo Credit: @themoltendrive.ph
Mariko, Kianna and Manu Galvez, founders of The Bakists
Sometimes social distancing brings people together. Case in point: the Galvez siblings Mariko, Kianna and Manu who banded together to create The Bakists, a small food business launched last June.
Their product is Panna Cotta, which they make following their dad's well-loved recipe. This is not your usual light, practically tasteless panna cotta, but a rich and creamy concoction that's enhanced with unabashed amounts of vanilla and plenty of beautifully golden caramel sauce at the bottom. Like leche flan. If you've ever had it, you won't forget it.
The siblings have always bonded in the kitchen, often putting their own twist to old family recipes, and The Bakists is another way for them to strengthen their ties. Mariko, 21, handles operations and finances; 17-year-old Kianna handles social media; while 14-year-old Manu helps make the smooth and creamy panna cottas. They're working on new flavors and will soon unveil their Ube Keso Panna Cotta, and Buko Pandan Panna Cotta. We can't wait!
To order, visit @thebakists on Instagram or message (0917) 880-2820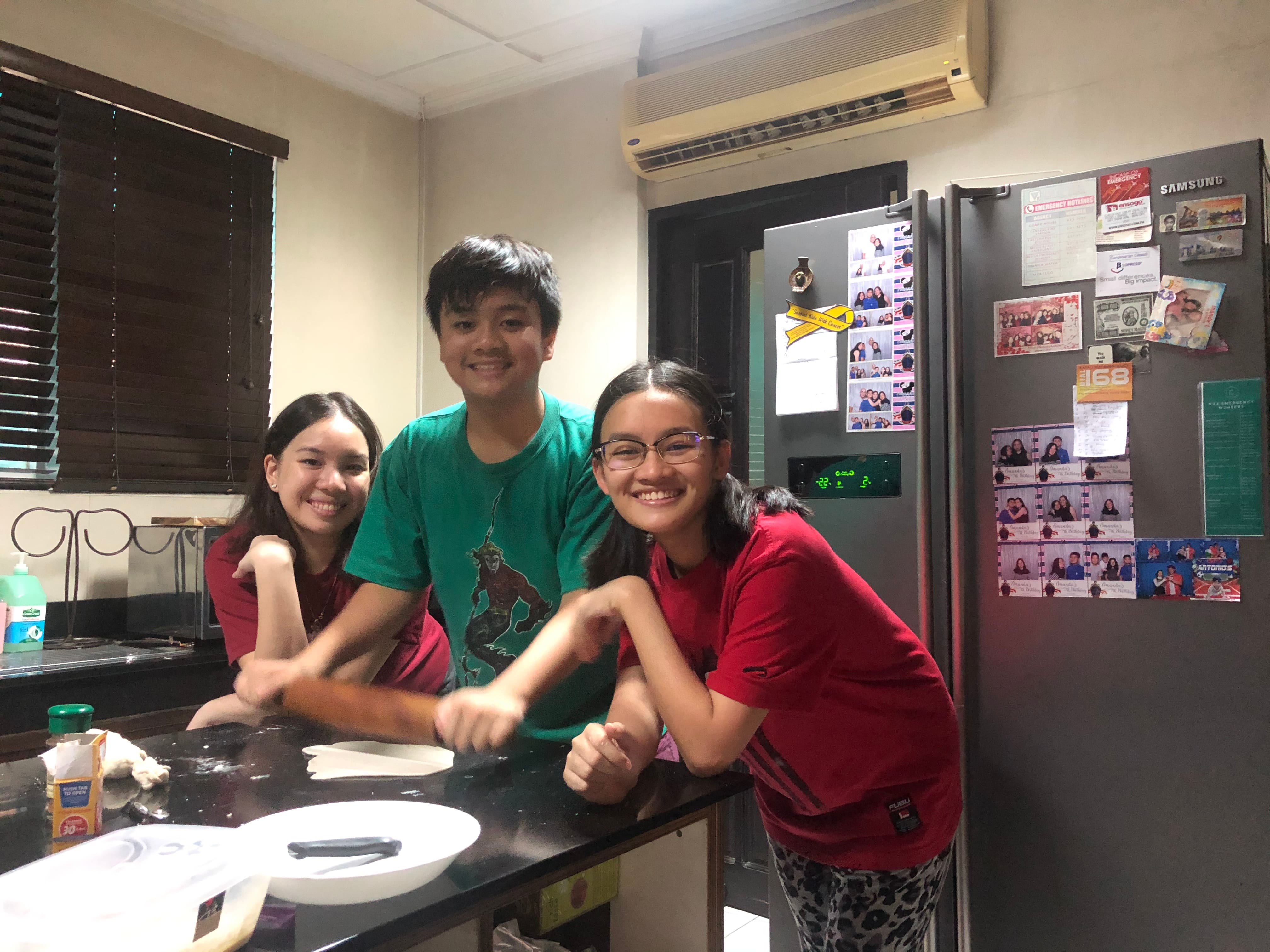 The Bakists
SWIPE LEFT OR RIGHT
TO NAVIGATE BETWEEN PAGES
Premium Panna Cotta
Photo Credit: @thebakists
More flavors coming up
Photo Credit: @thebakists