7 K-Drama Scenes That Prove We Want Our Men To Cook For Us
Hyun Bin in 'Crash Landing On You,' and Captain Yoon Si Jin in 'Descendants of the Sun,' are ideals of the kind of men we want. Strong, patient, funny and amazing in the kitchen!
As kids, the shows we loved had pretty predictable heroes: they were strong, handsome men of action. Did any of them cook? Probably not. The kitchen was traditionally the woman's domain, and manly men rarely ventured there, if at all. For years, this was the norm.
Then we noticed that our favorite Kdramas have been consistently giving us heroes who cook. It was fun watching the hunky male lead get down and dirty in the kitchen, often serving the woman he loved with his own hands. Inevitably he would present as patient, competent, sweet and impressive. We were green with envy.
There is something so sexy and irresistible about a man who cooks for you. He's revealing himself as an adult who's mastered an essential life skill. He's showing you he can do cozy and domestic, and be patient and nurturing. And, he gets to show off his knife skills and his masterful palate as well.
So guys, if you want to sweep us off our feet, may we suggest mastering a few dishes? And if you want to know which culinarily-talented K-drama hunks got us into this state, click through the gallery below.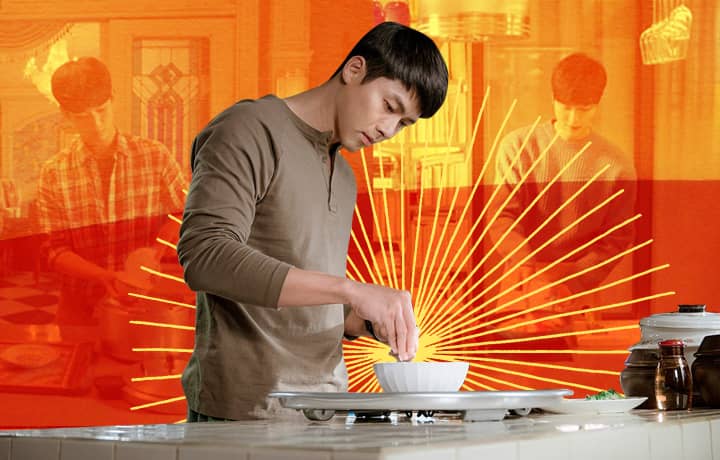 They Cooked Their Way Into Our Hearts
They Cooked Their Way Into Our Hearts
Did this make you crave for the rice porridge and quail eggs, like in It's Okay To Not Be Okay? The recipes are here.