Eat Your Way To Beauty The K-Drama Way
A list of the beauty foods and ingredients that give Korean women that gorgeous glow
When it comes to beauty, you are what you eat!
The adage couldn't be more true for Koreans and Korean women especially whose approach to beauty is one of the most holistic in the world. They're not only on top of the skincare game what with the dizzying amount of Korean beauty products available in the market, they're also privy to the kinds of dishes and food preparation that care for skin from the inside out. The knowledge that the quality of one's complexion is the outward expression of one's physical state has been passed down over centuries, which makes it unsurprising that Koreans are three steps ahead of all of us when it comes to treating overall health as the best skincare regimen you can have.
While it's no secret that eating clean and healthy provides us with numerous beauty benefits, what makes makes the Korean diet so unique is that beauty-boosting ingredients are the norm, not the exception. For instance, almost every meal will have a side of probiotic-rich food—kimchi! Instead of the usual offerings of soda and canned juices all our own restaurants will have on their menus, you'll see barley water and myriad of botanical teas. When they go out to drink, one of their go-tos isn't a good old bucket of six, but a fermented rice wine that Korean women love for its skin-brightening properties. Ginseng, a strange-looking root, is such a beauty superfood that it's even made into countless serums, face oils, and sheet masks.
The list of Korean beauty food favorites is long, and impressively so.
Much of why the rest of the world is now learning about these not-so-secret food secrets is how the biggest Korean films and K-Dramas show characters joyfully eating, drinking, cooking, and preparing many of these beautifying dishes. We've taken note of those we've spotted over time and meticulously read about how they play a role in the beauty world, and what we discovered is worth sharing with everyone hoping to achieve their K-beauty goals.
Without further ado, we present to you a list of Korean beauty food favorites plus the films and dramas we spotted them in!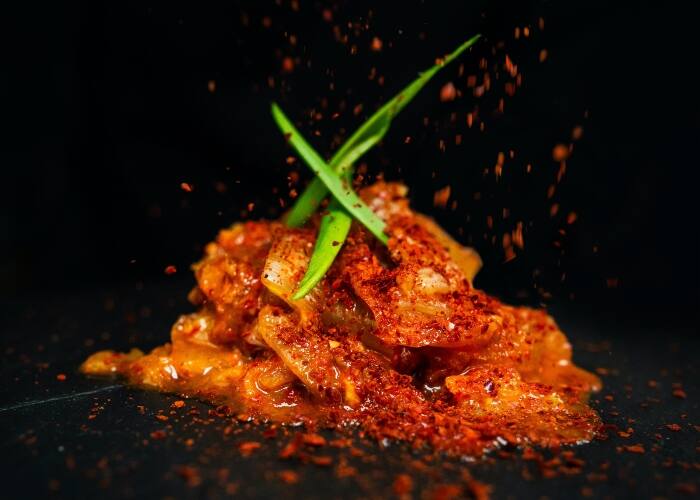 Eat your way to beauty
Eat your way to beauty
Opening images from Pexels and Unsplash / Still from "The Time We Were Not In Love"; iWill Media / Still from "Vincenzo" ; Logos Film / Still from "Boys Over Flowers"; Group 8