We Taste-Tested 8 Popular Korean Instant Noodles And Here's What We Think
We're giving you our uncensored opinion so you can save on time, cash and pantry space!
The surge in popularity of K-Dramas partnered with all the time in the world for many a kitchen experiment during quarantine has created the perfect storm for food adventures just like this, and we at Metro.Style are making the most of it!
In case you missed our previous K-Drama-influenced food experiments, you should know that we tried Erwan Huessaff's Crash Landing on You-inspired fried chicken recipe, recreated two dishes from It's Okay To Not Be Okay, walked you through how to make the steak ramdon in the film Parasite, and even rounded up 10 Korean groceries that will deliver authentic Korean goodies for your pantry. This time, however, we're moving away from the gourmet to zero in on a quarantine favorite that even the most inexperienced cook can make and not mess up—instant noodles!
There are tons of instant noodle brands to choose from, but the best definitely have to be the ones from Korea. With grocery shelves stocked to the brim with familiar packets in red, orange, and yellow, we decided to save you precious time by rounding up eight of the best Korean instant noodle brands we found. And, we're giving you a little preview of each one so you know what to expect.
If you were hoping to emerge from quarantine an instant noodle connoisseur, you've come to the right place. Check out the gallery below to see which brands we loved most, as well as how to elevate the humble instant noodle for your next at-home Korean feast!
(Ed's note: we understand that people can experience flavors in different ways, so if you find yourself disagreeing with one or more of our conclusions, that's all right! In the end, what matters is to find the instant noodles that you will really enjoy).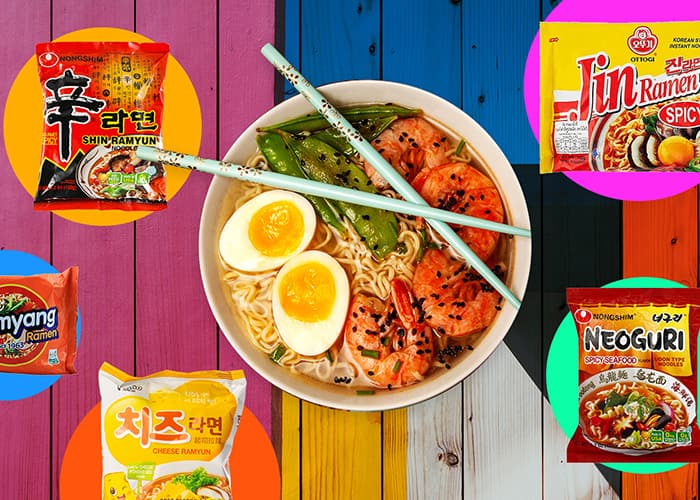 Noodle Me Up, Baby
Noodle Me Up, Baby