This Weekend's Metro Food Pop Up Is All About The Splendid Simplicity And Exuberant Flavors Of Italy And Greece
a mano brings you regional Italian dishes on Saturday, while Cyma serves up a Greek meatlover's feast on Sunday
We're going on a journey through the Mediterranean this coming weekend, on the third leg of the Metro Food Pop Up. On Saturday, May 23, a mano celebrates the earthy pleasures of regional Italian cuisine in all its splendid simplicity and traditional respect for ingredients. While on Sunday, May 24, Chef Robby Goco gives us the exuberant flavors of Greece with a choice of two menus from his beloved restaurant, Cyma.
Metro Food Pop Up is a series of restaurant pop-ups in a month-long celebration of Mother's Day. Metro.Style collaborated with handpicked restaurants, with each one offering a special menu curated by Cyrene dela Rosa, and only available for takeout or delivery on one Saturday or Sunday this May. Each weekend is a new and unique dining experience, so you can take advantage of each one for a month-long food adventure.
Explore Italy with a mano on Saturday
On Saturday, May 23, a mano gives us Pizza Diavola with Calabrian salami and mozzarella di bufala, a classic Ragu, and a Milanese-style breaded Kurobuta pork cutlet served with Italian tomatoes, roasted potatoes and arugula. Dessert is an irresistible chocolate cake with Nutella and double cream. For the complete menu, click through the gallery below.
a mano
a mano
Go Greek with Cyma on Sunday
Cyma gives you a feast on Sunday, May 24, with a five-course menu centered around a hefty and multilayered meat platter, Kreatika, that comes with a spinach and artichoke fondue, the best selling roka salata, a creamy and filling moussaka and yemista, stuffed Greek tomatoes and peppers. It's a meal guaranteed to satisfy the whole family. For the full menus, click through the gallery below.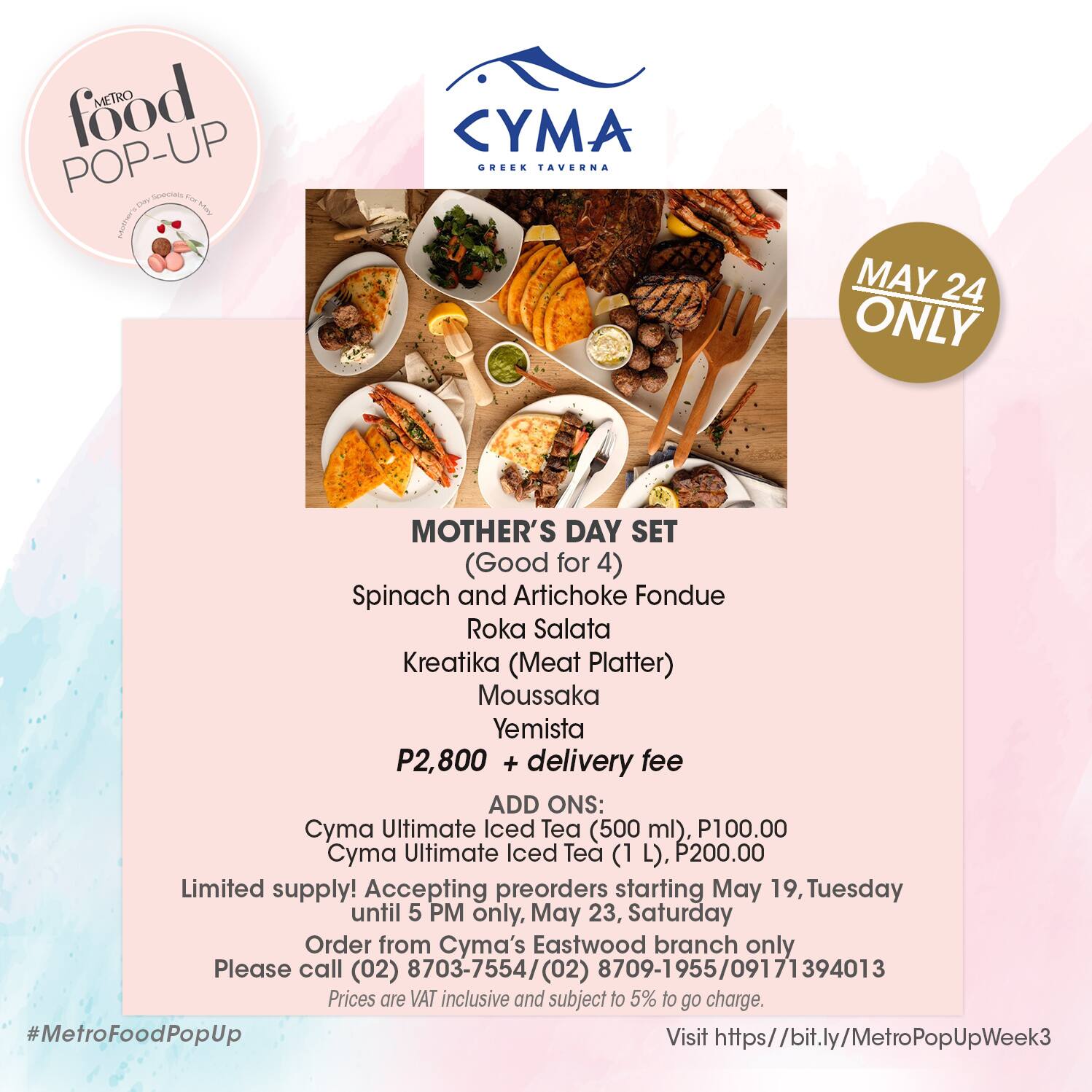 Cyma
Cyma
Finally, we make delivery really easy
It's a bit of a hassle getting delivery service these days, so we decided to take away the pain by working with our own delivery service provider, MrSpeedyEats. We strongly recommend that you preorder as early as possible. Once you've sent in your order, please wait for the restaurant to confirm your order and to advise you on the delivery fee, which will vary depending on distance. Delivery fees will have to be shouldered by the customer.
Have a delicious weekend with Metro Food Pop Ups, and please keep checking back with us as we unveil the restaurant menus for the last weekend of May. Enjoy!