Bucket List: The Paradise Island Resort Where You Can Stay And Dine Like Miss Universe
This beauty queen's home away from home has stunning views and amazing food. Find out more.
If there's one thing we'd love to know about our favorite glamorous beauty queens, it's what they eat for breakfast, lunch and dinner. And snacks! So here's a sneak peek at what this year's Miss Universe beauties are possibly enjoying just before the much-awaited Coronation Night.
The ladies are billeted at ultra luxurious Hennan Resorts Alona Beach, one of the most premium destination spots in Panglao Island. Sitting on six hectares of verdant lush greenery, it boasts a 1.5 kilometer-long stretch of beautiful beach, with manicured lawns and three massive swimming pools, each with its own sunken bar where you can float by for a cocktail or fruit shake.

The beauty queens were greeted with welcome drinks before slipping off to one of the 400 well-appointed rooms available on the property, including villas with their own dipping pools. Decorated in a color palette of corals, sea green and tan to give an ocean feel, the accommodations allow for some much needed relaxation before all the excitement.
For meals, the ladies have a choice of the property's three main restaurants.
Coral Cafe, located at the second floor of the main hotel, just above the main lobby, is a great choice for breakfast with Filipino and international dishes including fork-tender beef tapa, pineapple-glazed ham, carrot and squash pandesal.
For lunch, they might head to Sea Breeze Cafe, the casual dining outlet by the beach with a buffet spread that includes fresh seafood — crabs, shrimps, ceviche — with stations for Filipino, Chinese and Japanese cuisines. They can feast on everything from Peking duck to pasta, and end the meal with dessert.
For a more glamorous meal, Christina's is an upscale restaurant that serves great rib eye steaks, grilled salmon and has a VIP lounge tucked away where guests can go for pre-dinner cocktails and all-day snacks.
Check out the resort's gorgeous amenities and delicious food in the gallery below.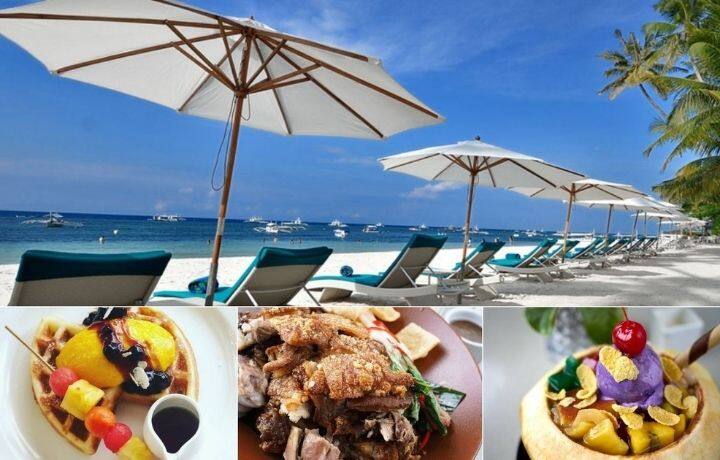 Paradise island
Paradise island
For more information about Hennan Resort Alona Beach, Bohol, follow the official Facebook account here.