We're Missing Singapore Food Because Of Crazy Rich Asians
We're rewatching "Crazy Rich Asians" and going gaga all over again for it. But this time, we zoom in to the Singaporean food culture that it celebrated, from Michelin-starred street fare to the over-the-top wedding feasts.
Since we're not yet traveling anytime soon, the next best thing we can do to see the world is through movies and series. And because Kevin Kwan has been in the news recently for his new novel, Sex and Vanity, we've been tempted to rewatch the movie that propelled him to fame: Crazy Rich Asians. If, like us, you've rewatched this movie recently, we're sure you're not just craving to go back sightseeing in Singapore—you also want to eat. A lot.
Asian countries in general have this unique bond with food. And Singapore's attitude towards food is just like how Filipinos would immediately ask "Kumain ka na ba?" the moment you step into their homes. Koh Chieng Mun, who plays the role of Neenah Goh, says, "Food is very much a part of our lifestyle. Everytime you meet somebody from Singapore, we don't say 'How are you?' We say, 'Have you eaten?'"
And in part, this is one of the reasons why Singapore cuisine is very close to our hearts, too. From the more popular Hainanese Chicken and Laksa to the more sophisticated Chili Crab, we might not be aware of it, but Singapore food and culture appeals to the Filipino taste.
Crazy Rich Asians was able to portray many Asian traditions and nuances, which makes it one of the most culturally appropriate films we've seen come out of Hollywood in the recent years. And spending time, budget, and effort to iron out those food scenes throughout the movie was a good call by the director, Jon M. Chu. He says on Eater: "The thing that we think about, when we think about Asia, is street food. You have all walks of life, all cultures, eating with each other."
According to the Michelin Guide, Veteran Singapore chef and food consultant, John See, headed a crazy huge food team for the movie. On site, he oversaw a team of 50 cooks, food carvers, and assistants to bring those scenes to life. He says that before the movie, they spent four months planning the dining scenes and sourcing for props.
One scene, for example: The lunch scene at Peik Lin's House was filmed from 8 a.m. to 11 p.m., just to make sure every detail is correct. And imagine the work that went to it, having ornate gold platters piled with 12 to 15 different kinds of food refilled over and over again with freshly cooked food from the cooking facility situated at least two to three miles away from the house they were shooting at. See shares: "The amount of food could feed an army of 20 to 30 people. Every time the director yelled 'cut' to do a retake, we had to replace the missing piece of food or reset the dishes for continuity in film production."
This is one part why we love Crazy Rich Asians. The production and the cast showed their love for food as much as we do—and that translated to scenes that were alive and mirrored the unique food culture of Asia.
Inspired and longing for Singapore food, we've compiled the scenes and food from Crazy Rich Asians that make us want to eat a steaming bowl of laksa.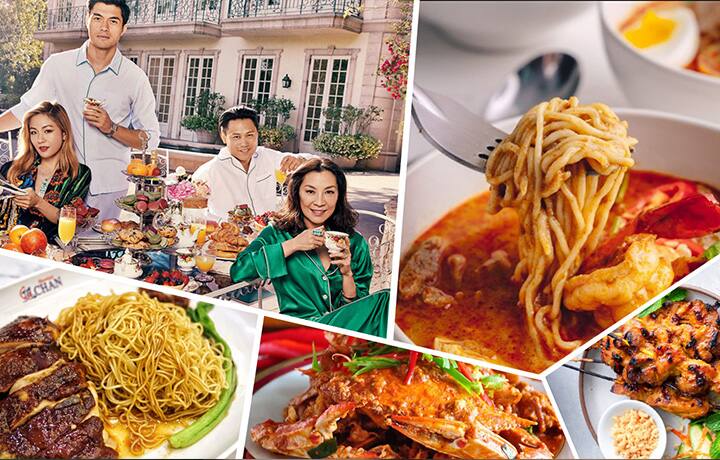 Crazy Rich Food
Crazy Rich Food
Metro Channel recently had an exclusive one-on-one with Kevin Kwan about Sex and Vanity. If you haven't yet, watch our interview with the bestselling author below.