How A Franco-Filipino Couple Helped Heal Leyte One Rice Grain At A Time
Rachel and Patrick Renucci celebrate their labor of love—a world class rice processing facility to help typhoon-devastated Leyte—via a gourmet dinner with rice as the star
When Rachel and Patrick Renucci announced that dinner would be served at their very special Renucci Rice gala, this was far from being the highlight of the night. Without a doubt, the special four-course "Rice" dinner held at the Grand Hyatt Ballroom, and prepared by Chef David Sénia of the Michelin-starred Capella restaurant in Singapore, was something to remember as culinary heaven. But even more than the food, it was the story behind why this night was even happening that would go down as the most important takeaway of the night.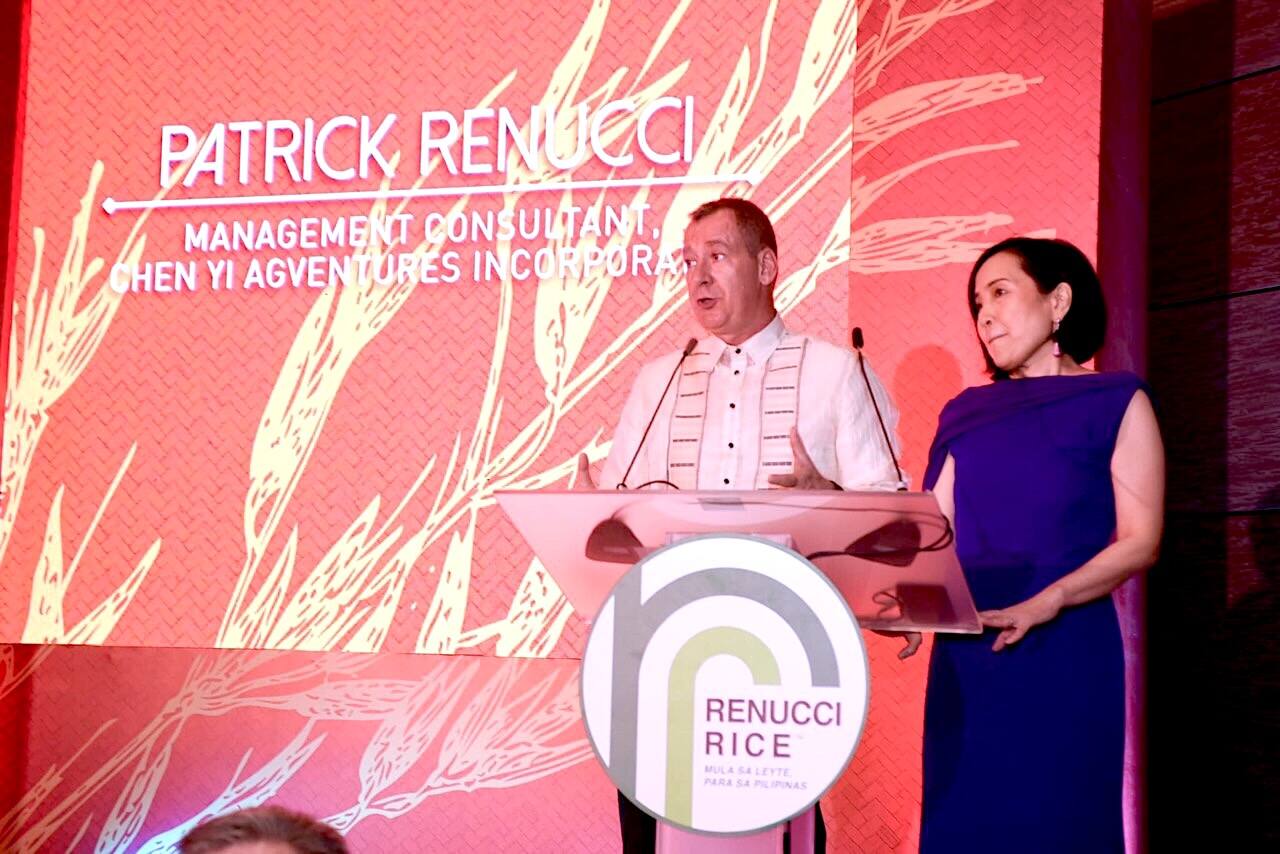 Patrick and Rachel Renucci at the gala dinner
As Rachel and Patrick themselves explain, it all began when Typhoon Haiyan (Yolanda) hit the central Philippines in 2013, making landfall in Leyte. The wanton destruction, loss of life, and damage caused by the typhoon moved the couple to pack their bags and attempt to do something for the province, and by extension, Rachel's country of birth. Living in Paris at the time, Rachel was a highly successful investment banker, while Patrick had founded and was running one of the largest printing companies in France. But the images of what the typhoon had left in its wake, spurred them to come to Tacloban, and see first-hand what had transpired. The subsequent discovery that Leyte was a big rice-producing province lead them to the dream of establishing a world class rice mill, outfitted with the latest Japanese technology, in the province and helping Leyte get back on its feet.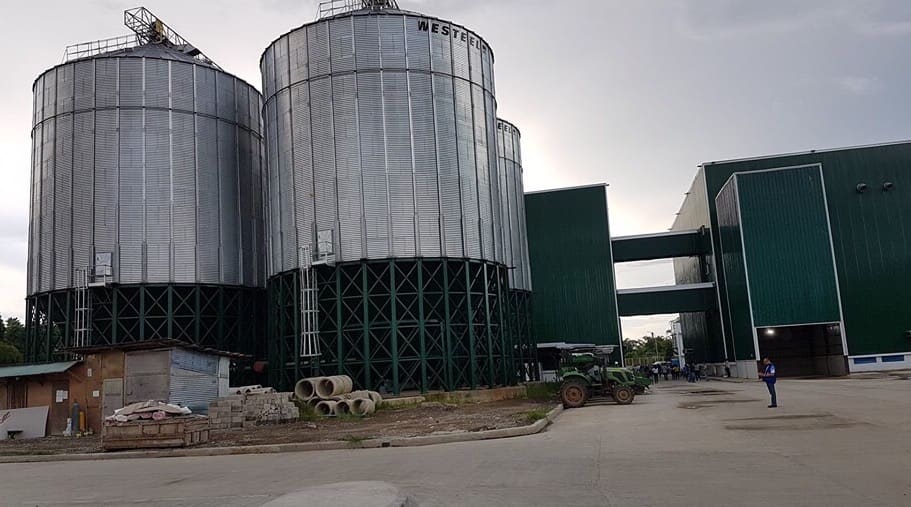 The high-tech rice processing facility set up by the Renuccis
Earlier this year, with no less than President Rodrigo Duterte present, the Renuccis inaugurated the ChenYi Agventures Rice Processing Center in Alangalang, Leyte, a second-class community found south of Tacloban. While the Renuccis don't farm themselves, they've effectively become "honorary" farmers, aiding the farmers with short-term financial support, buying the grain, processing it, and then packaging and marketing the rice under the brand name Dalisay.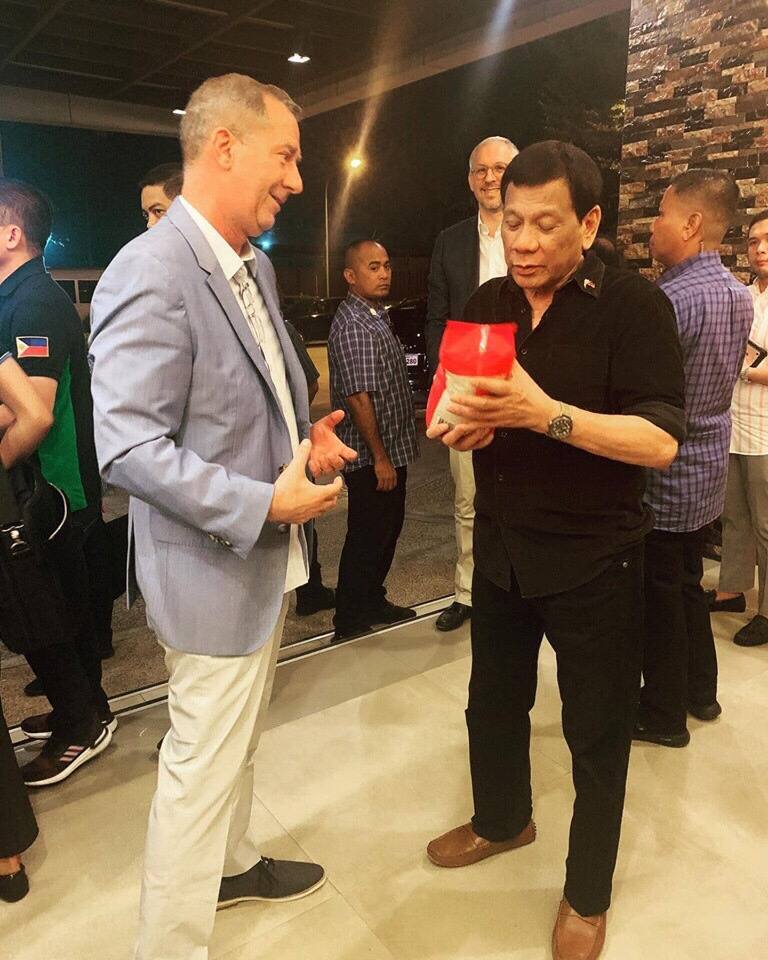 Patrick Renucci with President Rodrigo Duterte at the inauguration of their ChenYi Agventures Rice Mill in Alangalang, Leyte
It's too easy to watch the euphoric couple on the night of the gala dinner, and not appreciate the trials and moments of doubt of this rice journey. Harder even to consider what it takes to uproot yourself from a life of affluent luxury in Paris, and gamble your fortune on what looks more like a dream of altruism than a hardcore business plan.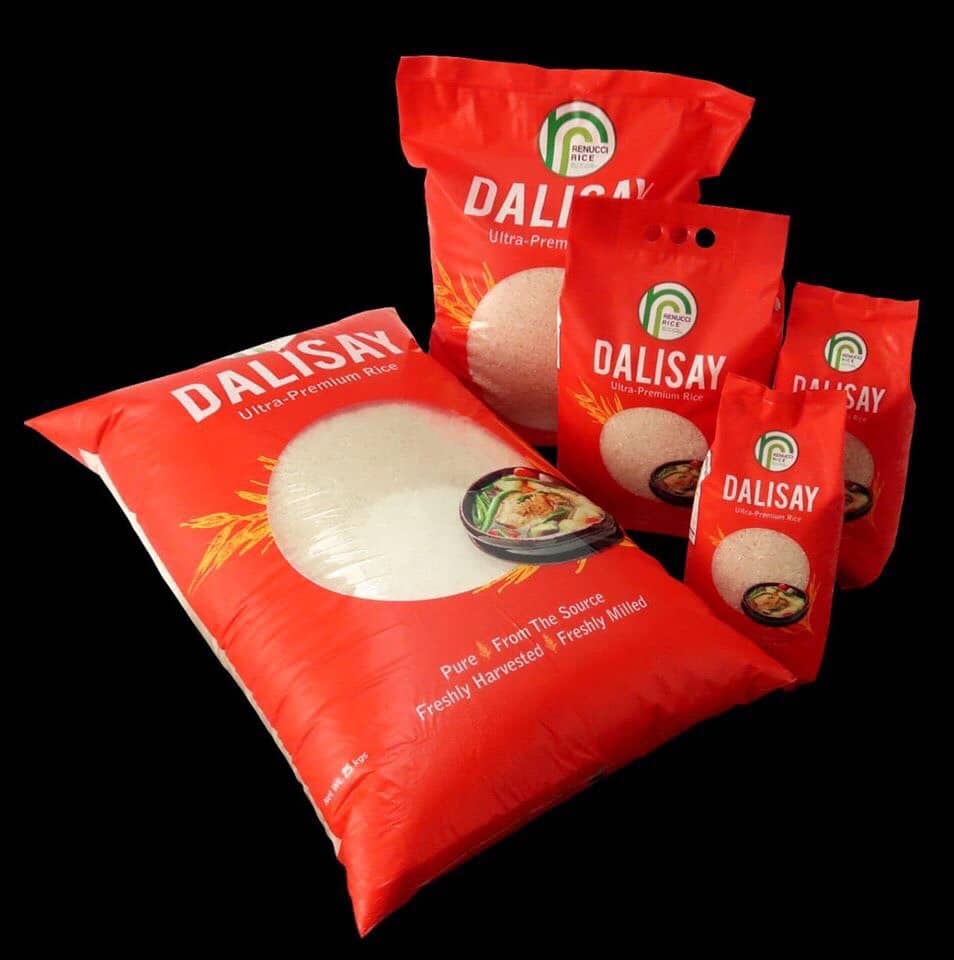 Dalisay Ultra-Premium from Renucci Rice
For this celebratory gala dinner, the Renuccis called on good friend, Chef David Sénia of Capella Restaurant who flew in to Manila from Singapore. Naturally, it was a night of carbo-loading of the most exquisite nature, as Chef David served a four-course meal, with each course incorporating Dalisay rice. The first course was Tuna Tartar, and it was how the tuna was laying on a shallow bed of rice that made this unique.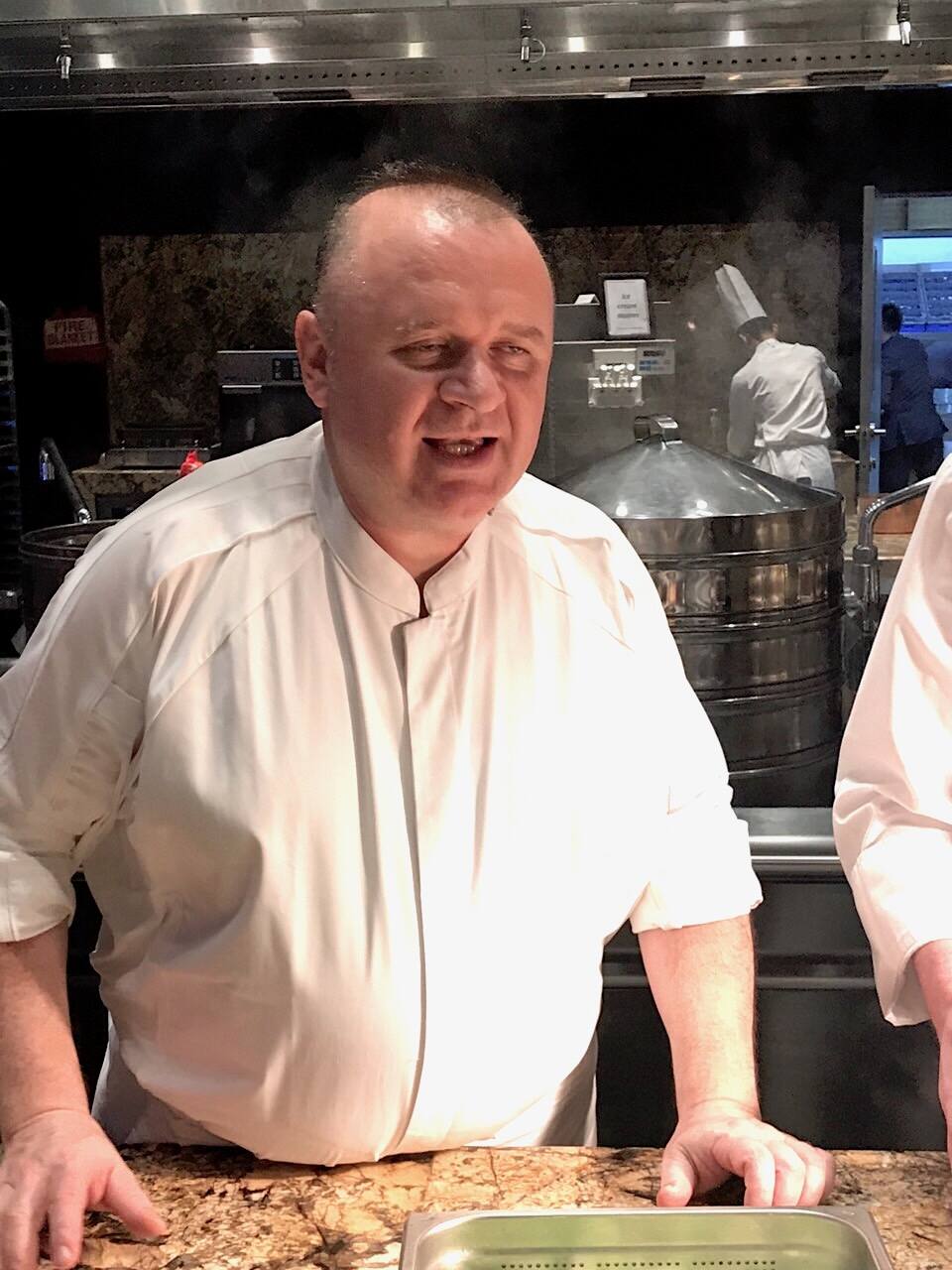 Chef David Sénia of Capella Singapore who was flown in just for the dinner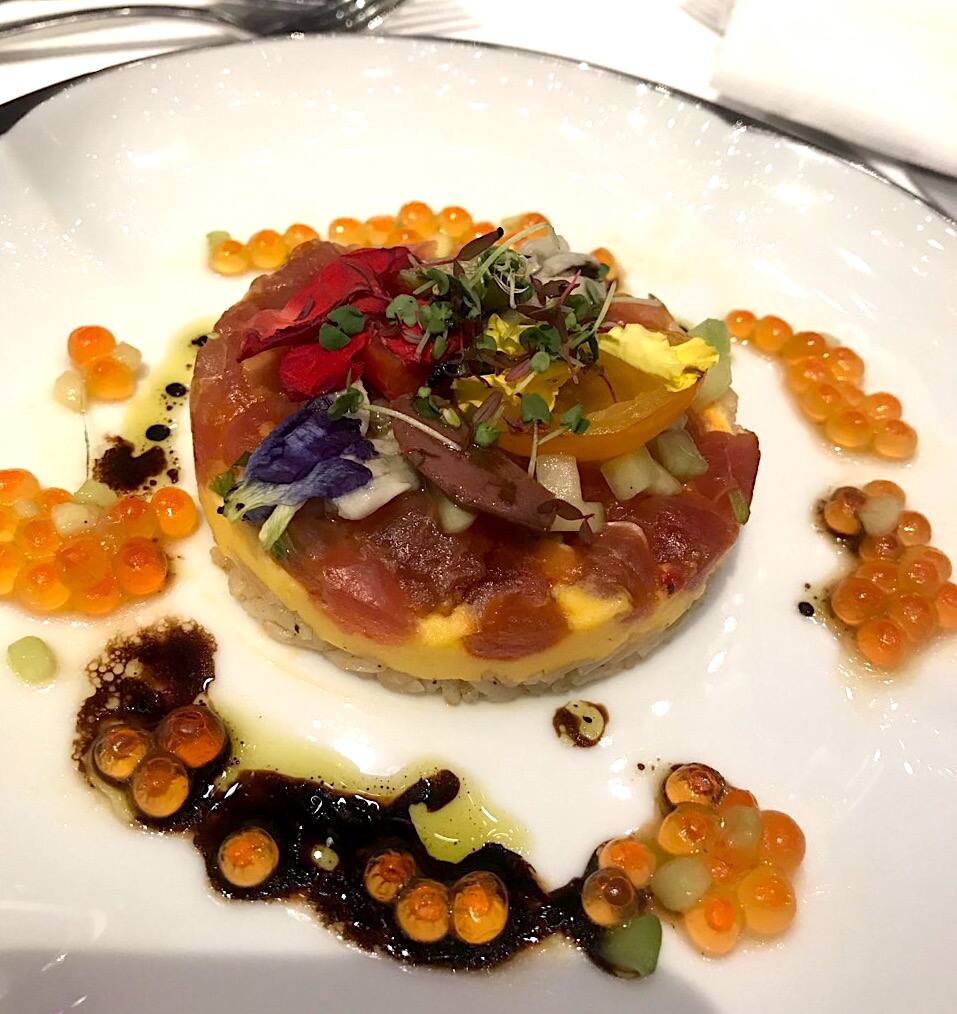 Marinated Tuna Tartar with Egg Yolk Cream, Ikura, and Renucci Rice with Filipino spices
Taste wise, the second course was my favorite—sea bass with the flavors of bouillabaisse and paired with a wonderful crispy-topped risotto. It was like being served a generous helping of tutong rice, like the toasty, slightly burnt paella rice at the bottom of the pan that we so love. The tutong rice was served with a meaty, tender fillet of sea bass that, even without the broth, still transmitted the flavors we associate with bouillabaisse and its complimentary rouille (a garlic sauce always served with bouillabaisse).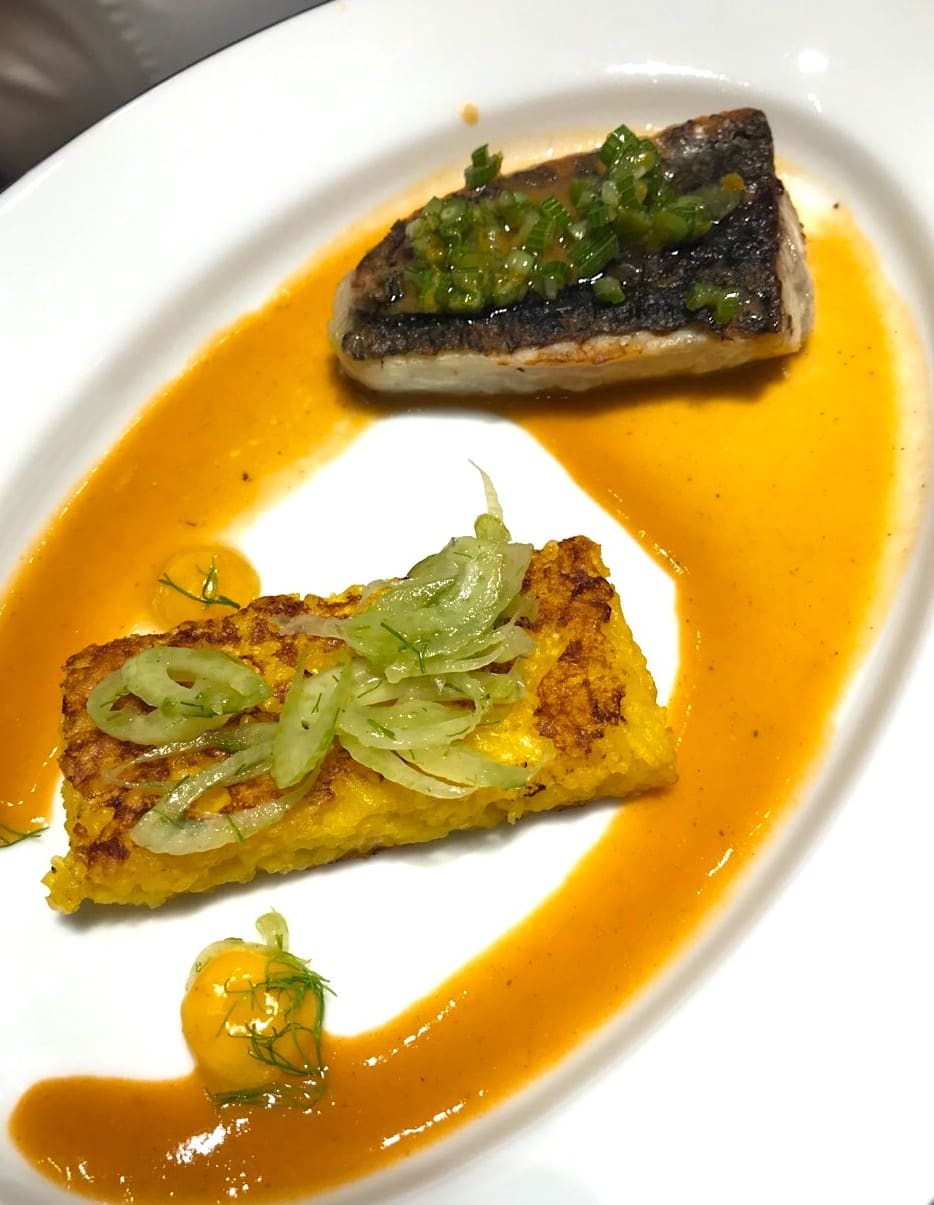 Sautéed Sea Bass "Rouille," with Provençal Crispy Risotto, Fennel Salad, and Bouillabaisse Sauce
The third course was essentially porchetta, elevated to surprise via Chinese influences, with Chinese sausage bits mixed in with the rice. The miso sauce and the bok choy added to the overall impression of "familiar, yet different." And I've seen how this is tried on other eclectic dishes and it wouldn't quite work. This was not the case here.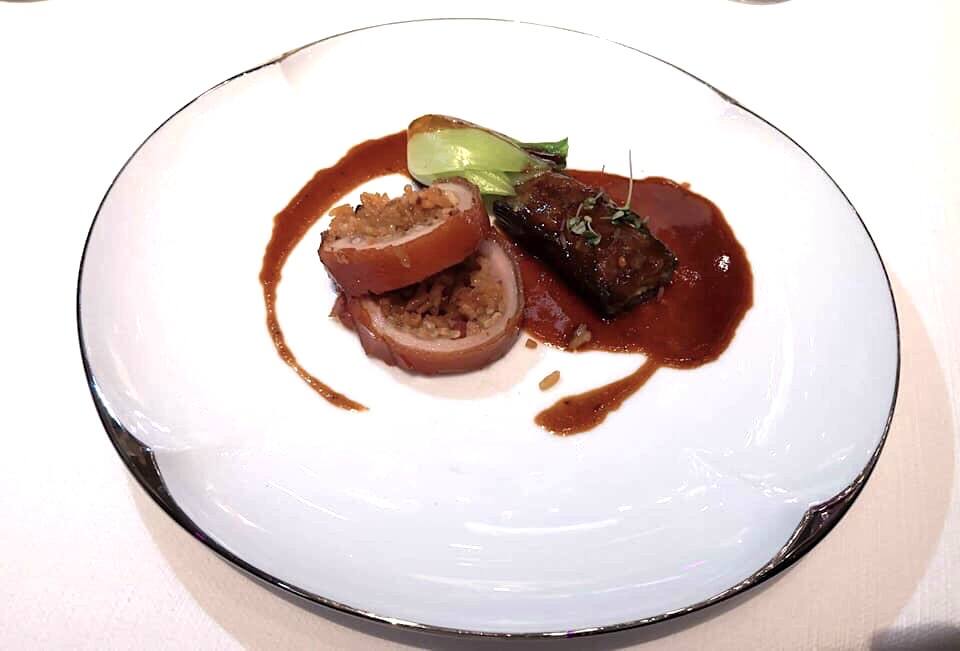 Chinese style Crispy Suckling Pig with Renucci Rice, Yaki Nasu Miso, Steamed Bok Choi, and Red Wine Jus | by @handpickedbyronandchris
Dessert was mango with sticky rice, and it was the rice sorbet that surprised, acting both as palate cleanser and unique flavor component of the course. Kudos to Chef David, assisted by our own Chef Sau Del Rosario, for turning this night into one of flavors "rice-ing" to new heights.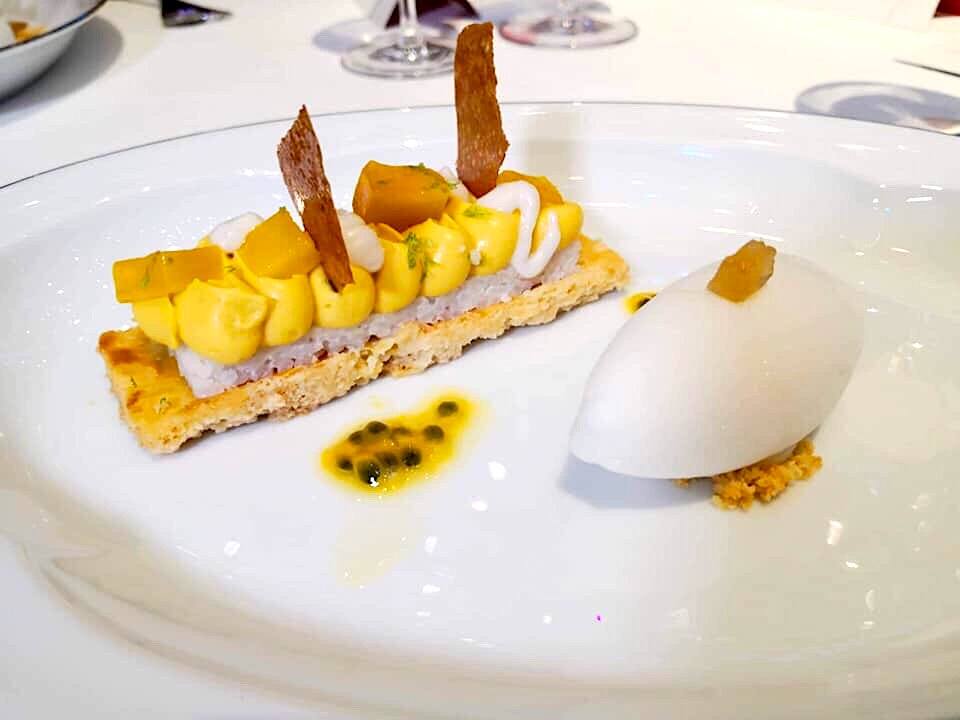 Renucci Sticky Rice, Mango Cremeux, Coconut Milk Dough, Citrus Sable, and Rice Sorbet | @handpickedbyronandchris
For the Renuccis, it has been a very special journey of five years, and this dinner was their way of saying "thank you" to the ones who have been with them from the beginning, encouraging them, and believing that they would pull this off. It was also a "thank you" to the new friends they have picked up along the way. At one point in the evening, we were asked to "rice-up" and toast to dogged determination and a dream fulfilled.