LOOK: Run BTS Tackles K-Ham With Iconic Chef Baek Jong-won Is The Best Thing To Watch Right Now
Cooking was never funnier or more fun! Also, Jungkook unveils his gorgeous tattoos
ICYMI, Run BTS most recent episode had the team on yet another cooking session, but this time under the guidance of acclaimed Chef Baek Jong-won, whom the team referred to as the "godfather of Korean cuisine." He's so iconic that even V and RM, who are arguably the biggest celebrities ever, just had to ask for his autograph.
V: Mr. Baek, as the ham cooks, [I just want to tell you that] my mom learned to cook with your shows, so could you please give me your autograph when you're done?
For foodies who also love K-pop, this episode is a match made in heaven.
Anyway, the team was mostly complete except for Suga, who's still recuperating from shoulder surgery.
The key ingredient was canned ham, and the guys were divided into two teams. Jungkook, RM and J-Hope elected to make stew, while Jin, Jimin and V decided to make ramen.
As they cooked, they bombarded the chef with all sorts of questions, including how to measure the water, and which part of the spring onion to use. Chef Jong-woon showed a neat trick for getting the ham out of it's tin. We're treated to shots of the team tackling their cooking tasks with determination, like RM very seriously peeling potatoes. The chef even praised Jin and Kookie's cooking skills.
At the end, Chef Jong-won proclaimed a draw, and gave out the prizes — beautiful steel knives engraved with his name. As the BTS team rejoiced, Chef Jong-won thanked them for helping Korea's farmers by promoting ham.
Meanwhile, the rest of the BTS fandom was distracted by Jungkook's gorgeous tattoos, which were very much on display. Take a look at some of the fun scenes in the gallery below.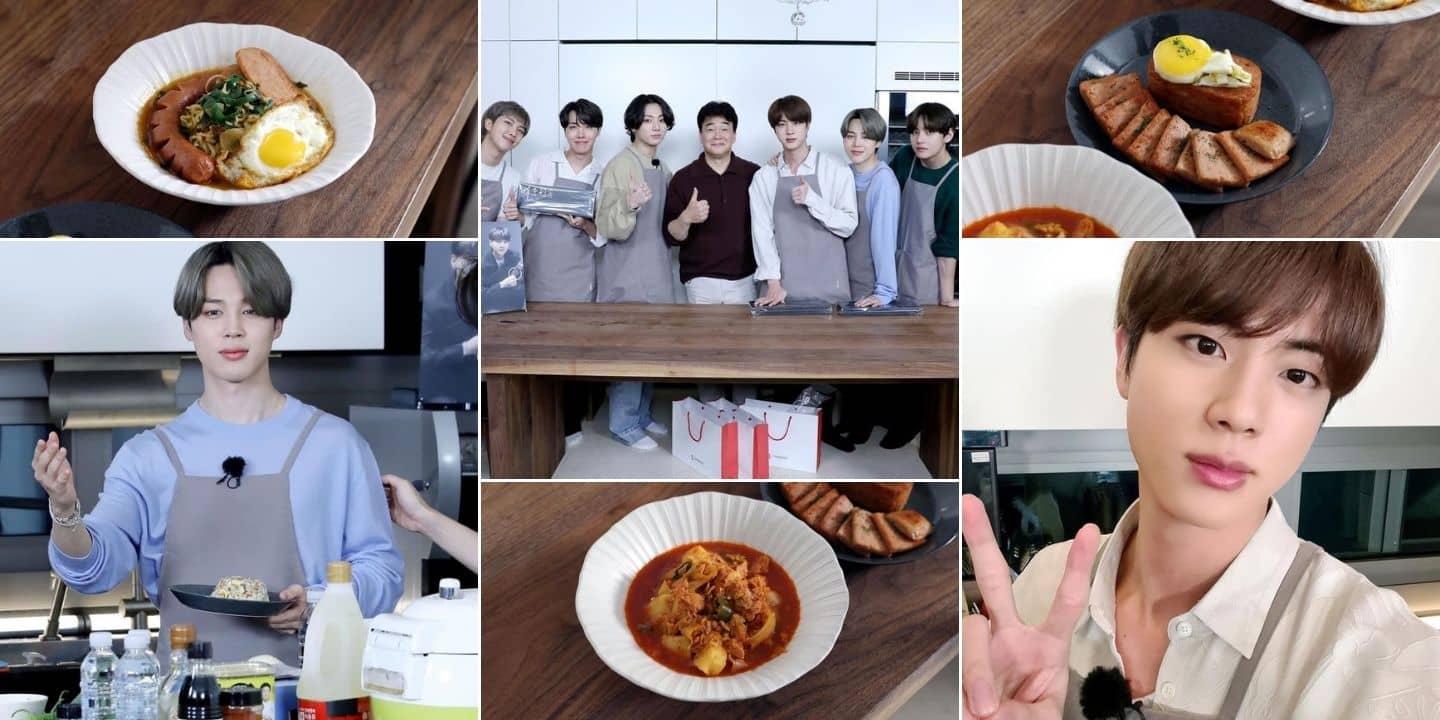 BTS The Ham Episode
SWIPE LEFT OR RIGHT
TO NAVIGATE BETWEEN PAGES
You can watch the full episode (with English subtitles) here.