LOOK: Aegyo Cakes Are Your K-Drama And K-Pop Favorites In Pastry Form!
These beautiful South Korean-style cakes are taking social media by storm, and we now understand why
Sugar, butter, flour, some good ol' Malagos chocolate, and the right amount of food coloring to mimic all the colors of the rainbow—put them all together and you have an Aegyo Cake. These beautiful Korean-style cakes combine a beautiful minimalist aesthetic with straightforward kitchen science, but that alone can't explain the secret of their phenomenal success. With a four-month-long waiting list and raves on social media, Aegyo Cakes clearly has something more, something extraordinary. I call it Aegyo magic.
The 16-layer chocolatey inside
Aegyo Cakes launched last June with a simple concept: cakes with minimalist exteriors hiding jaw-dropping flavors within. And till now, they're essentially offering 16-layer dark chocolate bonbon cakes made with 65% dark Malagos chocolate; and six-color rainbow velvet cakes with cream cheese filling.
It all started with four amazing women from the Chua Yap family, each one responsible for a side of the business: Kihyan is the main baker, cake designer, and finance manager; Koleen Renz heads brand building, marketing, and graphic design; Karren handles administrative duties, inquiries, and logistics; while their loving and supportive mother, Delia, is key in making sure everyone's time is manage wisely.
"In these trying times, only uncertainty is certain. We built the business as a side hustle for us to have some sort of fallback or at least to have a little extra in our lowest times," Aegyo shares in an exclusive interview with Metro.style. "The pandemic really hit the world hard. Everyone in our family, as well, was affected negatively—and we needed an outlet. We couldn't even celebrate birthdays with extended family members who live just next door! So we thought of all the other families who experience the same thing. We thought of how much fear, anxiety, worry, and even anger has been spreading throughout the months. So we thought, 'Why not channel all our energies into starting a business that would encourage people to spread love?'"
The brand's design and marketing philosophy is dominated by the Korean aesthetic—something that has undeniably infected the whole country, thankfully, more than the Coronavirus. But they took this direction not just because they wanted to take advantage of a blossoming niche, but because it was something very close to home.
"Our cakes are inspired by our love of everything Korean—especially Kihyan. Kihyan and Koleen initially grew close together because of SNSD and K-Pop in general. And the love overflowed to the household. Our mom is also the type of mom who has watched every Korean drama. She's more updated about who's dating who in the K-Drama community!" Aegyo says.
Business savvy, hard work, a passion for anything Korean, and a solid desire to share happiness with an ailing Metro Manila—throw all of these into a mixing bowl, bake at 350 degrees Fahrenheit, and you've got an Aegyo cake.
Getting frosting all over the place
Bakers would know how frustrating it can be to work with icing and frosting, especially when you're designing a cake. The icing can get everywhere—on your clothes, your face, in places it shouldn't be in. But more than this challenge, which their lead baker and designer must 100-percent agree with, Aegyo also faced their fair share of concerns brought on by the pandemic. Starting a business in normal circumstances is hard enough; imagine doing it in the midst of a pandemic.
Aegyo says that maintaining the safety and movement of their supply chain was—and still is—their biggest challenge: "Having a steady supply of ingredients, and even readily-available equipment, is the lifeblood of a business. Every supply run is a risk." There are also huge uncertainties about supplies as companies close or stop operations due to quarantine protocols. So the Aegyo brand is very strict about safety and hygiene. "Our main priority is to keep our family safe, in order to keep our clients safe, as well."
Eye-catching buttercream frosting
Aegyo has come a long way from when it started, now dominating social media with their beautifully designed cakes at equally beautiful price points. With everyone lining up for a cake, Aegyo takes inspiration from "cuteness" to create such adorable confections as ultra-minimalist one-word cakes, watercolor-painted cakes, even full-on Van Gogh recreations. Most popular, of course, are renditions of favorite K-Dramas and K-pop!
"Every cake is unique, not just because of the design, but also because of the stories behind it. We learn about these stories through the interview process with each client," says Aegyo. "This is why Aegyo Cakes is more than just cakes. It's like giving a love letter, a token of appreciation, or an act of self-love. Every cake has a message, a purpose, and a story."
In the last three months, we've been impressed with all the gorgeous cakes coming out of their kitchens and straight into the homes of Filipinos who might just be in need of a pick-me-up or a momentary source of happiness.
Celebrating a special occasion? Order a dedication cake. Are you as big a fan of Itaewon Class like us? Then have your own Itaewon-inspired cake, for yourself or to share! Or maybe dedicate a cake to your favorite BTS idol?
As if you need more convincing of Aegyo's cake-designing powers, check out the gallery below for our full list of Aegyo cake favorites.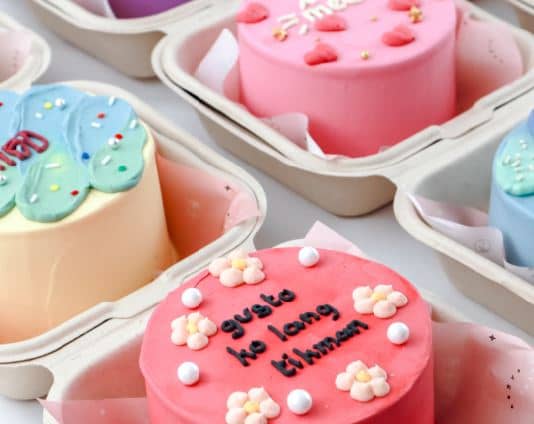 Photo Gallery
SWIPE LEFT OR RIGHT
TO NAVIGATE BETWEEN PAGES
The verdict
At the end of the day, while Aegyo has flourished because of the beautiful stories they told with their cakes, a cake is a cake. It's something that must taste good. And after devouring a whole lunchbox Aegyo cake in one sitting, we can attest that it's as good as it looks.
The chocolate cake is our absolute favorite and as far as chocolate cakes go, they've made Malagos very proud. Pro tip: toss your cake into the microwave for a few seconds to turn it into a choco lava cake—this way, the Malagos chocolate flavor stands out even more.
As of writing, all slots until November has been fully booked—and for good reason. Because when you bring together a delicious inside and wrap it in an irresistible work of art, you have a cake that's good enough to spread the sweetness of love around.
All photos from @aegyocakes