This Japanese Man Drew Every Meal He Ate For 32 Years
From working as a chef, his work now sells from $500 and $3,000
Itsuo Kobayashi was a low-key artist in his youth. Born in 1962, he began his teens as a professional cook, working for a soba restaurant day in, day out. But when he was not cooking, he was illustrating everything he ate or made at the restaurant in his food diary.
Using just ink and pen, he would fill out notebook after notebook of accurate illustrations and descriptions of everything he ate—how much was the food, what is it called, and what it tasted like. For 32 years, Kobayashi painstakingly drew each meal, the colors and the detail almost jumping out of the page. But at an early age of 46, he succumbed to alcoholic neuritis, a debilitating neurological disorder that kept him from going out.
His disease, however, didn't stop him from continuing his passion for his art. Relying on food deliveries, he continued drawing everything he ate, and even innovated his work. More recently, he started creating pop-up paintings.
The world now knows of Kobayashi's perseverance, patience, and talent—thanks to art dealer N. Kushino who runs Kushino Terrace gallery in Fukuyama, Japan. Kushino told Artnet that he found Kobayashi's work in 2014 at an exhibition of the art of the handicapped in Saitama Prefecture. When Kushino visited Kobayashi's home, he was astounded to find thousands of his artworks—all of it detailing his delicious life.
Finally, after 40 years, Kushino Terrace paved the way for Kobayashi's work to reach a world bigger than his home. In January this year, his work debuted at New York's Outsider Art Fair. His work sold for between $500 and $3,000.
See more of Kobayashi's works below.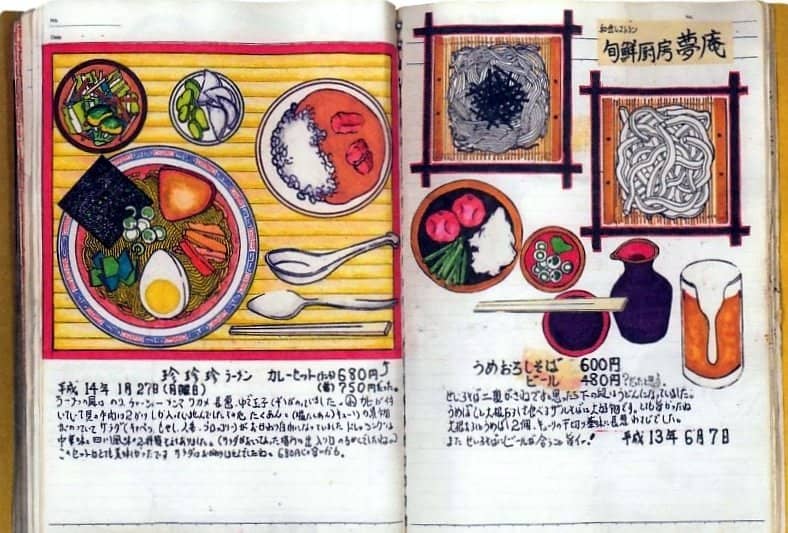 Photo Gallery
Photo Gallery
mages courtesy of Kushino Terrace via Artnet