Vacuum Sealing Tips For Your Holiday Dishes
Preserve your ingredients and leftovers from spoiling through vacuum sealing
Anyone who has seen Tim Burton's Batman Returns, will remember that tight, iconic catsuit of Michelle Pfeiffer—but little did we know that she had to be vacuum packed into that suit to make it skintight.
While we probably won't need to vacuum ourselves to fit into our Christmas sweaters, for this season, it would really help to make use of vacuum sealing to help preserve the ingredients and extend the life of our holiday dishes. And if you think vacuum sealing is only done in professional kitchens by top chefs, you'll be quite happy to know you can your own Wolf Vacuum Seal Drawer right in your kitchen, to help you preserve and portion fresh, frozen, and dry goods!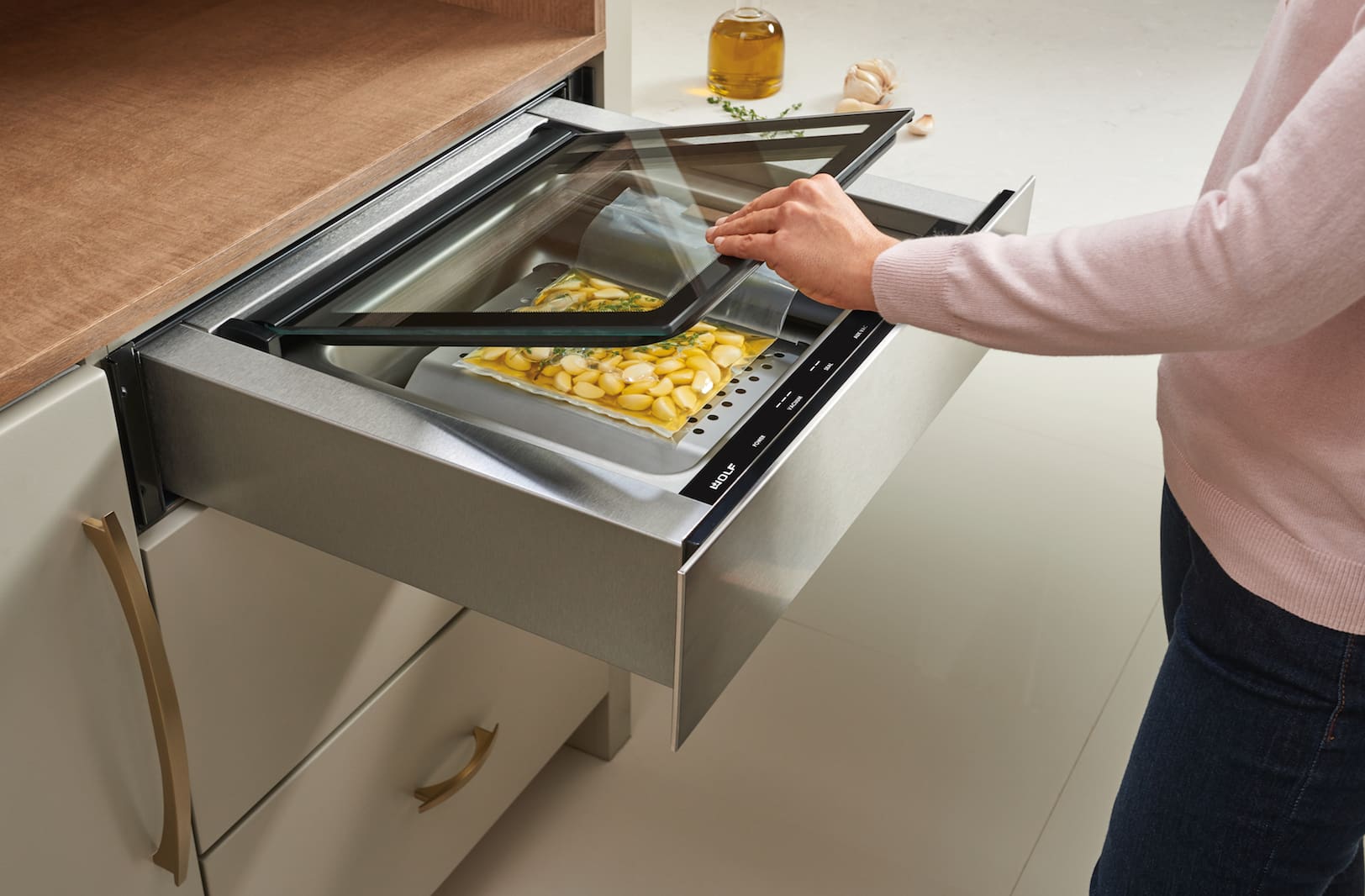 PICKLING. Explore new dimensions of flavorful cooking
More than cosmetic, or as a way to save space, vacuum sealing removes air, thereby preventing food and other items from oxidizing and spoiling. If you vacuum seal items along with properly storing then in a refrigerator, freezer, or pantry, you can extend its life significantly, while keeping the taste fresh as the day they were sealed.
Here are some possibilities you can explore with vacuum sealing:
1. Freeze it. Reduce defrosting time when you individually pack and freeze food—everything from portioned soup to steaks. For your Christmas dishes, you can easily store half of what you prepared for another day.
2. Sous vide meat. Make restaurant-quality steaks (and even vegetables!) at home with this technology. Tip: Season then pat dry before vacuum sealing, and blach vegetables before packing and dry sealing them to preserve nutrition, texture, and flavor better.
3. Pickled everything. You can also find new dimensions of flavorful cooking through artisanal pickling.
4. Don't forget the wine: Drink your opened wine countless times, and at your own terms!
5. Get creative! As long as the size permits, there's no limit to what you can vacuum seal inside the drawer, so you can even use this to pack toiletries or medication for travel.
How does it work? The Wolf Vacuum Seal Drawer makes use of a chamber, which removes air without removing moisture (sauces, oils, and soups), which are superior to edge sealers. It has durable stainless steel exterior, and features a handleless design. There are three vacuum settings that let you adjust to all types of food, and three other heat-sealing levels that match the thickness of the bag. You can choose the lightest setting to avoid crushing fragile foods, or the strongest setting to prepare a steak for for sous vide. A wine stopper and an accessory hose are also provided for resealing wine bottles. The Wolf Vacuum Seal Drawer is available in a 24" width model, which can be paired with a 24" or 30" stainless black panel.
Wolf is exclusively distributed by Focus Global Inc., with showrooms at The Residences at Greenbelt, Esperanza St. Makati City; Twenty Four Seven McKinley, 24th St. cor 7th Avenue McKinley Parkway, BGC, Taguig, and Pioneer corner Reliance St., Mandaluyong City. You may visit www.wolfappliance.com.ph or follow @subzerowolfph on Instagram