WATCH: Marjorie And Julia Barretto Experience The Food Of Gangwon-do, South Korea
Trying out the local delicacies and offerings of Gangwon Province for The Crawl Korea
Before the world shut down because of the pandemic, The Crawl Korea brought mother and daughter Marjorie and Julia Barretto to South Korea to experience that country's food and sights. One of their stops: Gangwon-do or Gangwon province.
Gangwon is a beautiful province in South Korea and has fast become a popular tourist destination because of their beautiful winters. The province is surrounded by water and mountains, making it popular among those who like and appreciate nature—a break from the urban jungle of Seoul.
Because of its geography, Gangwon is home to the freshest seafood and vegetables in South Korea, making the province a huge food destination, as well.
South Korea's coffee city
Inside Gangwon province is a small city called Gangneung city that is now called the coffee central of South Korea, because it is the birthplace of the country's artisan coffee culture. Apart from local coffee beans, they also serve a wide variety of coffee from all over the world.
Solidifying Gangneung city as the coffee central of South Korea is their famous Anmok Coffee Street, a street filled with cafés that line the beautiful shore of Gangwon. Each coffee shop has it owns gimmick, vibe, and offerings. Some are more western, some are more artsy; one is even inspired by Santorini, Greece and offers hand drip coffee.
For The Crawl Korea, Marjorie and Julia head to Bohemian Roasters, one of the most popular cafes in Anmok Coffee Street because it's run by the only first generation barista master who is still roasting and brewing coffee Gangneung. This barista, Mr. Park Yichu, started his craft 30 years ago in Seoul, but later moved to Gangneung in 2000, making the city the heart of coffee in the whole of South Korea.
Another interesting fact about Bohemian Roasters is that they serve their coffee in different cups and saucers. It gives your cup of coffee that extra character.
Marjorie tries Mr. Park's café au lait, while Julia gets a cup of light espresso. According to Marjorie, the café au lait was perfect for someone like her who doesn't like strong coffee, while Julia loved that the espresso was enough to keep her full and awake, minus the calories.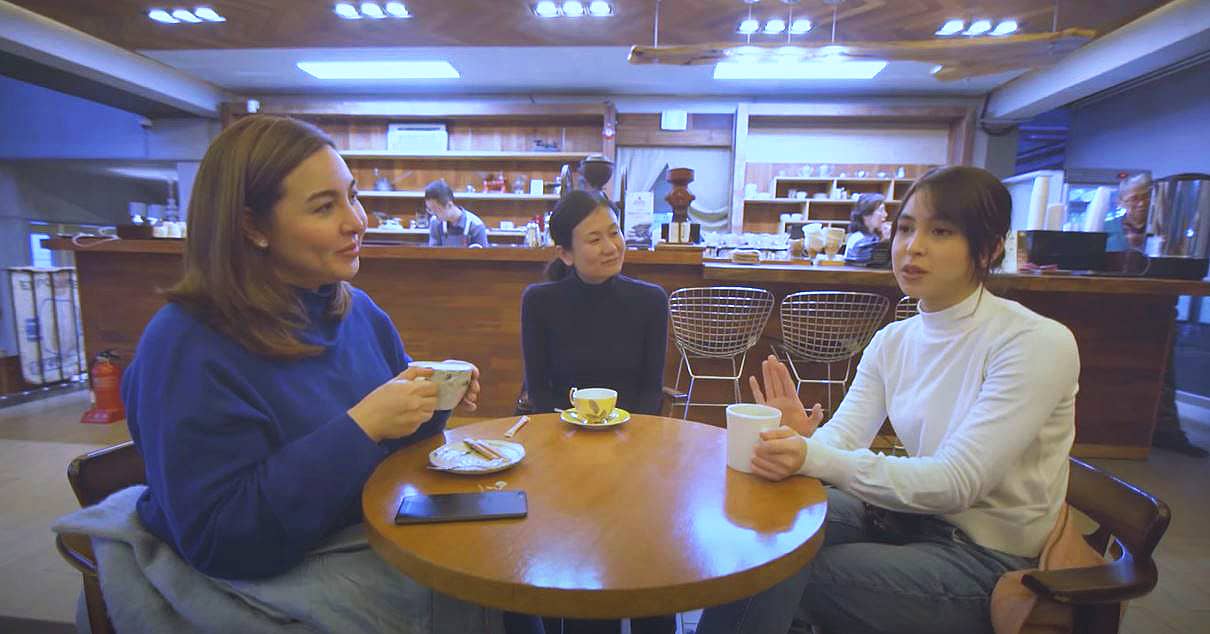 Gallery Title
Gallery Title
A traditional food experience
To taste and experience Gangwon's authentic local food, Marjorie and Julia headed to Jeonggangwon or the Institute of Traditional Korean Cuisine in Pyeongchang. The center is dedicated to preserve and share the food culture of South Korea with tourists who visit the province.
At Jeonggangwon, Julia and Marjorie learn how to make their own injeolmi, a popular Korean rice cake that's pounded, cut into small pieces, and then coated in yellow bean powder. To make, the rice is soaked in water for two hours, steamed, and then pounded.
Marjorie and Julia help each other pound the rice cake the traditional way. Marjorie describes injeolmi as very close to our espasol, but thicker.
They also help create a traditional bibimbap, which is rice mixed with bean sprouts, carrots, raddish, cabbage, zucchini, spinach, and wild vegetables from the mountains. While bibimbap is readily available everywhere, tasting the bibimbap at Jeonggangwon was a different experience for Marjorie and Julia, saying that they were able to appreciate the bibimbap more because of the freshness of the ingredients used.
Fresh seafood
The Jumunjin fisherman market dates back to 1936 and is now the largest seafood market on the east coast of South Korea. Gangwon is lucky to have access to the freshest seafood since they're right beside the East Sea.
Marjorie and Julia visit a paluto-like stall in Jumunjin, where they try two interesting raw seafood: the sea squirt and flatfish.
While we're familiar with the more popular Japanese sashimi, filleted raw fish in Korea is called hwae or hoe. It's different in a way that sashimi is usually left to "ripen" first before eating, while the hoe is consumed immediately after the fish is killed.
The sea squirt or meonggae is a bit more exotic than most, and according to Marjorie, tastes a bit like uni.
If you haven't yet, watch the full episode of The Crawl Korea below for Julia and Marjorie's full Gangwon trip.
Korean food cravings
While we can't fly to Gangwon yet to experience all of these interesting Korean food for ourselves, why not look forward to eating in your favorite South Korean restaurant instead?
Booky has launched a #SupportPH campaign, which helps to alleviate the economic downturn caused by the Covid-19 pandemic. Through this campaign, you can buy discounted food vouchers now via Booky, which can help smaller restaurants continue operating and paying for their employees' salaries. You can then use the vouchers within three months after merchants fully reopen.
If you're craving for Korean food after Julia and Marjorie's The Crawl Korea, grab these vouchers from Booky now (they're limited, so hurry!) to help support local businesses!