Piolo Pascual Tries Four Different Okonomiyaki In Japan For The Crawl Osaka
Join Piolo and his crawl buddy Lui Villaruz as they discover and taste authentic okonomiyaki right at the source
When in Japan, where do you go?
Osaka is the second largest metropolitan area in Japan, and is home to Universals Studio Japan so it attracts a lot of tourists. But more than the usual tourist destinations, Osaka is also a favorite of foodies since it's known as the food capital of Japan. In fact, it's nicknamed Tenka no Daidokoro, meaning "the nation's kitchen."
There is so much to explore and taste when in Osaka. But if there's one thing that truly stands out in the port city, it's their okonomiyaki.
Okonomiyaki came from the words "okonomi," which means "whatever you like;" and "yaki," which means grilled or cooked. When put together, "okonomiyaki" means "as you like it pancake." In Osaka, it's usually made with cabbage, vegetables, meat, egg, flour, and yam. This savory Japanese pancake was invented before World War II and Osaka is now considered its original home. So if you're on the hunt for the best okonomiyaki in the world, there's no better place to go than Osaka.
Piolo Pascual takes his best friend Lui Villaruz for The Crawl Osaka, and they go around the city to taste four different types of okonomiyaki. If you'd like to retrace their foodsteps for your next okonomiyaki food crawl, here are the four restaurants they went to in Osaka and the kind of okonomiyaki you'll find.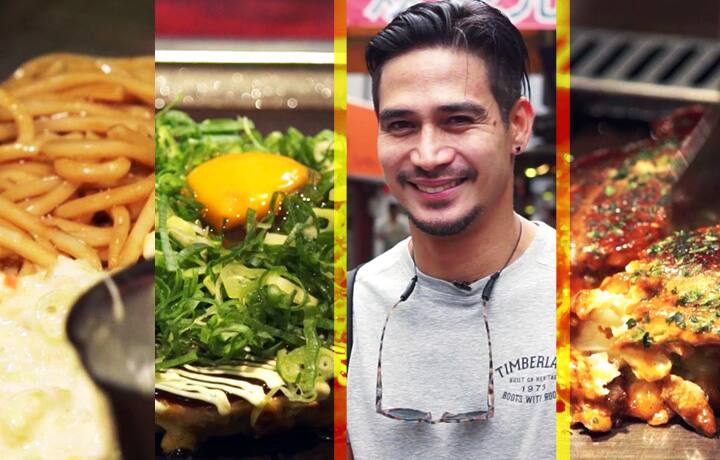 Photo Gallery
Photo Gallery
Trying out the different variants of okonomiyaki is just one part of Piolo and Lui's immersive experience in Osaka. Piolo shares, "Ako, pinakana-enjoy ko sa lahat is of course 'yung hospitality ng mga Japanese. More than the food, 'yung presentation, 'yung courtesy nila, 'yung respect nila sa tao, amazing."
Join Piolo and Lui as they discover more about Osaka's food culture on The Crawl Osaka, premiering on July 5, Sunday, 7 p.m. on iWant, Metro.style Youtube, and Metro Channel, channel 52 on Sky Cable and channel 174 on HD.