The World Chocolate Fair Is Back! Here's Everything You Need To Know
Indulge in all the limited edition cakes, pastries, drinks and desserts (and yes, they're available for delivery too)
We don't really need an excuse to celebrate chocolate, but how fun and amazing to know that there is such a day as World Chocolate Day! And we can join the festivities this year at the World Chocolate Fair by S Maison x Auro Chocolate on July 7 to 11 at the S Maison Main Atrium.
World Chocolate Fair was established in 2019 by S Maison in partnership with Auro Chocolate, an award-winning Filipino chocolate company known for their single-origin tree-to-bar chocolates created from sustainably-grown cacao beans sourced directly from Filipino farmers. Yes, we know that was a long wordy sentence to spin out, but we're just so proud of this renowned Filipino brand that continues to bring distinction to the Philippines. Their most recent achievement was bringing home not one, but five gold medals from the International Chocolate Awards in 2020. So you can definitely be sure that they make superb, amazingly good chocolates that you don't want to miss out on.
World Chocolate Day is celebrated all over the world every July 7 to mark the introduction of chocolate to Europe in 1550. It's been a rather obscure event here in the Philippines until Auro Chocolate partnered with S Maison to launch the World Chocolate Fair back in 2019. It was planned as an annual event, but was skipped last year due to the pandemic. Which makes us just that much happer to see it brought back this year.
Auro partnered with many local food brands, challenging them to reimagine and reinvent Auro's chocolate bars into new desserts, pastries, cakes and more. These limited edition treats will be available at the five day fair. For a sample of these special chocolate treats, click through the gallery below.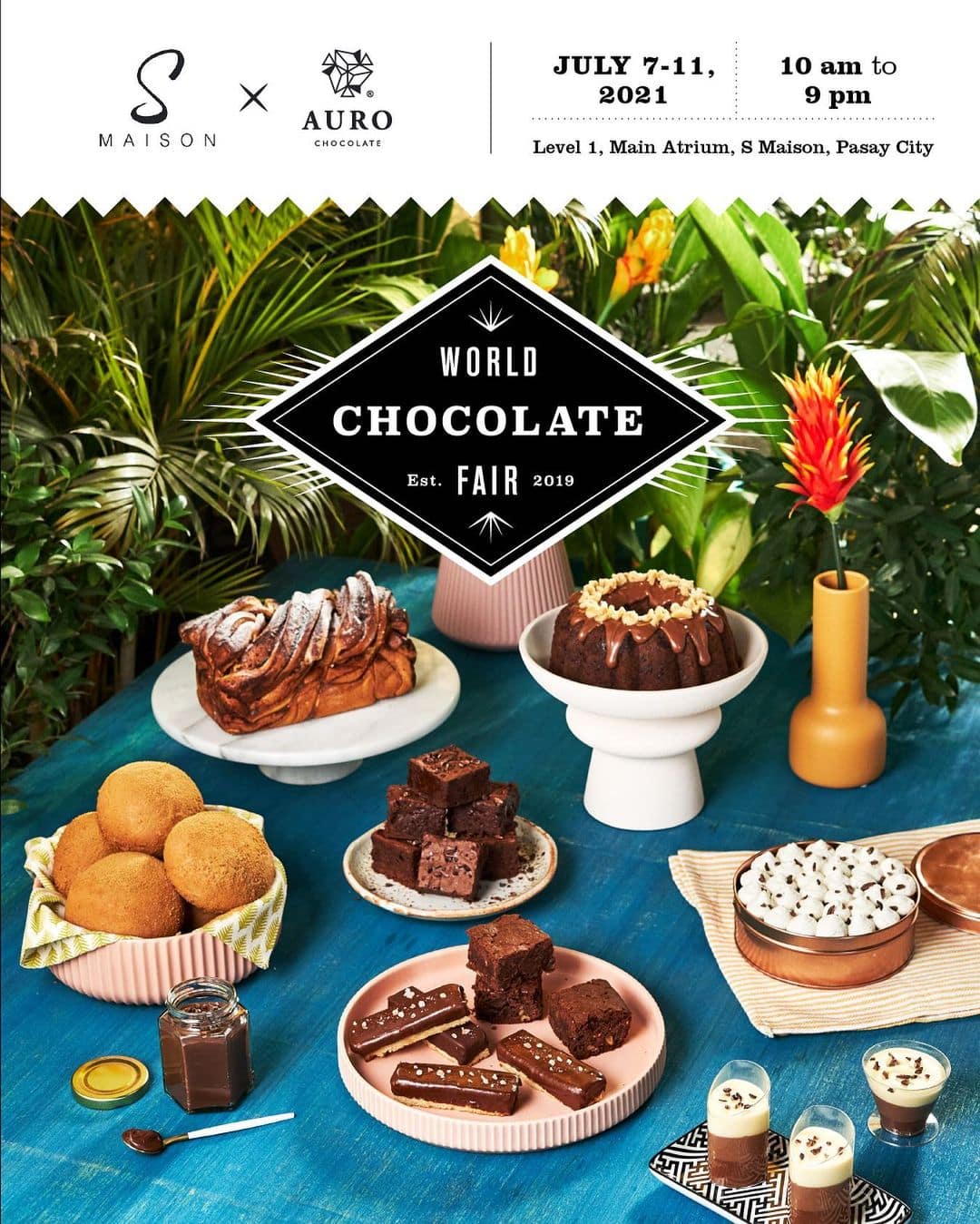 World Chocolate Fair 2021
World Chocolate Fair 2021
World Chocolate Fair is free for everyone and open to all chocolate lovers between 18 to 65 years old. If you prefer to stay safely at home, you can still enjoy the chocolate treats — a free delivery promo is available for a minimum purchase of P1,000. Orders will be accepted from 10 AM - 6 PM, orders received after 6 PM will be processed the next day.
For more information, visit @aurochocolate or @smaison_conrad on Instagram.