An Old Adobo Recipe Becomes New Again With A Little Black Magic From The Chef
Chef Gene Gonzalez "plays with the devil" in this heirloom Adobo del Diablo recipe from his hometown in Pampanga
This heirloom recipe by Chef Gene Gonzalez comes from his hometown in Sulipan, Pampanga.
Called Adobo del Diablo because it's so good it must have "come from the devil," the secret
to this dish is the use of fish sauce. Instead of cooking adobo the usual way, by braising with soy sauce, Chef Gene caramelizes the sauce by deglazing several times, giving the adobo a beautiful golden brown color and rich, umami flavor. In Sulipan, soy sauce is not an acceptable substitute for the fish sauce, and the hapless cook who uses soy sauce will be the subject of town gossip.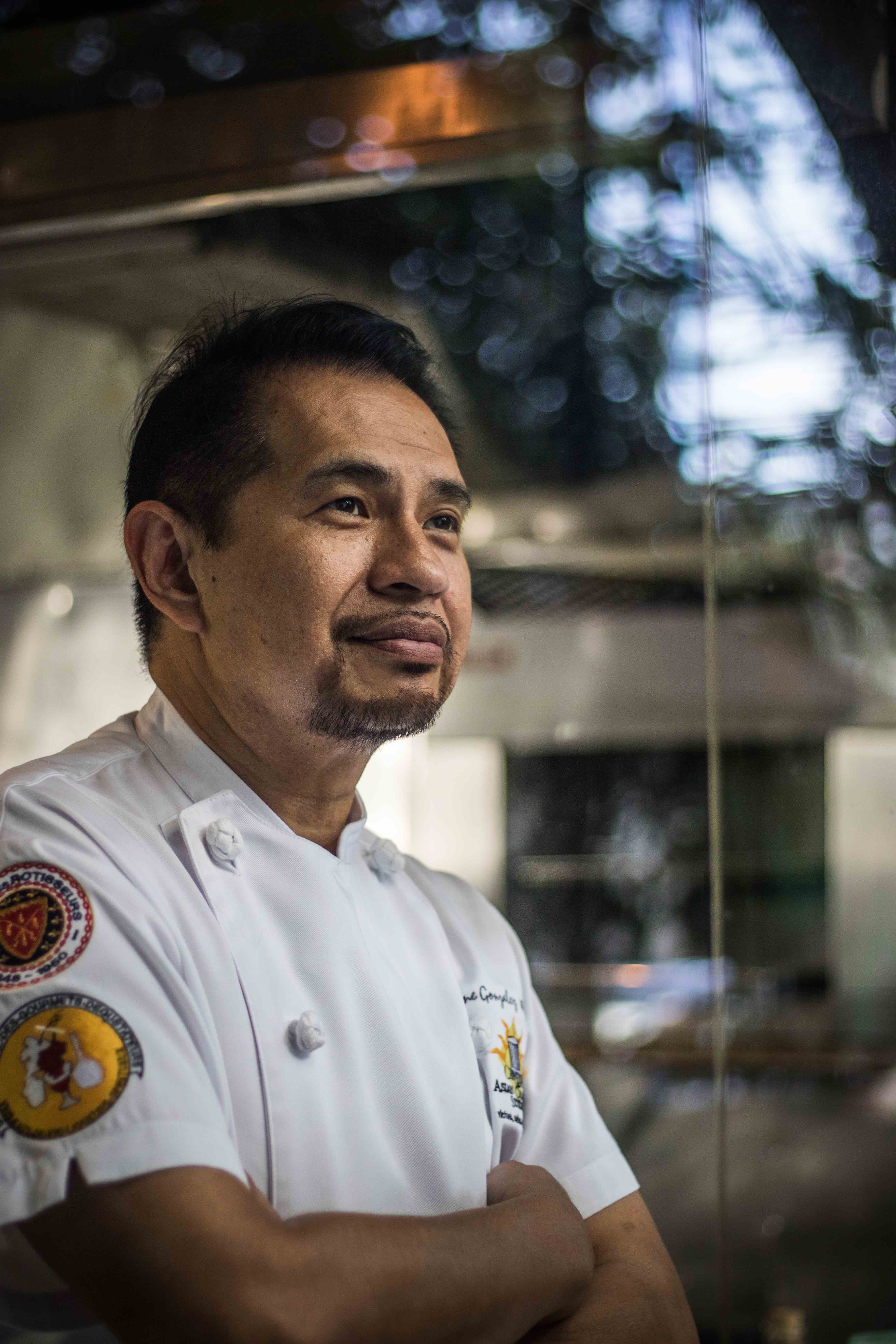 Chef Gene Gonzalez | Paulo Valenzuela
Chef Gene happens to be a pioneer in Manila's gastronomic landscape, and has written a number of influential cookbooks. His iconic restaurant, Café Ysabel, opened 24 years ago as a little neighborhood restaurant along Wilson Street in Greenhills, San Juan. It became a byword for affordable, quality cuisine and is consistently mentioned
as a cultural landmark in international guidebooks. While it closed its doors at its original location in 2017, Café Ysabel has since reopened in grander surroundings along M. Paterno Street in San Juan.
Adobo del Diablo
Serves 4
2 tablespoons minced garlic

2 tablespoons corn oil

1 1/2 cups pork, cut into 1-inch cubes
1 1/2 cups cubed chicken

1/2 cup chicken heart

1/2 cup beef liver, cut into 1/4-inch cubes

1/2 cup pork kidney, cut into 1-inch cubes

1/2 cup chicken giblets, cleaned

1/4 cup chicken blood, cut into 1-inch cubes

2 cups chicken stock

1/3 cup vinegar

1/2 tablespoon cracked black pepper
3/4 tablespoon salt

3 tablespoons fish sauce

3 tablespoons pork lard
1. The basic ingredients of this adobo are chicken and pork cubes, garlic, vinegar, and fish sauce. Add chicken heart, beef liver, chicken giblets if you desire, or omit them entirely.
2. In a cast iron pan or skillet, sauté garlic in corn oil until slightly brown. Add pork cubes, chicken, chicken heart, beef liver, pork kidney, beef liver, pork kidney, chicken giblets, and chicken blood. Add stock, vinegar, pepper, salt and fish sauce. Braise by lightly stewing in a closed pan with a little liquid.
3. Take out chicken giblets and heart. Add chicken stock to the pan, then deglaze the chicken and pork cubes. Do this 3 times.
4. After the third deglazing, the chicken and pork should be golden brown in color. When the chicken and pork are tender and sauce turns brown, add the other meats, if desired.
5. Simmer the sauce for 15 minutes then separate meat from the sauce. Set the sauce aside.
6. Fry meat in pork lard until brown and lightly crusty. Serve with sauce on the side.
This recipe first appeared in FOOD Magazine, Issue 2, 2017
Recipe by Gene Gonzalez