Grilled Bangus Belly With Salted Egg Sambal
Southern Filipino and Indonesian cooking techniques combine in this version of inihaw na bangus
In Sulu, some cooks score or make slits on the fish before it is rubbed with an aromatic paste and then grilled. In various parts of the Indonesian archipelago, sambal is flavored with dried anchovies or fermented shrimp pastes. The richness of salted egg yolk replaces seafood in this version. The sambal, of course, is also drawn from the traditional Filipino tomato and salted egg relish.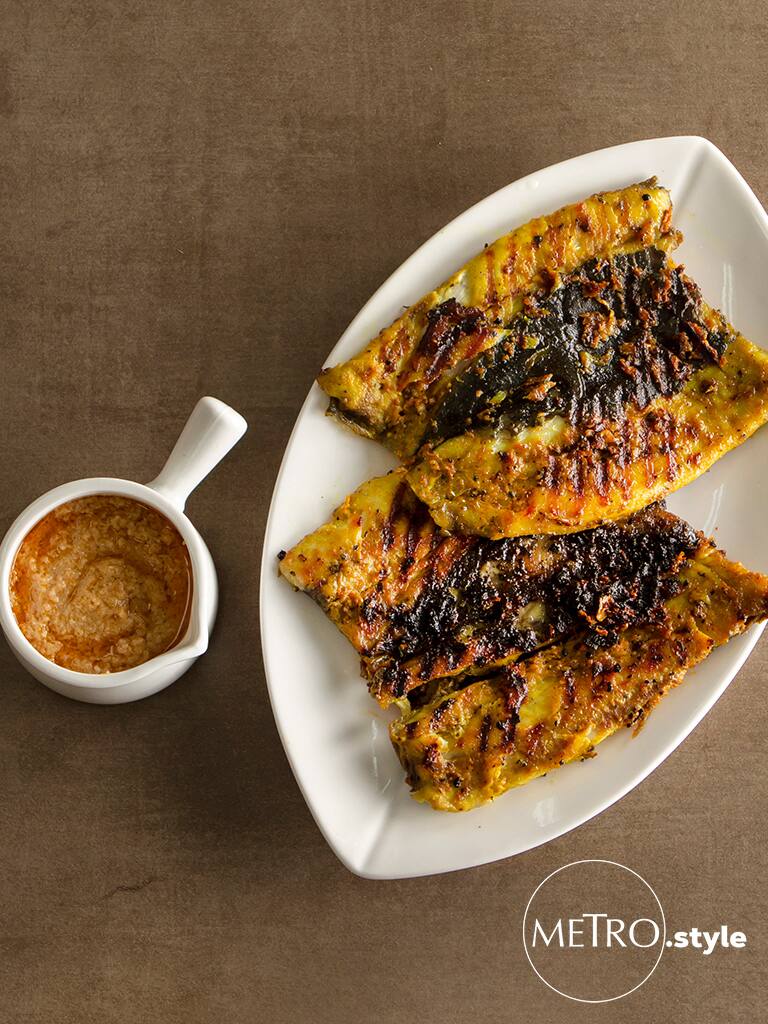 Grilled Bangus Belly With Salted Egg Sambal | Paulo Valenzuela
1 tablespoon turmeric powder
1 head Ilocos garlic, peeled
1 teaspoon black peppercorns
2 teaspoons rock salt
2 tablespoons coconut oil
1/2 kilo or 4 slices bangus (milkfish) belly
1. Pound turmeric, Ilocos garlic, black peppercorns and rock salt to a paste.
2. Add in coconut oil, little by little, while pounding for a smoother paste.
3. Coat bangus slices with paste and marinate for an hour.
4. Pan grill or grill over charcoal until done.
5. Serve with sambal (recipe below).
SAMBAL
1 cup quartered tomato
1/2 cup Ilocos garlic, peeled
3 siling pangsigang (green finger chilies), sliced crosswise
1 cup red onion, sliced
5 salted egg yolks, mashed
3 tablespoons coconut palm sugar
1/2 cup coconut oil
1. Place all ingredients in a blender or food processor.
2. Blend until mixture turns into a coarse paste.
3. Cook paste in a pan until oil separates from the paste.
Recipe by Datu Pendatun
Photography by Paulo Valenzuela
Styling by Tina Concepcion Diaz
FOOD Magazine, Issue 2, 2016